-- Published: Wednesday, 8 June 2016 | Print | Disqus
After barely a year of construction, Goldsource Mines (TSX-V: GXS | US-OTC: GXSFF) has delivered on its commitments and made the all-too-rare transformation from junior explorer to producing gold miner.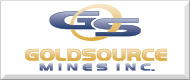 The company started ramping up the Eagle Mountain gold project in the jungles of Guyana in South America with a preliminary economic assessment in 2014. With the study showing some tantalizing numbers with room to expand, Goldsource went to work on building the mine in March 2015. A year later, almost to the day, the company celebrated its first gold pour.
With throughput now ramping up and commercial production in sight, Goldsource is focused on delivering the low-cost ounces that the mine plan predicted. Looking further ahead, the company is already talking about boosting near-term production ahead of schedule, while also preparing for the long-term expansion of the phased mine and looking elsewhere to grow the company.
Turning mud into gold
Over the past year or so Goldsource has ticked off some major developments at the Eagle Mountain gold project in Guyana. The company had a 100 tonne per hour processing plant built in the Vancouver, B.C. area and shipped down to Guyana; rebuilt roads between the mine and local town and airport; sourced all major mining equipment; and hired all key personnel.

The company managed to stay largely on schedule, but a broken control panel on the processing plant set the timeline back by a few weeks. The company air-freighted the replacement parts in and started commissioning the phase one, 1,000-tonne-per-day open pit gravity plant in late January rather than the end of 2015.
But the slightly extended timeline was balanced by completing construction 18% under the already modest $5.9 million pre-production capital costs. Lower-than-expected fuel costs were a big help, as was a management team with mine building experience that kept costs in line.
As reported in their last news release from April 20, Goldsource had mined about 18,000 tonnes of saprolite material and processed an estimated 16,726 tonnes grading 0.76 grams per tonne gold this year.
The daily processing rate has averaged 236 tonnes per day, while April showed progress on ramp-up with an average of 470 tpd, or 47% of nameplate capacity, and a peak one-day throughput of 777 tonnes.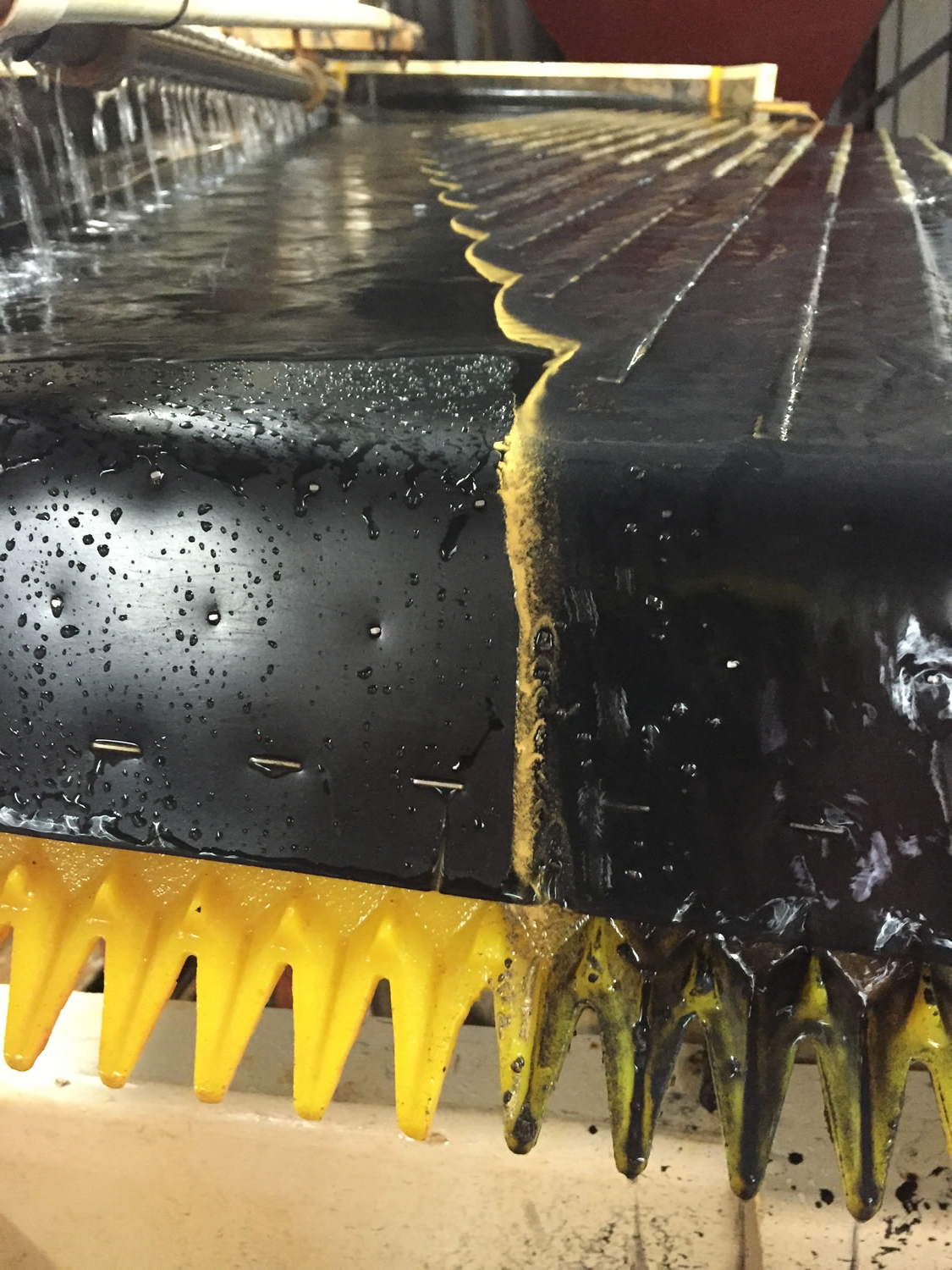 Recoveries have hovered around 45% for the year, while again, April showed progress with recoveries averaging 50%, closer to the 60% the company expects over the long run.
The goal of course is to produce gold, and on that front the company has produced 104 ounces and already shipped its first run, with 82 oz. sold on April 14 at US$1,240 an ounce.
Delivering profits
With early production ramping up, Goldsource is now looking to deliver on the production costs and profits outlined in the 2014 economic assessment while managing the mine's biggest variables of grade, gold recovery, and operating costs.
The economic study outlined post-commissioning cash operating costs under $500 per oz. gold for the saprolite over the life of mine, while the higher-cost ramp-up stage should fall between $500 and $600 per oz. gold.
All-in sustaining cash operating costs, including royalties and corporate overhead, should run at about $630 per oz. gold, while the total cost of the mine over its proposed 8 year life is estimated at $24.2 million.
Over that timeframe Goldsource expects to process a total of 7.3 million tonnes of indicated and inferred saprolite resources from eight non-contiguous pits at an average grade of 1.2 g/t gold to produce 168,700 oz. gold from gravity processing.

The mine plan calls for a phase 1, 1,000 tpd capacity, which would translate into production of 5,600 oz. a year. By the fourth year of operations the mine should be at 4,000 tonnes a day and churn out 28,800 oz. gold.
Because of the simple processing method, the mine plan leaves an inventory of 161,900 oz. gold from the 1.3 million tonnes of rock the company estimates will be bigger than the 2 mm threshold for its machines. The company is stockpiling the material so it can potentially process it at a later date.
The mine plan financials also do not take into account a fresh rock resource of 2.3 million indicated tonnes grading 1.52 g/t gold for 114,000 oz. gold and 13.4 million inferred tonnes grading 1.13 g/t gold for 486,000. The company could theoretically later extract this gold, but it would require drilling and blasting as well as more processing.
If the company stays in line with the mine plan, even with just the saprolite resource, Eagle Mountain should have an after-tax net present value of $45.6 million using a 5% discount rate and an internal rate of return of 63% using $1,250 per oz. gold.
But for now the company is still focused on getting up to its phase I nameplate capacity.
The company has been tweaking the design and flow of the project to keep ramping up throughput. It re-designed and re-fabricated the grizzly grate and gold processing room, and is expecting to further increase capacity after installing a larger diameter feed chute to the scrubber that has limited daily production. This installation has just been completed.
Goldsource also expects a near-term boost in gold production as it shifts from lower-grade test material averaging 0.6 to 0.8 g/t gold to the main resource with a 1.2 g/t gold average, as well as the improvements to throughput.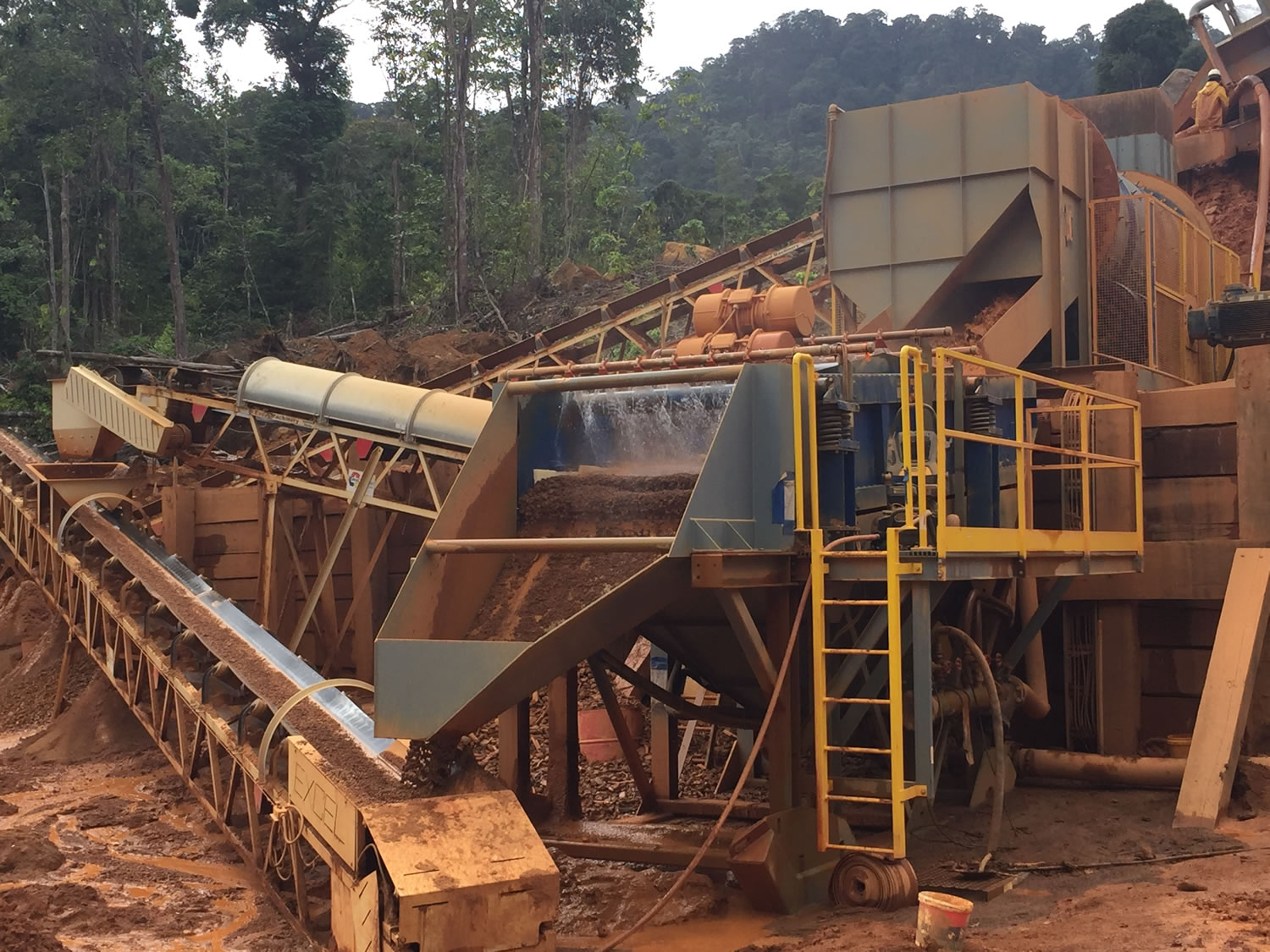 In the second quarter the company expects to achieve commercial production, which will mean the mine will be running at 800 tpd and getting 45% recoveries for 30 days.
Looking ahead the company is already talking about accelerating its plan to add a second 10-hour shift to the mine thanks to a second excavator and other equipment. The extra shift is now expected by the end of the second quarter instead of mid-way through the third, allowing the company to ramp up faster towards the capacity of the processing plant.
And it continues to look at cyanide leaching with a Sepro leach reactor to recover the significant amounts of gold that will end up in tailings after going through the simple gravity processor.
Financing the future
Goldsource has managed to put the project into operation on a shoestring budget of a few million dollars, but the company did need a late injection of cash to make sure they got over the finish line.
A company controlled by a Goldsource director lent $1 million at 12% for a year for the money, leaving Goldsource with $1.7 million in working capital at the end of 2015.
Since then, the company pulled in C$1.24 million after 5.14 million warrants were exercised well ahead of their 2017 expiry dates. Insiders converted 3.5 million of those warrants.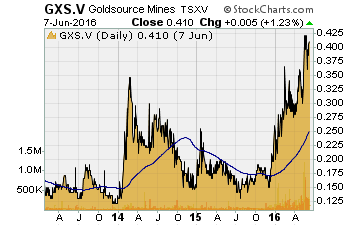 The exercise of the warrants came about after the company's share price climbed some 75% from around C$0.18 in November to over C$0.30 in April.
Thanks to the bridge loan and keeping costs in line, Goldsource hasn't had to raise money by issuing shares since its big raise of $7.1 million at the end of 2014.
With the recent warrant exercises, shares outstanding stand at 132.2 million, plus 36.4 million warrants and 9.5 million options ranging in price from C$0.16 to C$0.47.
Management and directors control about 16% of those shares, with Donald Smith Value Fund holding another 16%, and IAMGOLD's subsidiary Omai Gold Mines Ltd. holds another 5% of shares.
To manage finances Goldsource brought on Nicholas Campbell as chief financial officer, who stepped into the role starting in January.
Campbell brings with him a decade of experience as a mining analyst, plus a solid working relationship with other members of management from their shared time at SilverCrest Mines where he was a financial advisor.
He joins the established management led by Scott Drever as CEO, who led SilverCrest Mines to a C$154 million sale last year; Ioannis Tsitos as president with extensive experience in Guyana for BHP Billiton and others; and Eric Fier, also from SilverCrest, as chief operating officer.
Ramping up and up!
Together the team is focused on ramping up Eagle Mountain to full commercial operation. The company continues to smooth out bottlenecks and the usual challenges that come in the commissioning phase, with a sight to churning out profitable ounces in the near-term.
And with production ramping up largely on schedule and with a modest cash buffer, the company is also looking ahead. Goldsource is actively looking at how quickly they start to recover gold beyond gravity separation, at adding shifts and higher throughput, and generally increasing gold production.
Further along, the company will also be looking at how to expand Eagle Mountain from the established resource. The deposit is open in three lateral directions and at depth, plus there are numerous other targets to test on the 5,050 hectare property.
And if things continue to go well the company could also start to look around in the area to add to its holdings, with the project sitting in a promising gold region that also hosts the historic Omai gold mine sitting only 45 km away.
It's still early days for Goldsource and its Eagle Mountain project, but given management's past track record and how it's delivered on its commitments in Guyana, so far the future looks very promising! I continue to favor Goldsource as my largest junior gold producer investment as their ultra-low cost gold production begins to yield positive cash flow, reducing risks and providing further upside in both share price and growth opportunities.
- Peter Spina, President of GoldSeek.com
Goldsourcemines.com
TSX-v: GXS
| | |
| --- | --- |
| Shares Outstanding | 132.6 million |
| Fully Diluted | 178.0. million |
| Market Capitalization | US$42/C$53 million |