-- Posted Monday, 2 June 2008 | Digg This Article
| Source: GoldSeek.com


MeetTheFED.com - A new video featuring Ben Bernanke, Federal Reserve Chairman, and Jerry Nelson, Corporate Communications for the Federal Reserve with Gary Franchi, Managing Editor of Republic Magazine.

Bernanke is questioned about the Amero and Nelson reveals some little known facts about the FED. Is it really a private bank? Is the Amero on the horizon? What were US Notes printed by John F. Kennedy? Is our money toxic? What happened to the gold in the Treasury? These questions and more are answered in this expose' about the Federal Reserve System, from the mouth of the Federal Reserve.
This is must see video for all true American patriots.
Produced in association with Aaron Russo's http://RestoreTheRepublic.com, the Lone Lantern Society of America (http://LoneLantern.org), and Republic Magazine (http://RepublicMagazines.com).

Recorded May 14th-16, 2008 at the 44th Annual conference on Bank Structure and Competition hosted by the Federal Reserve of Chicago.

Shot on location at the Hotel Inter-Continental and on the streets of Chicago, Illinois.
Meet the Federal Reserve - Part 1 (09:07):
Meet the Federal Reserve - Part 2 (09:15):

Meet the Federal Reserve - Part 3 (08:47):

"In 1933 the U.S. Treasury had 20,000 metric tons of gold. The Federal Reserve sold the gold reserves to the US Treasury, purchased with 30,000 x $100,000 bills."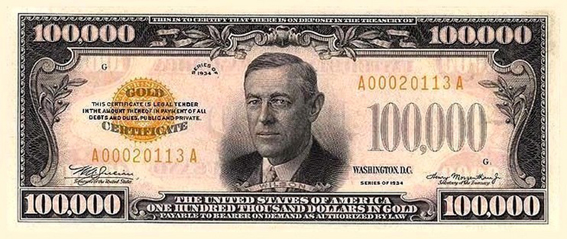 What was the largest denomination ever issued, and whose picture was on it?
Note from GoldSeek.com: "The largest note ever printed by the Bureau of Engraving and Printing was the $100,000 gold certificate, series 1934, featuring Woodrow Wilson. This series was issued only to Federal Reserve Banks against an equal amount of gold bullion held by the Department of the Treasury for certain credits established between the Treasurer of the United States and the Federal Reserve Banks."

Source: http://www.federalreserve.gov/generalinfo/faq/faqcur.htm#10

Video courtesy: www.meetthefed.com


-- Posted Monday, 2 June 2008 | Digg This Article
| Source: GoldSeek.com