-- Posted Wednesday, 8 September 2010 | | Source: GoldSeek.com


The record gold price is sending many gold stocks back to their prior highs, some to new record levels. So far, large capital inflows have mostly targeted mid-tier and senior gold producers. With most of the incoming investments flowing into these larger miners, many quality gold exploration stocks remain relatively untouched and undervalued.
The record gold price is being supported by a falling new mine gold supply. During the 2-decade long gold bear market, declining gold prices provoked higher grade gold deposits to be mined aggressively while dramatically reducing or halting exploration of new deposits. The result has put a growing strain on existing global gold mine reserves.
Peak gold production appears to be unfolding, which is going to be quite the challenge for gold miners along with future gold market supply. The increasingly capitalized gold producers are being confronted with the challenge of mining their gold deposits faster than they can economically replace it. In fact, the true break-even price for an ounce of gold to be put into production is closer to $1,000:
"GFMS has calculated that the "true" long-term cost of gold mine production – including things like green-fields exploration, sustaining capital, expansion capital costs and project development – at somewhere between $925/oz and $950/oz."
Yet this could be a perfect storm for selected gold explorers:
· Record gold prices -- the continuation of this secular gold bull market in the coming months, years
· Gold mine production peaked in the late 1990's falling over 20% during the last decade
o 2,700 to around 2,100 metric tones per year
· Decreasing reserves of gold producers sitting on increasing amount of cash, generating billions in profits and having access to capital -- investments, mergers and acquisitions are certain to accelerate
· Junior gold exploration companies with growing gold resources
· Limited qualified gold exploration industry personnel; many found in junior exploration companies
· Long timeline to discover and develop a new gold mine
· Many economic gold ounces being valued at just a few percent of record gold prices - dollars on the ounce!
The case for gold juniors has been a strong consideration as to why I have recently taken a sizeable investment in a relatively new gold exploration company - Nevada Sunrise Gold Corp. (TSX-V: NEV) - with around a $6M market cap and a resource of just under 1/2 million ounces. The company has a portfolio of four Nevada Gold and Silver projects that I believe, with some work, has the upside potential to grow into multi-million ounce deposits -- which would then become very attractive to a larger miner looking to replenish and/or grow its reserves.
Nevada Sunrise Gold Corp.
(TSX-V: NEV | US: NVSGF)
| | |
| --- | --- |
| Shares Outstanding: | 45.9 million |
| Fully Diluted: | 56.3 million |
| Market Capitalization: | $5.9 million |
| IPO (Sept. 2008): | $0.25 |
Overview: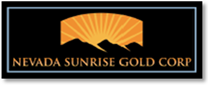 Nevada Sunrise Gold already has a measured and indicated NI 43-101 resource of about 300,000 gold and 4,000,000 silver ounces just on their Golden Arrow project. I expect this resource to continue growing soon with drilling starting this September 2010. Its Kinsley Mountain project is a past producing gold mine from 1994 to 1999, which produced around 135,000 ounces of gold.
Two of the more advanced properties just recently entered into a $12M JV-option. With the agreement calling for a combined $1.2M in exploration investment by year's end, a 16,400 foot-drill program will begin at the Golden Arrow project this month (September). Additional preparation work is underway for Kinsley Mountain's drilling program in the first part of next year. Nevada Sunrise Gold's other two properties remain near-term JV opportunities.
With a very exciting drill program just about to begin, I believe Nevada Sunrise Gold can quickly regain its IPO ($0.25) price level. In fact the market is giving around $40-50 or more per gold ounce valuation for similar Nevada projects. Nevada Sunrise Gold is trading at just $17 an ounce - and that is just at Golden Arrow. You would have to be trading around its pre-IPO price ($0.40) to match these average valuations.
I see this as the start of Nevada Sunrise Gold entering into an exciting period of development, exploration work and resource expansion!
Management
Nevada Sunrise's CEO Bill Henderson has over 25 years of experience in the mining industry, and has been acquiring mineral properties in Nevada since the early 1990's. Bill founded the laboratory Geochemical Services, Inc. in 1983, which specialized in providing trace element analysis to major and junior exploration companies.
With the adopted prospect generator model, it is important to focus on Nevada Sunrise's JV partner. I feel confident in Animas' ability to operate the Golden Arrow and Kinsley Mountain JV's because they have a history of delivering results on significant projects for mining companies. Dr. Odin Christensen is leading Animas' exploration activities. He was previously a director of NEV until early 2010. The synergy between the JV partners adds to a successful operational flow and relationship. Odin worked for Newmont for over 20 years, and in addition to being the miner's worldwide exploration manager, he played an instrumental role in developing their Carlin Trend assets in Nevada.
Properties: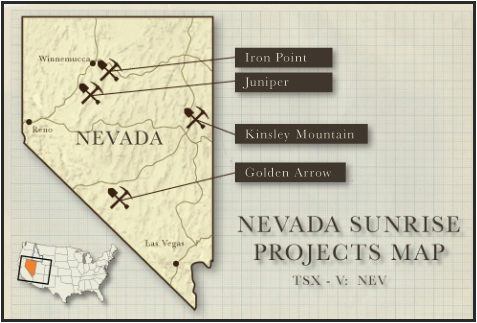 Location map for Nevada Sunrise Gold's Properties.
Golden Arrow
The Golden Arrow deposit is located near Barrick Gold's and Kinross' Round Mountain Gold mine, and has the potential to host a similar type of deposit with both high grade veins and low grade disseminated mineralization. This property's NI 43-101 compliant mineral resource estimate was updated 9 June, 2010, and includes a measured and indicated resource of almost 300,000 ounces of gold and over 4 million ounces of silver, and an additional inferred resource of about 50,000 ounces of gold and 1.25 million ounces of silver at open pit-able grades.

Golden Arrow NI 43-101 Resource. M&I + Inferred:354,900 gold and 5,257,000 silver ounces. The Classified Mineral Resource estimate is quoted at a variable cut‐off grade of 0.010 ounces per ton (opt) gold for oxide material and 0.015 opt gold for non‐oxidized material
Golden Arrow consists of 279 unpatented lode claims and 17 patented lode claims (approximately 5,684 acres). High grade gold veins were mined on the property in the first part of the 1900's and since the 1980's there have been several companies exploring the area including: Homestake (1988), Westgold (1989-90), Independence (1992), Coeur d'Alene (1993-94), Kennecott (1996), Tombstone (1997), and Pacific Ridge (2003-2004).
A total of 400 drill holes exceeding 150,000 feet, plus geochemical and geophysical surveys have been completed. Past drill holes have encountered some high grade intercepts at depth (1/2 ounce gold per ton to over 2 ounces – 70 grams - per ton) 200-300 feet to 500-600 feet below surface. See more higher grade and longer mineralized intercepts here.
By reinterpreting drill logs, plus geophysical and geochemical data, several new targets have recently been identified that have the potential to quickly grow this resource into the size that a major mining company would be interested in acquiring. These several new prospective targets are ready for drill testing and Nevada Sunrise Gold's JV earn-in partner is set to begin drilling in September.
This should be the start of an exciting time for the Golden Arrow project which should see the resource grow, possibly quite significantly.
As the CEO of Nevada Sunrise summarizes, "For the first time in its history, we have been able to create a geologic model of the Golden Arrow property that was fully verified by our 2008 drill program. We are within about $2,000,000 of completing definitive testing at Golden Arrow for new centers of mineralization – the test that can put the property on track to becoming a major Nevada gold mine."
Golden Arrow – more: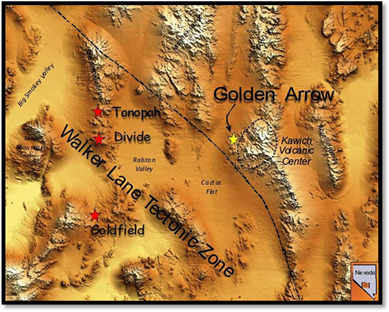 The Golden Arrow project is near the center of southern Nevada's Walker Lane structural zone, about half way between Reno and Las Vegas. Located approximately 40 miles (64 km) east of Tonopah and Goldfield, and 60 miles (97 km) south of Barrick and Kinross' Round Mountain gold mine, this 5,684 acre (2,300 hectare) property includes the entire consolidated Golden Arrow mining district. This contiguous land package includes 17 patented lode claims that are wholly owned by a NEV subsidiary, and the 279 adjacent leased unpatented mineral claims. The property is accessible year-round by US Hwy 6, and a network of local dirt roads and drill roads, plus it is very close to an existing power line.
Nevada Sunrise's flagship Golden Arrow property is geologically located near the middle of the Walker Lane structural zone, along the western margin of the Kawich volcanic caldera. High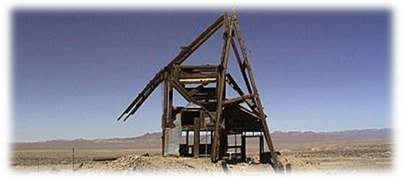 grade gold in quartz veins were first discovered here in 1905, and mined underground into the 1930's by numerous shafts that were sunk as deep as 360 feet (120 meters). Seven companies have explored the property since 1988, including the major miners Homestake (now Barrick), Kennecott (now Rio Tinto), and Coeur d'Alene. Consequently, NEV owns the data archives from more than 150,000 feet (45,720 meters) of drilling in over 400 holes, plus the data from past soil geochemistry and geophysical surveys.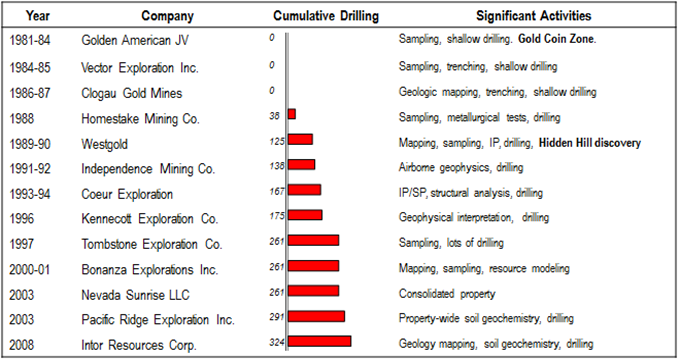 Exploration activity at Golden Arrow. Courtesy Nevada Sunrise Gold Corp.
The gold and silver at Golden Arrow occur in both oxide and sulphide minerals that were first deposited as deeper high grade epithermal veins by a low sulphidation system. Later these veins were overprinted by low grade mineralization that was disseminated throughout the porous volcanic host rock by near surface high sulphidation hot springs. The current mineral resource exists as two adjacent deposits called Gold Coin and Hidden Hill, which occur near the surface and are essentially shaped like pods, so they would most likely be excavated as two separate open pit mines. Results from the recently completed preliminary metallurgical tests were included in the most recent NI 43-101 compliant Technical Report, and thus far seem to indicate that the oxide ore will have reasonable recoveries from a standard cyanide heap leach operation, and milling and floating the sulphide ore could produce a typical concentrate.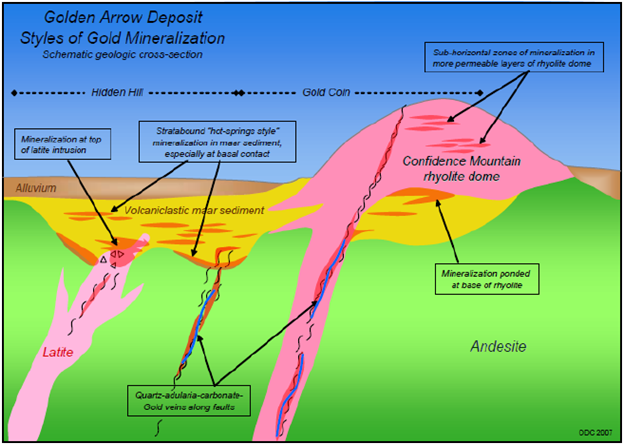 Deposit Styles and Gold Mineralization. Courtesy Nevada Sunrise Gold Corp.
Recent evaluation and interpretation of the property's large data set has enabled NEV and ANI to identify numerous exploration targets that have the potential to increase the existing mineral resource by multiples. Samples from the previous drilling indicates that the known resources occur relatively high in the epithermal systems, which implies that there is a lot of potential for the mineralization to extend even deeper. In recent years, NEV's previous JV partners completed extensive rock chip and soil geochemical sampling programs that identified several anomalies and prospective targets. Furthermore, reprocessing and modeling old geophysical data has generated numerous untested targets. This extensive database is the result of numerous surveys that used ground and aeromagnetics, airborne EM, IP-resistivity, and radiometrics, and gravity geophysical methods. ANI's 2010 exploration program is currently conducting electrical geophysical surveys to explore local and regional targets, and during the third quarter will be testing at least 6 new target areas with about 16,400 feet (5,000 meters) of core and RC drilling.
Animas' JV Earn-in Option:
· $3.5 million over 3 years for a 51% interest, JV will be formed
o $1 million must be invested into exploration by end of 2010
· $4.0 million option to earn an additional 9% interest in JV
Bottom-line from the CEO on Golden Arrow:
For the first time in its history, we have been able to create a geologic model of the Golden Arrow property that was fully verified by our 2008 drill program.

For the first time in its history, we have a thorough understanding of the geology and geochemistry of ore formation at Golden Arrow.

We have identified the "feeder" system for mineralization at Golden Arrow and have ascertained that seven of the nine prospective areas defined in this analysis have never been drill tested.

We understand the Page fault and its relationship to the felsic intrusive that feeds mineralization and the importance of this structure to high‐grade mineralization at Golden Arrow – this too has never been drill tested.

We understand that we are "high" in the system at Golden Arrow and at the right time in our program will exploit the

probability of a much larger and higher grade deposit at depth

. Compare this to the discovery process at

Round Mountain

.

We

are within about $2,000,000 of completing definitive testing

at Golden Arrow for new centers of mineralization – the test

that can put the property on track to becoming a major Nevada gold mine.
Kinsley Mountain
Overview:
The Kinsley Mine was discovered in the mid-1980s and had some exploration by Cominco and Hecla Mining (1,132 holes) before Alta Gold purchased it in 1993 and brought it into successful production a year later. The mine produced 134,777 ounces of gold between 1994 and 1999 (~30,000 ounces per year) from an outlined 245,000 ounce gold reserve from the upper oxide mineralization in a Carlin Type deposit.
Despite gold trading near $250 in 1999, the mine was still profitable. Alta Gold went into bankruptcy from cost overruns related to their other 3 mines. This ceased production and exploration work at Kinsley Mountain – which was then sold at auction and acquired by Nevada Sunrise LLC.
Alta Gold was mining the low-grade gold upper zone ore before abruptly ending production. The deeper and higher-grade refractory mineralization has been barely tested - just by a few deeper holes. The drill results showed exciting grades from nearly 0.235 ounce (7.31 grams) per ton to the east side of the range to 0.149 ounce (4.64 grams) per ton gold a mile to the northwest.
The underlying sulphide mineralization has only been barely touched, but encouraging results suggests this project has potential to host a sulphide deposit many times larger than the previously mined oxide deposit. I believe Kinsley Mountain holds significant exploration potential which could then bring this project back into production.
Nevada Sunrise Gold's JV earn in partner is in the process of preparing the project for drill testing in the first part of next year. A minimum of $200,000 in exploration expenditures must be invested by year's end and includes: property-wide geophysical and geochemical survey, new geological map of property and then preparing for next spring's drill program.
Kinsley Mountain Details:
Kinsley Mountain is located east of the Carlin Trend and the mining town of Elko, between Wendover and Ely. This 2,807 acre (1,136 hectare) property includes 141 unpatented lode mining claims with good access and infrastructure. Between 1994 and 1999 Alta Gold produced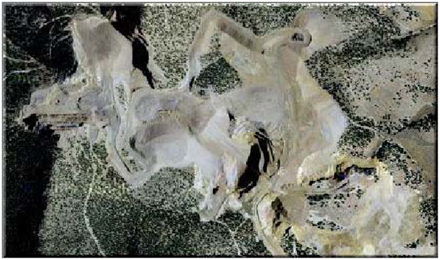 134,777 ounces of gold from an open pit heap leach operation by mining out several small oxide deposits. Kinsley Mountain has been explored by over 244,900 feet of drilling in 1,156 holes. Averaging 212 feet of drilling per hole, this deposit is the underlying extension of sulphide mineralization remains under-explored at depth and has potential to host a sizeable discovery in an especially interesting part of Nevada.
The deposit is located geologically in similar Early Paleozoic age carbonate stratigraphy as recent discoveries to the northwest of this property in the Pequopmountains. Because Carlin Type deposits were previously believed to not exist east of the Carlin Trend two of Nevada's most exciting recent discoveries are AuEx's Joint Ventures with Fronteer Gold at Long Canyon, and Agnico Eagle at the West Pequop.
The 2010 Kinsley Mountain exploration program will involve geologic mapping, gravity geophysical surveying, soil geochemical sampling, and data acquisition. Information gathered this summer will be used to help defining targets for drilling in 2011.
Animas' JV Earn-in:
· $1.5 million over 3 years for a 51% interest, JV will be formed
o $200,000 must be invested into exploration by end of 2010
· $3.0 million option to earn an additional 14% interest in JV
Juniper
The 2,206 acre (820 hectare) Juniper property is comprised of 110 unpatented lode mining claims in the Willow Creek Mining District, located in about 25 miles (km) south of Winnemucca, Nevada. Newmont geologists identified this exploration prospect in 1987, and during the previous two exploration seasons 134 shallow holes by Newmont and MK Gold drilled 37,074 feet (11.303 meters), and encountered some decent gold grades and thicknesses. This drilling was used to identify a historic (non 43-101 compliant) resource of 181,000 tons of 0.15 opt gold, or 27,150 ounces of gold, in a sediment hosted Carlin Type deposit.
Iron Point
The 1,616 acre (654 hectare) Iron Point property is located on the Battle Mountain – Eureka Trend. Within a 25 mile radius (40 km), Iron Point is surrounded by Barrick's Getchell, Turquoise Ridge and Pinson mines, Newmont's Twin Creeks and Lone Tree mines, and Goldcorp's Marigold mine. This is an early stage exploration project that has some small historic workings within large areas of hydrothermal alteration and geochemical anomalies.
Conclusion
Gold exploration remains a capital intensive and difficult business model, but can provide significant rewards upon discovery. With gold prices marching to new records, a diminishing global mine production and reserves, along with the other reasons mentioned above, gold exploration companies are starting to look more and more attractive going forward.
There are literally thousands of junior gold exploration companies to invest in. From my 15 years of junior gold investing experience, perhaps no more than 10 to 20% of that group deserves your investment consideration. Finding a prospective gold property is a difficult task in itself, but finding a company that is properly structured to advance the project is even more difficult. That is why I find the strategy of taking a position in a basket of well researched juniors will help spread the risk.
One of the companies I believe worth strong consideration is Nevada Sunrise Gold [TSX-V: NEV]. They are actively exploring their two most advanced gold projects in Nevada, Golden Arrow and Kinsley Mountain, by using the JV (Joint Venture) business model to leverage up to US$12 million of OPM (Other People's Money) for near term development. NEV's partner Animas Resources [TSX-V: ANI] can earn up to 60% and 65% of these respective properties. By JV-ing these projects NEV minimizes exploration and capital risk, while enabling ANI's accomplished exploration team to operate these projects.
I began following Nevada Sunrise Gold more closely as it went public in the late summer of 2008 at $0.25 a share. Their IPO price was expected to be above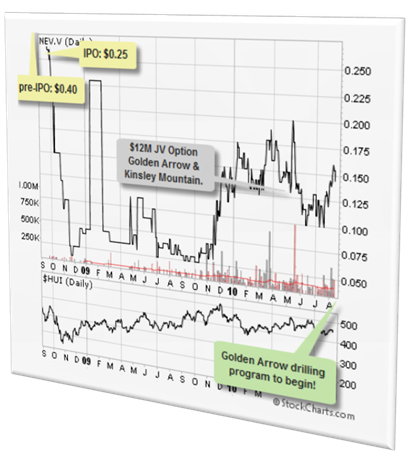 their pre-IPO financing, completed at $0.40, but market conditions and unfortunate timing did not allow that.
Market circumstances were not kind and the company had to endure this difficult period for junior gold explorers. Therefore NEV was unable to move their projects forward aggressively, until now. And like most junior gold explorers during this period, it was a question of survival.
Just about a year ago, with gold marching past $1,000, and with the view that $1,000 gold will soon look like a bargain, I re-assessed Nevada Sunrise Gold and found excellent value and opportunity ahead. The company had been all but forgotten by the market, although the market was never really made aware of its existence in the first place. I assisted, along with other investors, in funding the company with the view that the absolute minimum should be done at these low levels to minimize share dilution, but enough to revive it.
So after an initial $400,000 capital raise, the company began the process of beginning a new positive trend higher and additionally raised nearly $1,000,000 this past April at the $0.15 level. The company now finds its balance sheet strengthening, and will likely need another small injection of capital, but overall it has returned to a much healthier position than seen at the end of last year. Since then, their two major projects have entered into JV options with up to $12 million in exploration investments into Golden Arrow and Kinsley Mountain!
When I decided to become more involved with the company, one of the deficiencies identified was the need for better public market understanding and awareness – an area where management in many quality junior gold companies do not succeed and one in which I have many years of experience with. So I have come onboard to Nevada Sunrise Gold as a strategic advisor and at the same time became one of its largest shareholders. GoldSeek.com will also be assisting in their market awareness campaign.
Nevada Sunrise Gold Corp. may have been slowed down temporarily by going public during the market downdraft in 2008 into 2009. But the company is now pushing ahead with up to $12 million in exploration work commitments at two of their excellent projects by their JV-option partner. Nevada Sunrise is following a very similar JV strategy as AuEx, with JV partners spending OPM to earn ownership in projects while shifting the burden of exploration risk from the company. The Company benefits by retaining a significant interest and seeing its projects develop without having to raise the initial millions of dollars to do so, thus protecting its share structure, share capital. With Golden Arrow and Kinsley Mountain now moving forward, I believe this is the start to a new, exciting period for Nevada Sunrise Gold, and I look forward to seeing it continue to develop!
Research Resources:

Website: http://www.nevadasunrise.com
o News Releases: http://www.nevadasunrise.com/View_webpage.asp?Title=Press%20Releases

Contact the Company Directly: 530-887-9901

Reviews SEDAR Filings: http://www.sedar.com/DisplayCompanyDocuments.do?lang=EN&issuerNo=00026824

Stock Quote: http://tmx.quotemedia.com/quote.php?qm_symbol=nev&locale=EN

Kind Regards,

Peter Spina, GoldForecaster.com

Disclosure, Conflict of Interest: I am long Nevada Sunrise Gold Corporation. The company is an advertiser on GoldSeek.com, which I am the President of. I am positively biased. These are my opinions and mine solely. I am not a registered investment advisor. I strongly urge you to do your own investment due diligence. I strongly urge you to research Nevada Sunrise Gold Corporation.

Legal Notice / Disclaimer: This document is not and should not be construed as an offer to sell or the solicitation of an offer to purchase or subscribe for any investment. Gold Forecaster - Global Watch / Julian D. W. Phillips / Peter Spina, have based this document on information obtained from sources it believes to be reliable but which it has not independently verified; Gold Forecaster - Global Watch / Julian D. W. Phillips / Peter Spina make no guarantee, representation or warranty and accepts no responsibility or liability as to its accuracy or completeness. Expressions of opinion are those of Gold Forecaster - Global Watch / Julian D. W. Phillips / Peter Spina only and are subject to change without notice. Gold Forecaster - Global Watch / Julian D. W. Phillips / Peter Spina assume no warranty, liability or guarantee for the current relevance, correctness or completeness of any information provided within this Report and will not be held liable for the consequence of reliance upon any opinion or statement contained herein or any omission. Furthermore, we assume no liability for any direct or indirect loss or damage or, in particular, for lost profit, which you may incur as a result of the use and existence of the information, provided within this Report.

Additional Disclosure: The owner, editor, writer and publisher and their associates are not responsible for errors or omissions. The author of this report is not a registered financial advisor. Readers should not view this material as offering investment related advice. Authors have taken precautions to ensure accuracy of information provided. Information collected and presented are from what is perceived as reliable sources, but since the information source(s) are beyond our control, no representation or guarantee is made that it is complete or accurate. The reader accepts information on the condition that errors or omissions shall not be made the basis for any claim, demand or cause for action. Past results are not necessarily indicative of future results. Any statements non-factual in nature constitute only current opinions, which are subject to change. The information presented in stock reports are not a specific buy or sell recommendation and is presented solely for informational purposes only. The author/publisher may or may not have a position in the securities and/or options relating thereto, & may make purchases and/or sales of these securities relating thereto from time to time in the open market or otherwise outside of the trading timeframe listed above. Nothing contained herein constitutes a representation by the publisher, nor a solicitation for the purchase or sale of securities & therefore information, nor opinions expressed, shall be construed as a solicitation to buy or sell any stock, futures or options contract mentioned herein. Investors are advised to obtain the advice of a qualified financial & investment advisor before entering any financial transaction.


-- Posted Wednesday, 8 September 2010 | Digg This Article
| Source: GoldSeek.com