-- Posted Tuesday, 25 April 2006 | Digg This Article




April 25, 2006

When I wrote "The Shootout at Mineral Ridge" in January of 2006, the stock was trading for about $.25 US a share which I thought was pretty remarkable considering all that had been occurring: you know, new management, huge project, limited funds, unresolved issues, and a shareholder base pretty much on anti-depressants. It is now in the $.45-$.50 range (after being as high as $.56 cents) and people are complaining? Well, of course it's been a bit volatile, but then again many resource companies have been volatile. The entire resource market has been volatile. Investors are basically looking at a double in about four months and that's not too bad all things considered. But most importantly, people are now sensing that this company is making it, is going to be successful and is going to move ahead at warp speed once that first super sack of Molybdenum concentrates has been produced. Ladies and Gentlemen, it is getting very very close.

We've only Just Begun…to move!

I'm going to renew my buy recommendation on Golden Phoenix. It is my opinion that it is going to be at $1.00 within the next six months and at $3.00 within the next two years. It has the potential to be much higher than those figures; but on a conservative basis, these numbers are realistic. Can you wait that long? You've now

got the knowledge, do you have the perseverance? That's your call and your call alone. I know how Americans want everything NOW! Of course we all do. But truly, good things do come to those who have the knowledge and the perseverance.

On top of that, you know as well as I do that there is a resource stampede coming at us like never before in history. Most Americans are not even aware of the basics of it or why it is going to occur. GoldSeek.com Readers, SilverSeek.com Readers, and MolySeek.com Readers are going to be well placed. For Heaven's sake, position yourselves accordingly and assist your friends and loved ones because what goes around comes around.
Driving the heading towards the Sylvia Vein
Why is Golden Phoenix going to do so Well?
Here's my reasoning based upon the GPXM press releases
and what I can discern from between the lines.
1. GPXM is closer to producing Molybdenum at the Ashdown mine in Nevada than any of the other newly promoted Molybdenum projects on the planet. Think about it. Earl Harrison and crew have found their way back to the vicinity of the Sylvia Vein in less than 18 months. The bulk sampling program would appear to be close at hand. This new management team has accomplished this feat while simultaneously picking up the loose laundry that was left behind by the past tenets. I'm trying to be kind here so now it's your turn to read between the lines.
2. I keep reiterating that Ashdown is the richest, not the largest, known Molybdenum project, on the planet. Resource grades were offered up in my last GoldSeek article but just to refresh your memory, the Sylvia Vein has the target zone pegged at about 8% Moly. This, in a world where 1% Moly is considered excellent. With continued exploration, this project alone could be worth in excess of $100 million dollars. Think of it like this. The Ashdown project offers about 160 pounds of Moly per ton. That is on average about 100 times richer than the average Moly project which might be in the vicinity of 1.6 pounds per ton. Now, consider that at Ashdown, it is going to be 100 times less expensive to produce that ore (because of the high grades and areas of intense concentration) and we begin to understand why the dynamics of the project are so impressive. The other thing that most people really don't get is that there has been no serious exploration on this Ashdown property in over 25 years! Think of what new exploration program might discover.
3. This is a new management team, at the helm for only 16 months—don't confuse them with the old management team. The new guys are smart, pragmatic, dedicated, and committed to a long term plan of building value in the company. They are not that worried about the daily fluctuations of the stock price. Of course they want it to appreciate, but they are not making business decisions based upon that factor alone. Out of necessity, they are lean and mean. Financially, they are personally committed to the success of the program. I like companies where the management has a personal financial stake. They have been in "salvage mode" but are now getting very close to getting past that stage and into "viable company" mode. I also know that most of these guys have not even been drawing a living wage. That can only mean two things—either they are really dumb or they believe that at the end of the day there will be success sufficient to reward everyone—shareholders included. They're not dumb.
4. Ashdown has enormous potential above and beyond what has already been presented. That means that future drilling in the area may possibly prove up significantly higher numbers. I alluded to that fact earlier in both the exploration potential and the Moly grades presented to date. There is also a gold component to this property which has not yet been discussed. Don't count it out.
5. The new "Champion" acquisition allows the company to use the "cookie cutter" approach on another Moly project of a similar nature to the one at Ashdown. This group has become well versed on all the things it takes to get Moly to market. It is only good business to take that expertise and have it applied to another project of a similar nature.
6. The company has other high value property assets, including Mineral Ridge, which will eventually be developed. My gut tells me that when the money starts to flow, and flow it will, this team will be circumspect and acquire other mining deals in order to build additional value in the company. At some point I believe they are smart enough to re-emphasize the gold component in Golden Phoenix. In other words, even at this juncture, I'm going to take a wild guess and say they are seeking out other Nevada Gold Properties for their portfolio and they will be putting the gold back into Golden Phoenix.
7. This group has integrity: Ken Ripley, David Caldwell, Rob Martin, and Earl Harrison are all honorable people. I've spoken extensively with each and every one of them. This "posse" as I call them, are people you can count on. Well, when you think about it, that's exactly what we're doing. We're getting into their corner and telling the world that we believe in them and that they will be successful in terms of what they are endeavoring to accomplish.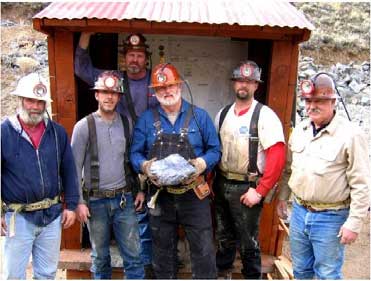 Several of the Ashdown men with mine Manager Earl Harrison, seen at center holding a rock sample from Ashdown's North Zone grading 5.1% elemental Molybdenum – equivalent to 102 lbs Mo per ton. Below is a close-up view of the rock sample.
8. It is my firm conviction that they will get Ashdown into production in the very near future, the near future being within months—maybe sooner. Once again, I'm going to state that it is also my personal belief that they are seeking out additional gold and silver properties in which to invest. My sensing is that they will try and stay focused on Nevada but will review opportunities as they present themselves. This is a company that does not want to be viewed as a one trick pony, no matter how spectacular that trick may be.
The above photo is a close-up of a section of the old decline
that is currently in the process of being rehabilitated.
Perceptions, Expectations, and Reality
These are the keys to any high risk, high reward endeavor in today's world. Are the things that we expect a company to accomplish in line with what the market perceives as reality?
Most everyone has an agenda and we all have to become accustomed to that fact. We not only have to accept it, we have to work with it. Some are more responsible than others in how they promote that agenda. We all have perceptions as to how we want these junior mining companies to perform and those perceptions are sometimes influenced by what's coming out of the company PR machine, what other analysts are saying and of course what the market is representing.
GPXM doesn't really have a PR machine per se, but may be getting closer to the idea with the hiring of O & M Partners. Right now Rob Martin is their PR machine and in my mind he's a one man tornado.
Perceptions of the present day GPXM have been clouded by the past performance of the company under a different management team. Perceptions have been clouded by some of the drivel being touted by the instruments of the competition and perhaps by some of the ridiculous commentary I've seen and heard about on the "boards". If you want information about this company, go no further than their website at www.golden-phoenix.com. I've said it before. This is one of the best run junior mining web sites on the Internet. It is a photo essay that captures the essence of the re-emergence of this company day by day, beam by beam, and frame by frame.
Expectations have been mixed and the public has sometimes been unrealistic. Heck, even the company has been unrealistic because they've been in new ground almost every step of the way. It is difficult to be real when you don't know what you're going to step in next! They had to be optimistic or they would have gone nuts. "Nuts" is not a technical term—it means to literally lose one's mind or to suffer from a total separation from reality, usually from circumstances beyond your control. These guys and these crews have just pulled off an amazing feat and remained well grounded in the process.
Don't forget, after the Shoot Out at Mineral Ridge, the Posse had their hands full just dealing with that incessant flow of problems to be solved. Back then the perception was that the company was going to bite the dust and the expectation was that nothing could save it and the reality was a few guys stepped into the abyss and not only saved the company but put it on the fast track towards success. That was about 16 months ago.
In Nevada, it is about two and a half years to permit a basic mine. This new group has been at it for about 16 months. So if my intuition is correct, Ashdown could beat that timetable by as much as a year.
Perception: The perception on GPXM is that they should have been in production by now. Perhaps they were a bit overly optimistic and perhaps we all bought into that concept too eagerly, especially after Earl and his crew completed the 600 foot bypass tunnel and broke through to the Sylvia Decline. That news was announced only three months ago on January 23, 2006. We perceived that "breaking through" was the same as being at the face of the deposit which is inaccurate. They still had a ways to go and most importantly all the safety precautions had to be implemented. People, that takes time. They still had to literally fight their way to the face of the deposit, reinforce the tunnel, and all the while the ground was unstable and was fighting back.
Expectation: Investors had the expectation that once they broke through it was only a matter of a few weeks and boom! The super sacks would be on the trucks to market. That was an expectation which was not grounded in reality. It was wishful thinking on our parts. Perhaps, there was some optimism being presented but that's the nature of the game.
Reality: The reality is that we all need to take a deep breath and have confidence that this company and these guys are smart enough to do the right thing at the right time with the right people and for the right money. The reality is that they are picking up the pace and moving ever more quickly towards production. The reality of it is that this "turn around" situation or "salvage situation" is just about at an end. My interpretation of this is that the opportunity of picking up shares in this company at very reasonable prices is also coming to an end.
This means that the pace will be quickening even more, the jack in the box routine will give way to more proactive governance of a viable company. It may not happen this quarter, but I'll bet there will be serious progress made by June. No one is more acutely aware of the reality of the situation than these four guys. They know they have the eyes of the world on their backs and they are not going to fail. In my next article, I'm going to share some of the insights I gained after conducting extensive interviews with all four gentlemen.
Building a House, Building a Business, Building Golden Phoenix
Let me give you an example. I've built a few "spec" houses in my day. The plans and the permitting seem to take forever. Then we break ground, pour the foundation and frame it up. Man, it looks like a house, but are we ready to move in? Then we get the roof and the siding on. Is it a house? Not yet, and the real kicker is that you'll get all of this substantive work completed and then comes the finish work. The finish work costs a fortune and takes forever. You spend tens of thousands of dollars for trim work, baseboards, closets, knobs, handles, and everything in between. Then you get all of that completed and you look outside and see the driveway needs to be paved and the landscaping needs to be completed. That will take more time and more money.

This is a bit where we are with Golden Phoenix. After all the work and effort to get to a certain point and you think we're just about home---more work! The mill needs to be fully operational, the crusher needs to be tested, the conveyor belts need to be working, and the entire process needs to be gone over with a fine tooth comb. Now you get the point. The reality of the situation is that on a limited budget, a company can only go so fast. It is never as fast as folks would like and that includes management as much as investors. However, when production begins in earnest all the groundwork that has been laid over this past 16 months will blossom like a magnolia tree in a Georgia Spring time. The sweet fragrance of success will be drifting on the summer breeze; and yes, all those initially involved will have earned first rights to enjoy that fragrance.

Building the Ashdown Mill

Is that ever going to happen? Yes, in my opinion, it is going to happen. I think they're almost there. And it's going to happen because you have a management team that understands that just because the house is framed up doesn't mean you can move in. They'll take the extra few weeks or months to finish up the trim work so they don't have to go back later on and do it when the focus should be elsewhere. When the Moly finally comes off the conveyor belt, and the mill processes those concentrates accordingly, you'll be the first to know. In the interim, be an optimist based upon the idea that your faith is well founded in this posse.

One Final Comment on the Champion Acquisition

There were a few comments made about the timing of the Champion Acquisition. This may be but a tempest in a teapot. Then again there may be neither a tempest nor a teapot. I personally might have voted for the production of the first super sack of Moly being produced at Ashdown and then making and announcing the Champion Deal. But opportunities don't always arrive at your doorstep when you want them to. Opportunities knock and if there is no one home, they'll go on to the next door. GPXM chose to open that door and in reality it did not affect their bottom line or their focus one iota.

This goes back to the idea of allowing the management to run this company and not second guessing them. Everyone does things differently just as most everyone has their own perception of reality. After talking with these guys, I realized that they have their eye on the big picture—they believe fervently that they will be successful at Ashdown; it's so close they can taste it. The miners can taste it, for sure. Golden Phoenix's idea is now to be two to five moves ahead in this resource chess game. You can't do that by operating any company in a totally defensive matter.

Just by the very act of them acquiring new properties tells me that this is a company looking towards the future and not dwelling in the past. Don't be at all surprised to see this posse coming out from time to time with six guns blazing. That's good, that means we're looking at a company that is intent on growing on all different levels. And besides, I would have to be one of the first to give them the latitude they need after what they've accomplished to date in such a short 16 months.

No, they're not dumb.

Until Next Time,

D. Stewart Armstrong


-- Posted Tuesday, 25 April 2006 | Digg This Article