-- Published: Thursday, 20 November 2014 | Print | Disqus
A reader recently wrote in asking about how we pick stocks despite our concerns with the markets. He was wondering how we are long the market despite our concerns.
The answer is very simple. Making money in the markets is all about knowing when to ride the trend and when to get out. Right now, we're in a Central Bank induced bubble. One day it will burst. When it does, many investors will get crushed. But until it does, we're going to make money from it.
How do you know when to get in and get out?
We like the 52-week moving average. This represents a great line of support for bull markets. As you can see, the S&P 500 bounced off of this line numerous times during the housing bubble.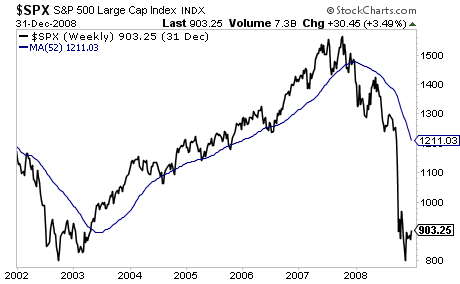 In simple terms, when stocks remained above this line or bounced off of it, you were in a bull market. So you would want exposure to solid stock picking.
However, once stocks took out this line, it was time to get OUT and start looking for short opportunities.
Here's the same metric for the Tech Bubble: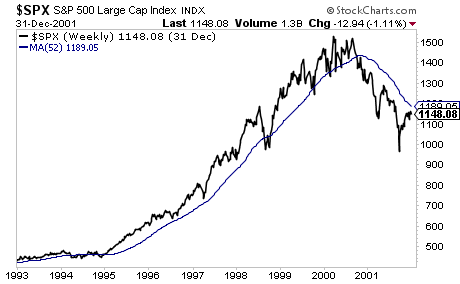 And here it is today.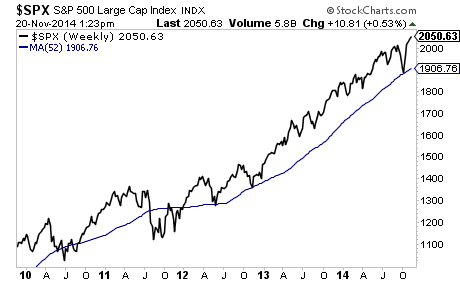 We started getting into trouble in 2011, but the Fed stepped in with Operation Twist and we were off to the races again. As long as we remain above this line, we're going to buy picking stocks and making major returns.

Do we see many bearish problems emerging?

Yes.

Will we get out of the way before it hits?

Absolutely.

Will we make money from the collapse?

YEP.

Best Regards,


| Digg This Article

-- Published: Thursday, 20 November 2014 | E-Mail | Print | Source: GoldSeek.com