-- Published: Friday, 7 March 2014 | Print | Disqus
By Gordon T. Long
ITS NOT THAT EASY ANYMORE!!
STRATEGIC INVESTMENT ANALYSIS - Macro Answers
Staples, the largest US office supplies retailer just announced:
It will miss analyst revenue expectations and has slashed earnings projections,
It is losing customers to mass market chains and e-retailers,
Same-store sales in North America, excluding sales through Staples.com, fell 7 percent as Staples sold fewer business machines, technology accessories, office supplies and computers.
Revenue at the company's international division fell 13 percent, hurt by weakness in Europe and Australia.
Staples will shutter 225 stores nationwide by 2015, which is 12 percent of the company's 1,846 stores in the United States and Canada (1,515 stores in the United States and 331 stores in Canada).
A multi-year cost reduction plan is presently underway which Staples expects to generate annualized pretax cost savings of about $500 million by 2015.
"Our customers are using less office supplies..."
Rival Office Depot said last week that it expected sales to continue falling in 2014, after reporting a surprise quarterly loss.
Expect more stock charts to soon look like today's Staples chart.
Top Stories: A 'tsunami' of store closings seen hitting retail, Wal-Mart ups the ante on its big bet to go small, Consumers are shopping a new way—What it means
MACRO SITUATIONAL ANALYSIS
Charles Hugh Smith and I laid out the looming domino in the US Retail CRE (Commercial Real Estate) space 5 weeks ago. Even for those retailers unlike Staples, who can maintain sales, the domino is going to be due significantly to advancement of online and robotic technologies. The rapidly advancing ramifications are both startling and alarming.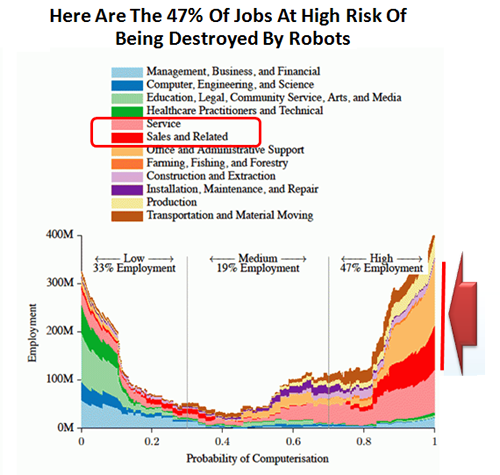 EXAMPLES THAT ARE UNDERWAY:
Store Replacements: Redbox Model
Instore Kiosks
Applebee's "Waiter Terminator"
Smoothies "Automated Dispensers"
McDonalds's "Smart Restaurant"
The "Brown Truck" Store
AN 'OVER-STORED' AMERICA
The Retail building boom in America has created yet another bubble - The Stealth Retail CRE Bubble.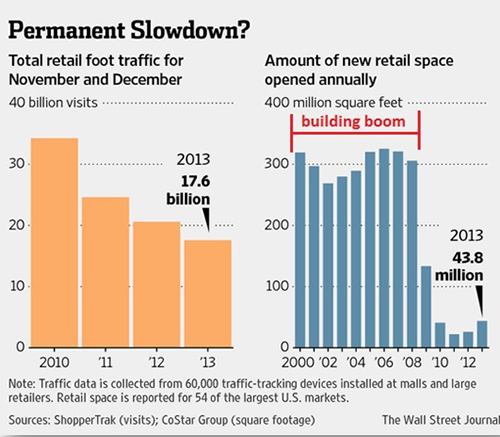 SHADOW BANK FINANCING
What few are aware is that the Shadow Banking system has 'morphed' since the 2008 financial crisis. Commercial Real Estate financing is presently seriously exposed to a crisis in short term funding disruptions, in a similar fashion to Residential Real Estate prior to the 2008 crisis. We have new instruments that will be the the new acronyms of the next financial crisis.
WE WARNED IN NOVEMBER
Charles Hugh Smith and I additionally warned in November with: The Looming US Retail Implosion.
We said:
There is a looming US Retail implosion on the horizon and a complete re-think of the foundation of a 70% US Consumption Economy is urgently required. For thirty years analysts have predicted the demise of the US consumer. They were so consistently wrong that the mantra "Don't Bet Against the US Consumer" became a staple of investor wisdom, similar in reliability to "Don't Fight the Fed!".

The US Consumer as the engine of global growth has powering global credit creation and expansion as a result of the corresponding growth in US deficits . Now at 70% of the US economy, as compared to 50-55% for other developed economies and less than 35% for emerging economies, the question is no longer a matter of is it sustainable, but rather what will be the fallout now the inevitable has finally arrived?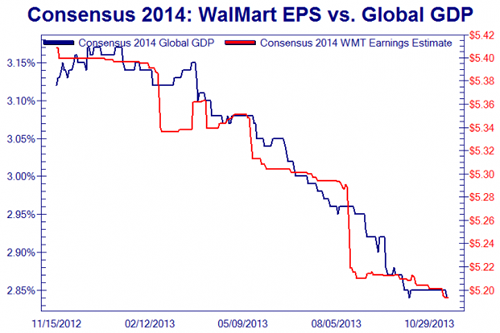 It is clear the US consumer is tapped out as a result of the US middle class being 'gutted' with job lose, low salaries, exploding healthcare & educations costs and pensions now an endangered species.
However, our Monetary, Fiscal and Public Policies are only making matters worse as it creates inequality and a society of "Haves & Have Nots!". The America Dream is not longer a reality nor possibility for 2/3 of Americans saddled with Student Loan and Healthcare debts.
CONCLUSIONS
Its Coming - Consider Yourself Warned,

Again!

For more detail signup for your FREE copy of the GordonTLong.com 2014 THESIS PAPER

Signup for notification of the next MACRO INSIGHTS

Request your FREE TWO MONTH TRIAL subscription of the

Global Macro Tipping Points (GMTP) Report at GordonTLong.com

No Obligations. No Credit Card.

Gordon T Long is not a registered advisor and does not give investment advice. His comments are an expression of opinion only and should not be construed in any manner whatsoever as recommendations to buy or sell a stock, option, future, bond, commodity or any other financial instrument at any time. While he believes his statements to be true, they always depend on the reliability of his own credible sources. Of course, he recommends that you consult with a qualified investment advisor, one licensed by appropriate regulatory agencies in your legal jurisdiction, before making any investment decisions, and barring that you are encouraged to confirm the facts on your own before making important investment commitments.

© Copyright 2013 Gordon T Long. The information herein was obtained from sources which Mr. Long believes reliable, but he does not guarantee its accuracy. None of the information, advertisements, website links, or any opinions expressed constitutes a solicitation of the purchase or sale of any securities or commodities. Please note that Mr. Long may already have invested or may from time to time invest in securities that are recommended or otherwise covered on this website. Mr. Long does not intend to disclose the extent of any current holdings or future transactions with respect to any particular security. You should consider this possibility before investing in any security based upon statements and information contained in any report, post, comment or suggestions you receive from him.


| Digg This Article

-- Published: Friday, 7 March 2014 | E-Mail | Print | Source: GoldSeek.com