-- Published: Thursday, 26 June 2014 | Print | Disqus
By Justin Smyth
So far in the past 6 months gold has made two important lows, a December 2013 low and a June 2014 low. The June 2014 low was a fake breakdown turned fast move higher. This is very important, since every rally in gold has failed for the past couple of years during this bear market. Now we finally have a breakdown in gold that failed, a bullish omen. But a hidden piece of information that is just as bullish as this failed breakdown is how certain mining stocks are behaving.
Mining stocks come in all different shapes and sizes but one factor that binds them together is the price of gold. Mining is a tough business, and even the best mining companies in the world can't function well with a low gold price relative to their cost of production. So when the gold price is in a downtrend all mining stocks tend to get punished and sometimes severely punished. But one thing to remember is markets are always forward looking. So we should expect that if gold were to finally stop its downtrend, the market would start to reward the "better" mining stocks with higher prices.
This is actually exactly what we are seeing in certain mining stocks right now. We now know that gold made a major bottom in December 2013, because we can look at it in the rear view mirror on a chart. So once gold made that low, pressure started lifting on the stronger mining stocks. But gold made a secondary low in June 2014 that exerted additional pressure on the mining stocks. This actually pushed many weaker mining stocks to even a further new low. But the stronger stocks rejected this secondary bottom in gold, and either traded sideways or continued higher.
Let's take a look at some examples. The first example is Stillwater Mining, a platinum and palladium producer. Stillwater is more tied to platinum and palladium than gold or silver, but since they are all precious metals which are very strongly correlated it's a valid example. Once precious metals made that important December 2013 bottom, the pressure on SWC drastically reduced and it immediately launched into a new Stage 2 uptrend. This is very bullish action. It's even more bullish the way Stillwater rejected the pullback in precious metals from March to June 2014. Stillwater remained in a strong Stage 2 advance during this pullback and took barely any technical damage.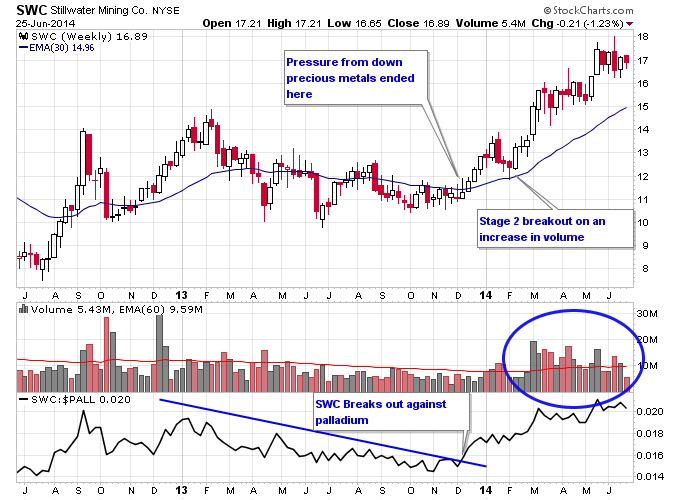 Taho Resources is a new silver mining company. TAHO broke out into a Stage 2 advance in early 2014 as gold made its bottom. Then when gold had the pullback this year, TAHO just traded sideways above the 30-week moving average. It didn't give up much ground at all, and continued to outperform gold as well. And once the June breakdown in gold failed TAHO started breaking out to the upside again.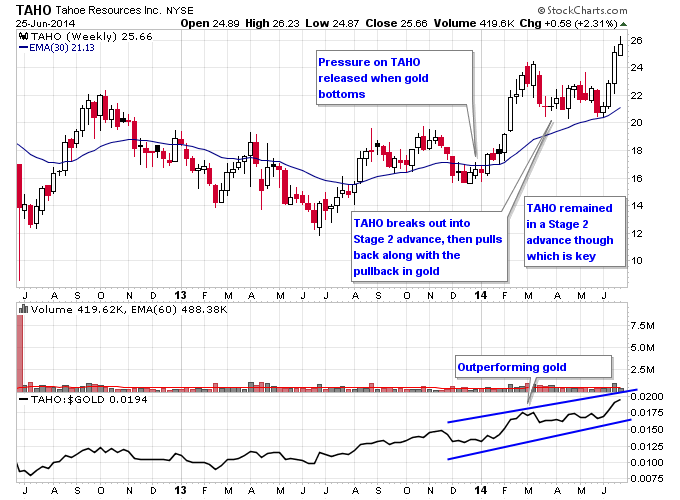 Royal Gold is a royalty company in the mining space. RGLD had very similar technical action to TAHO. A breakout in early 2014, then a pullback with the gold pullback into June 2014. Then as the pressure from gold was lifted in June when gold bottomed, RGLD once again broke out to the upside.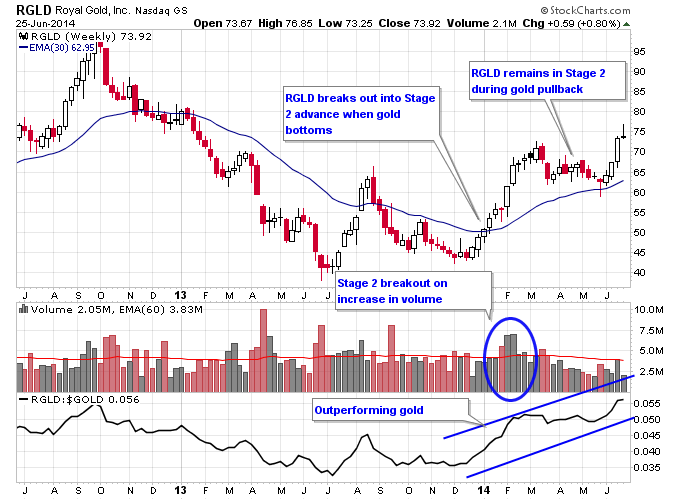 These aren't the only mining stocks exhibiting this behavior. FNV and PPP are two more examples. The point is though that these mining stocks are now 6 months into a new bull market! They clearly could be sending a signal that the gold market is a lot stronger than most people think. If this is the "turn" in the gold sector, then it's not a surprise to see some leadership in mining stocks take hold as the entire sector gradually turns back to the upside.

Connect with me on Twitter: @nextbigtrade

The original article and much more can be found at: http://www.nextbigtrade.com

The views and opinions expressed are for informational purposes only, and should not be considered as investment advice. Please see the disclaimer.


| Digg This Article

-- Published: Thursday, 26 June 2014 | E-Mail | Print | Source: GoldSeek.com