-- Published: Wednesday, 12 August 2015 | Print | Disqus
By Bob Loukas
Back in early July I published the view that we needed "Just a Little Bit More" downside to complete the gold Investor Cycle. All of the indicators and tools we used to spot these turns were firmly in place and it had become a matter of cleaning out the remaining bulls before turning. At the time of publishing, gold stood at $1,130, and my expectation was for one more decline, below $1,110, in order to complete the Cycle and form a major Investor Cycle Low.
Well, that expectation has been fulfilled, and with the strength seen in the miners these past few days, we can say with a very high degree of confidence that the Gold Weekly (Investor) Cycle has turned. Judging by the gold chart alone, that call might seem a touch premature. But it's the gold miners that almost always lead the gold Cycle out of significant troughs. And whenever we see this much front-running strength within the miners, around these expected Gold Cycle Low timing bands, then it pays to be a little aggressive and expect that gold will quickly follow suit.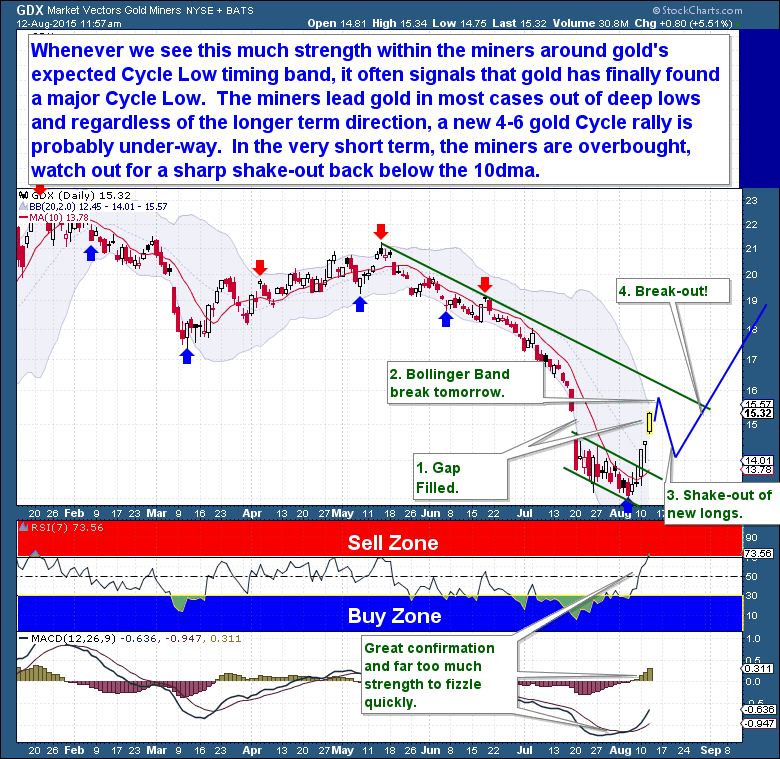 A word of caution though, the miners are short-term overbought. Anyone buying in here should be aware that a fast 1 to 2 day drop, back below the 10dma, is actually quite possible and within character. Looking longer term, throughout this powerful bear market, we see these massive counter-trend rallies form in the precious metals miners. From the chart below, we see the miners respond to Gold's Investor Cycle Lows and they rally clearly and quickly back towards the mean, often well before the next Gold Cycle top occurs. The typical Cycle, over 4 to 8 weeks, will see GDX rally 30% to 40% off the very bottom, giving you an indication of the potential still ahead.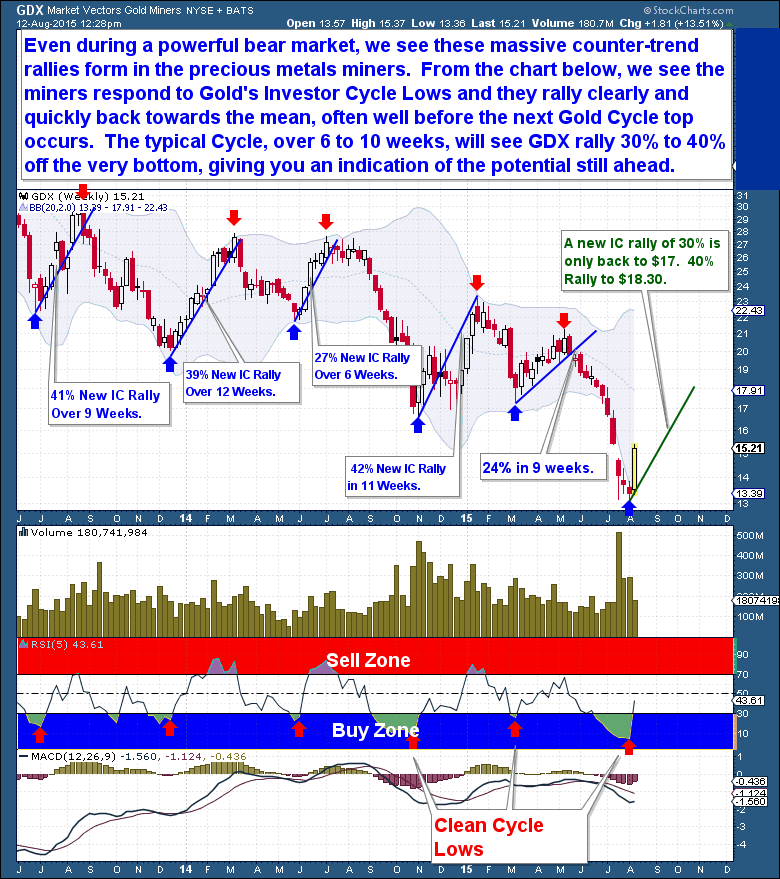 To be clear however, this is not a call on the great gold Bear Market, it's grip on this asset remains firm…for now. What we can expect however is for gold to rally for 4 to 6 weeks and to the point where most bear market counter-trend rallies have stalled. It's at that point where we will see gold's true, longer term intentions.


| Digg This Article

-- Published: Wednesday, 12 August 2015 | E-Mail | Print | Source: GoldSeek.com comments powered by
Previous Articles