-- Published: Monday, 19 October 2015 | Print | Disqus
By Stefan Gleason
Gold and silver markets enter this week on improved technical footing. The precious metals each rallied above resistance levels last week as disappointing economic data stimulated safe-haven buying.
Silver cleared the $16.00 level, while gold poked above its 200-day moving average for the first time in five months on Wednesday. And prices closed Friday right at the 200-day line and remain there this morning.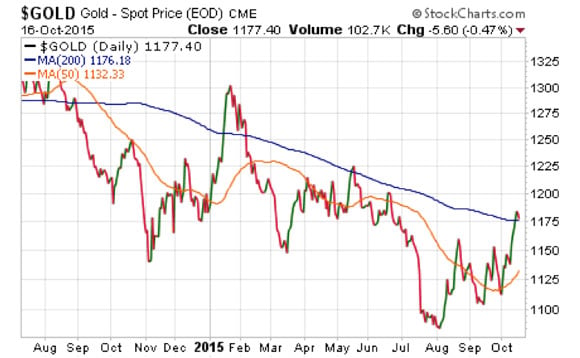 However, gold's 50-day moving average remains below its 200-day – indicating the bearish crossover that took place over a year ago is still in force. The 50-day average crossed below the 200-day last September. But if recent price strength continues, we could see a bullish moving average crossover sometime next month.
Debt Limit Showdown: Obama Administration Ramps Up Pressure on Its Establishment Republican Allies
The Republican-controlled Congress faces some tough decisions in the days ahead. Who will they select to replace John Boehner as Speaker of the House? Will they capitulate to the Obama administration's demands for a no-strings-attached increase in the national debt?
For now, Congress remains in disarray amidst a civil war between establishment Republicans and reform-minded Republicans. Some have suggested that Congressman Paul Ryan could unite both wings of the party as Speaker, but he's not eager to take the job.
If no one viable steps up soon, then Speaker Boehner will use it as an excuse to stay on well past his supposed October 30 retirement date. That's the date he promised to depart in order to sidestep a movement to strip him of the Speakership.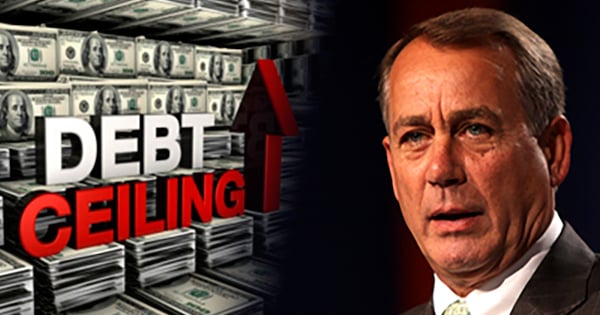 Washington insiders say Boehner is now focused on ramming through a hike in the debt limit before he leaves. Apparently, he regards saddling taxpayers with a bigger debt burden one last time as some sort of crowning achievement. In reality, it would be a final slap in the face to top off his many other insults to those who oppose Big Government.

Since President Obama's inauguration in 2009, the federal debt held by the public has soared by 107%, according to recent data published by the Treasury Department. In raw dollars, Obama and his allies in Congress have burdened families with an additional $6.7 trillion in debt. That's equivalent to more than $57,000 per household.

Now the Obama administration is hoping to extract one last debt deal out of the retiring GOP Speaker. Last Thursday, Treasury Secretary Jack Lew moved his deadline for getting new borrowing authority up from November 5th to November 3rd. That's when he says his "extraordinary measures" for working around the current statutory debt limit will be exhausted.

But non-partisan government watchdog groups say Secretary Lew's deadline is arbitrary and – if you can believe it – politically motivated! The investment firm Guggenheim Partners put out an analysis stating, "We suspect that this is more about forcing a political resolution under Boehner's watch than anything."

Of course, any near-term "resolution" of the debt ceiling standoff that doesn't require the government to start living within its means won't resolve the debt problem. It will just make the problem bigger – more spending; more borrowing; more bond buying from the Federal Reserve. It all adds up to more reasons to own gold and silver.


| Digg This Article

-- Published: Monday, 19 October 2015 | E-Mail | Print | Source: GoldSeek.com