-- Published: Sunday, 17 January 2016 | Print | Disqus
By Steve St. Angelo, SRSrocco Report
There have been some recent changes on the COMEX in response to the Bankers "War on Cash." Last year, Chase Bank in the U.S. advised its clients who rent safe deposit boxes there would be some policy changes. Some of these changes had to do with the storage of cash and coins.
According to The International Man article, The End of Safe Deposit Box For Wealth Storage:
Of particular interest is the following condition:

"Contents of box: You agree not to store any cash or coins other than those found to have a collectible value."

Interesting. After all, cash and precious metals are traditional primary stores of wealth. Why single them out as no longer being acceptable?
When Chase refers to "Coins" they mean gold and silver bullion coins. I would imagine they give a rats azz about someone who has a few rolls of quarters in their safe deposit box. Also, individuals or the wealthy are no longer able to store some extra cash in their safety deposit boxes at Chase.
This has impacted many wealthy investors as they have been forced to move their gold and silver bullion out of safe deposit boxes at Chase and likely at other large financial institutions. This has caused a new demand for storing cash and precious metals outside the banking industry.
Changes On The COMEX From The War On Cash
I have been looking at updates on the COMEX gold and silver inventories for years. However, I was surprised to see two new depositories added just recently. Here is the COMEX Silver Inventory update on Jan 13th: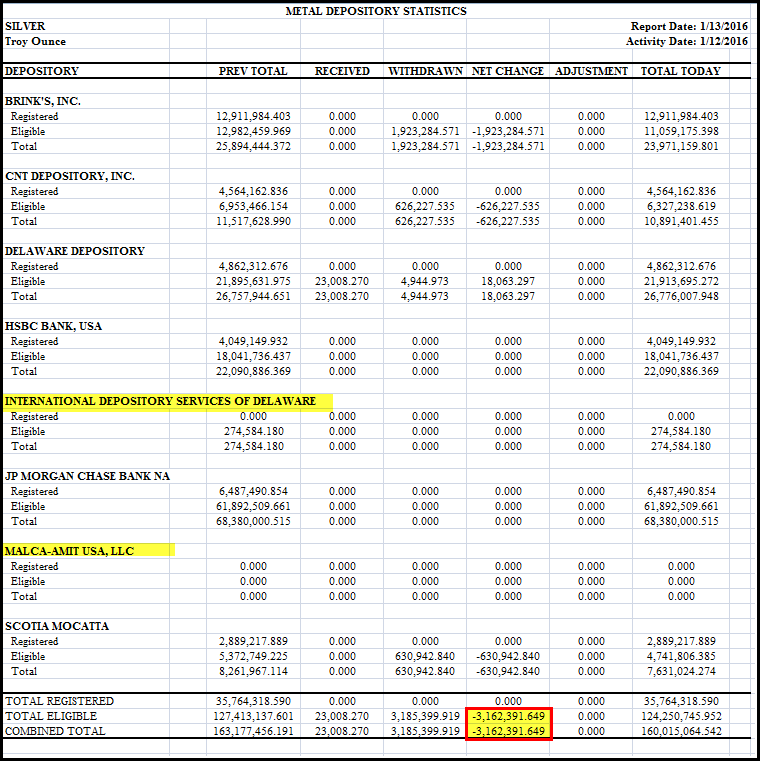 I used this COMEX Silver Inventory update to also show the huge 3.1 million oz (Moz) single day withdrawal of silver. As you can also see, there are two new Silver Depositories:
International Depository Services of Delaware
Macla-Amit USA LLC
If we go back to my last COMEX Silver Inventory update at the end of November 2015, we can see these two depositories were not yet added: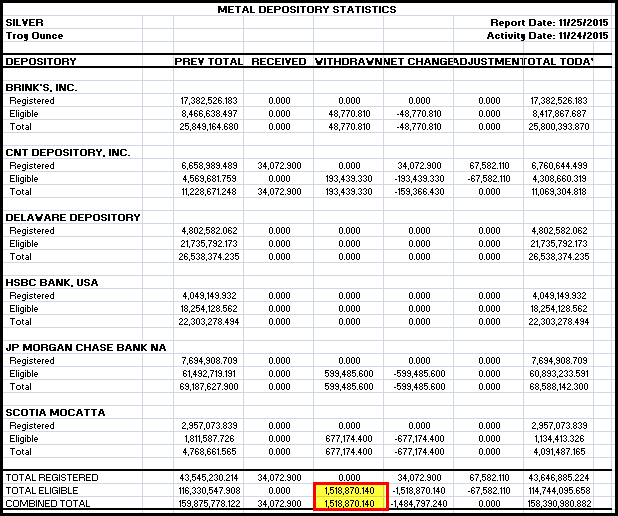 I did a bit of research and found out the International Depository Services of Delaware is a subsidiary of Dillon Gage Metals. This is interesting as Dillon Gage Metals is one of the dozen Authorized Purchasers of U.S. Mint Gold & Silver Eagles. Basically, Dillon Gage is now offering a private vaulting storage away from banks, but is also Comex approved.
This is the same for Macla-Amit USA LLC. These two new Comex approved precious metal vault facilities are offering storage services outside the typical Banking institutions. These two new depositories are also COMEX gold approved as well.
While I realize many precious metal investors do not trust anything associated with the COMEX, wealthy investors who hold a great deal of gold and silver bullion need a place to store their metals outside the banking industry. The "War on Cash" is now forcing wealthy investors to seek alternative places to store their precious metals.
As the broader markets continue to collapse as the Fed hints at negative interest rates, I believe we will see a tidal wave of wealthy investors purchasing gold and silver and storing it in these alternative private vaulting facilities.
EAST vs WEST: Silver Inventories Move In Opposite Directions
I mentioned this in an article last month. Silver Inventories at the Shanghai Futures Exchange (SHFE) continue to increase while those at the COMEX decline. I just checked the recent update on the SHFE and was quite surprised:

In just one day, silver inventories at the Shanghai Futures Exchange – SHFE increased by 31.7 metric tons (mt) to 737.6 mt. This is a dramatic increase as total SHFE silver inventories were only 615 mt on Jan 6th. On the other hand, Comex silver inventories experienced another large withdrawal today. There was 1.8 Moz withdrawal and a 1.2 Moz deposit for a net decline of 680,000 oz. Total Comex silver inventories are now 159 Moz versus 161 Moz at the beginning of the year.
I believe the recent spike in SHFE silver inventories is due to the sudden drop of industrial silver demand and export products. The majority of Chinese silver consumption is industrial, not investment.
Precious metal investors need to keep watch of what takes place in the broader markets over the next 2-3 months. If we continue to see a collapse of the U.S. and global stock markets, this could force the Fed and Central Banks to actually go to negative interest rates. Negative interest rates will force more wealthy investors out of paper and into the precious metals.
It will only take a small percentage increase of precious metal buying to totally overwhelm the physical markets. Already, the U.S. Mint already sold its entire weekly allocation of 4 million Silver Eagles. If sales remain strong for the rest of the month, total sales could surpass 8 million oz… a new record for January.
Please check back for new articles and updates at the SRSrocco Report. You can also follow us at Twitter below:


| Digg This Article

-- Published: Sunday, 17 January 2016 | E-Mail | Print | Source: GoldSeek.com