-- Published: Monday, 7 March 2016 | Print | Disqus
By Clint Siegner
Gold officially entered a bull market in last week's trading with prices gaining more than 20% from their December lows. The silver price also put on some very nice gains, but the price needs to reach about $16.40 before watchers can make the same claim.
If the white metal can exceed last week's gains of more than 5%, the silver market will reach official bull territory too.
Metals investors will be following the speculation surrounding the upcoming Federal Open Market Committee (FOMC) meeting on March 16th. Recent rallies in stocks, commodities, and oil are raising the odds that officials just might hike rates once again. Their problem is that the rally we're seeing is largely based upon speculation they would not further tighten.
The FOMC hiked rates in December. The ensuing carnage in the markets during the second half of December and January led to a consensus that officials would abandon attempts at further increases. Some even speculated that officials would completely reverse course and may even implement negative rates. At which point the rally began.
Markets are behaving like the stimulus addicts they have become. The Fed is caught in a trap of its own making. Officials may want to raise rates, but recent experience has shown they won't be able to pull that off without immediate and profound consequences.
Cracks Widen in Paper Gold Market
Gold investors witnessed a "first" in the markets last week. Constraints emerged in the previously limitless supply of paper gold. Blackrock announced that it was suspending issuance of new shares in the iShare's Gold Trust (IAU).
The Blackrock press release describes the suspension as temporary. The fund has to make a filing with the SEC before they can resume issuing new shares. Demand for gold since the start of the year apparently caught them flat footed. From the Blackrock press release:
Since the start of 2016, in response to global macroeconomic conditions, demand for gold and for IAU has surged among global investors. IAU has $8 billion in assets under management, and has expanded $1.4 billion year to date. February marked its largest creation activity in the last decade.
The growth in investment demand for gold is extraordinary, but that may not be the only story.
Steve St. Angelo of the SRSrocco Report wonders if Blackrock is telling the whole truth. He asks an important question; why did Blackrock wait until their ability to issue new shares was completely exhausted? If it is just a matter of a routine filing, the halt in sales could have easily been avoided.
One possible answer is the halt has more to do with the increasing shortage of gold registered as available for delivery. Blackrock can make the filing easily enough, but perhaps getting the actual gold bars to back new shares is more of a challenge. In other words, the halt may have more to do with this revelation from ZeroHedge.com: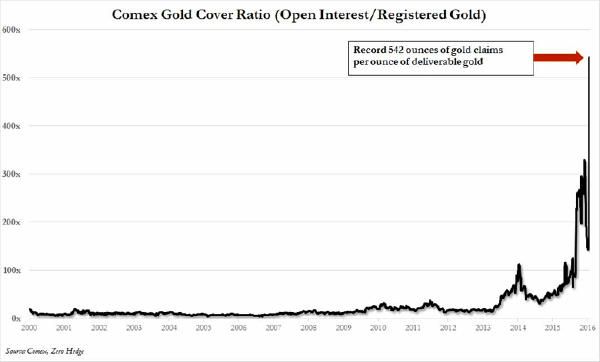 Stocks of "registered" gold bars – those designated as being available for delivery against futures contracts – continue to dwindle.

In the past, inventory of "allocated" gold was reclassified as registered whenever needed, a quick and simple process. But that isn't happening this time around. In fact, we are seeing the opposite. Registered stocks are being converted to the "allocated" category and taken off the market.

The COMEX gold cover ratio recently hit 542 ounces of paper gold for every ounce of physical metal. Such extreme leverage is so far off into uncharted territory that it cannot be dismissed.

While it is true historically that a sharp decline in registered bars has never resulted in actual delivery problems, even those quickest to discount the developing shortage must be wondering why the cover ratio is now more than five times its previous all-time high.

The most recent COMEX report shows a little over 11 metric tonnes of registered gold on hand. Consider that the IAU added roughly 19 tonnes in both January and February. The much larger SPDR Gold Trust (GLD) added more than 75 tonnes per month in the first two months of the year.

Meanwhile, according to TFMetalsReport.com, gold demand from both Russia and China continues at about 20 tonnes per month and India imports up to 100 tonnes/month.

Of course, not all of this gold is coming from exchange stockpiles. Mine production covers the bulk of demand. However, the World Gold Council reports gold demand outstripped gold supply by more than 80 tonnes in the fourth quarter of 2015. Those tonnes were, in large part, sourced from the COMEX and other exchange vaults.

The supply deficit in the first quarter of 2016 promises to be far worse. It is time for investors in paper gold – ETFs and futures contracts – to seriously question from whence all of the gold supposedly backing their paper is coming.


| Digg This Article

-- Published: Monday, 7 March 2016 | E-Mail | Print | Source: GoldSeek.com