-- Published: Tuesday, 8 March 2016 | Print | Disqus
By Randy Desoto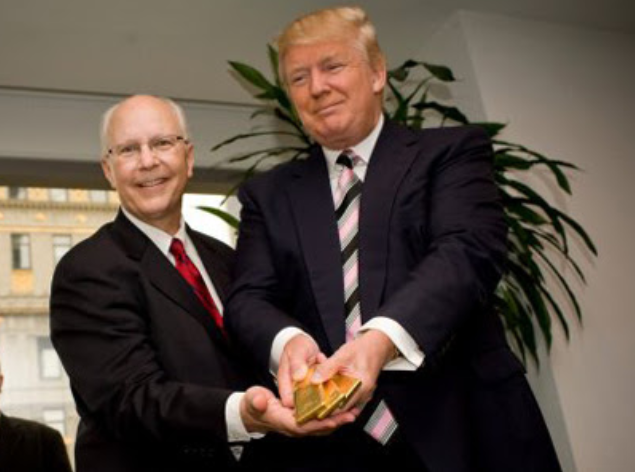 Is gold better than cash? Donald Trump accepted three bars of it as a security deposit when a new tenant moved into his 40 Wall Street property in New York's financial district.
Michael Haynes, chief executive of APMEX, the tenant, convinced the real estate mogul that accepting gold offered the greatest security for him. "I figured, Trump is a smart guy, and he'll realize that taking gold is a better idea than taking cash."
IMPORTANT NOTE: I published this article because several readers have asked me what does Presidential candidate Donald Trump think of gold. I found this article interesting as Trump took three gold bars as a security payment for leased business space from an executive at APMEX.
I do not promote any candidate either Democrat or Republican.
Also, the ads you see on my site are Google Ads. They change based on each individuals internet usage and searches. I have NO CONTROL over the ads on the site…YOU DO. However, without the revenue from the Google Ads, I could not continue the SRSrocco Report site.
Haynes gave Trump three 32 ounce gold bars for APMEX's deposit, valued at over $100,000. At the time, Trump expressed concern about the nation's currency. "It's a sad day when a large property owner starts accepting gold instead of the dollar," Mr. Trump told the Wall Street Journal.
"The economy is bad, and Obama's not protecting the dollar at all….If I do this, other people are going to start doing it, and maybe we'll see some changes," the businessman added at the time.
"Trump recognizes the vulnerability of the value of the dollar over time and the inflationary pressures on our economy due to Obama administration policies," Peter Reagan, financial market strategist at precious metals dealer Birch Gold Group, said.
Could Trump's acceptance of gold as currency be a glimpse into what a potential President Trump would do? And furthermore, could a gold backed currency be a centerfold for his economic policy this election?
Looking at recent history suggests that Trump could indeed put forward a bold, gold-backed economic policy proposal.
Until 1971, the U.S. dollar was backed by gold. Foreign nations knew they could always bank on its value being based not only on the full faith and credit of the United States government, but on a commodity that has had an intrinsic value through the ages.
The dollar is a "fiat" currency based entirely on faith those trading in it have in the United States government. Trump and many others see much to be concerned about on that front. The National Debt, over $18 trillion, now exceeds the total Gross Domestic Product of the United States. Because of the country's fiscal outlook, Standard and Poor's downgraded the U.S. credit rating for the first time in the history of the agency.
Additionally, the Federal Reserve has monetized much of the deficit spending of the last several years, "printing money out of thin air" to the tune of trillions since 2008 to help pay for the nation's shortfall.
Faith in the dollar can change rapidly as was seen in recent years, when it fluctuated significantly against foreign currencies, seeing a major decline in 2011, with several ups and downs since.
Original article here: For Trump, Gold Is Better Than Cash, by WesternJournalism.com
Please check back for new articles and updates at the SRSrocco Report. You can also follow us at Twitter below:


| Digg This Article

-- Published: Tuesday, 8 March 2016 | E-Mail | Print | Source: GoldSeek.com