-- Published: Friday, 8 July 2016 | Print | Disqus
By Steve St. Angelo, SRSrocco Report
The spike in the gold price during the holiday weekend triggered a record ONE-DAY surge in mainstream investor gold demand. Investors in the West watched over the fourth of July holiday weekend as the gold price continued higher on early morning trading on Monday. By the time gold opened on Tuesday, the price was already $15 higher.
Mainstream investors who thought the gold price may come under pressure at Tuesday's market open, were caught by surprise as the yellow metal continued to rally even higher. This caused a massive one-day surge in mainstream investor Gold ETF's and Fund demand. How much gold flooded into Gold ETF's and Funds on July 5th? Take a look at the chart below: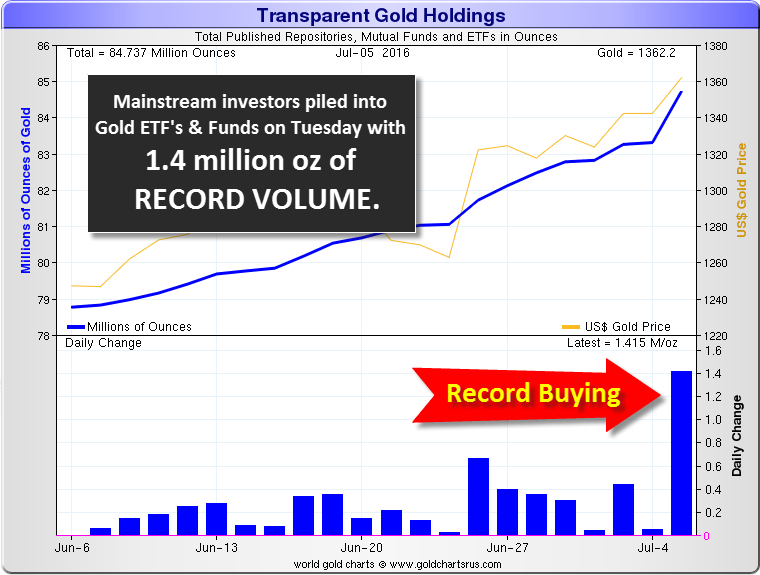 Mainstream investors piled into gold on Tuesday, July 5th, thus pushing the ONE-DAY flow into Gold ETF's & Funds to a record 1.4 million oz (Moz). Let me tell you… this is one hell of a lot of gold. Even if we go back and look at a six month chart from Sharelynx.com, the amount of gold that flowed into Gold ETF's & Funds surpassed the previous record in February when investors were fleeing stocks and moving into gold as the Dow Jones and broader markets were getting crushed. The Dow Jones fell 2,000 points in a matter of weeks: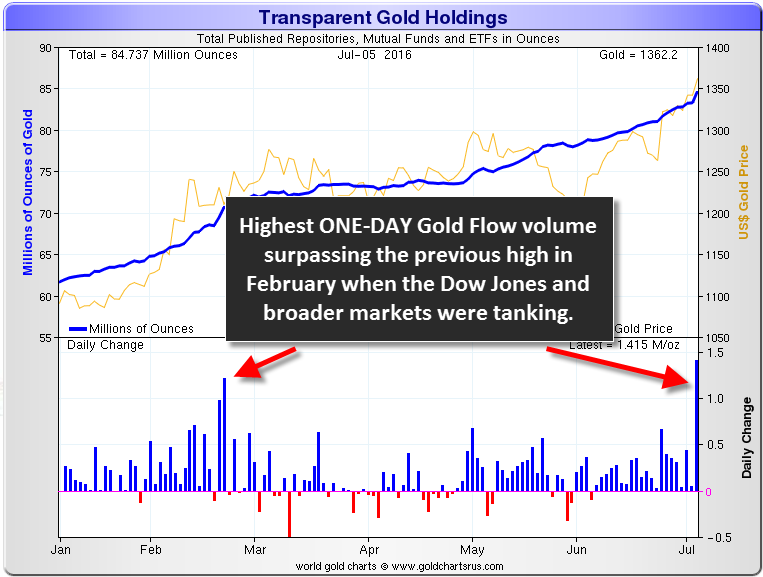 The one-day previous record set back in February was approximately 1.25 Moz. However, the 1.4 Moz of gold that flowed into Gold ETF's & Funds on July 5th was the result of the surging gold price, not the falling stock markets. What happens when the markets crack as the gold price spikes higher?? We could see double or triple that amount in just one day.
To give you an idea of just how much gold supposedly moved into Global Gold ETF's & Funds on Tuesday, July 5th, take a look at this chart: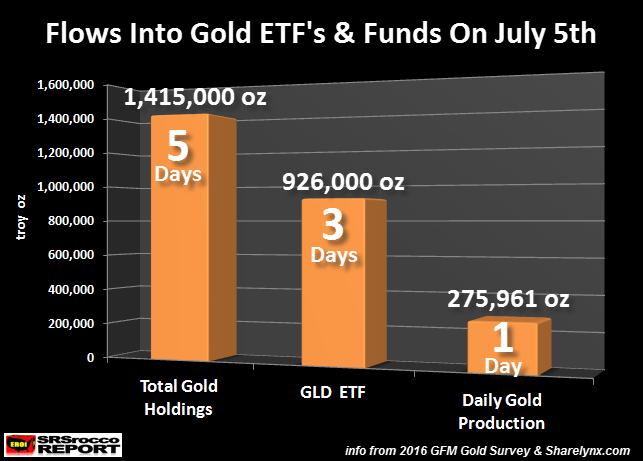 Total world gold production last year was 100.7 Moz, according to the 2016 GFMS Gold Survey. Thus, the world produced an average of 275,961 oz a gold per day. The increase in Total Gold Holdings (Gold ETF's, Funds & Exchanges) on July 5th was five days (1,415,000 oz) worth of global gold production. Furthermore, the SPDR GLD ETF experienced the most inflow of gold at more than three days (926,000 oz) worth of world gold production.

Now, we don't really know if that amount of gold actually went into the SPDR GLD ETF or other Fund's inventories, but this sort of demand by the mainstream investor will be the key in pushing the gold market and its price over the edge. As I have stated several times, the precious metals investor who purchases physical gold bullion only represents 0.5-1% of the entire market.

The fireworks will occur when just 1-2% of the mainstream investor tries to move into gold.

Check back for new articles and updates at the SRSrocco Report.


| Digg This Article

-- Published: Friday, 8 July 2016 | E-Mail | Print | Source: GoldSeek.com