-- Published: Sunday, 25 September 2016 | Print | Disqus
By Steve St. Angelo, SRSrocco Report
It seems as if the tide has changed as the U.S. imported a record amount of gold from Switzerland in July. Normally, the flow of gold from the United States has been heading toward Switzerland. For example, when the U.S. exported a record 691 metric tons (mt) of gold in 2013, Switzerland received 284 mt, which accounted for 41% of the total. Compare that to the paltry 3 metric tons of gold imported from Switzerland that very same year.
However, something has changed in the market dynamics as the U.S. imported a record 23.8 mt of gold from Switzerland in July: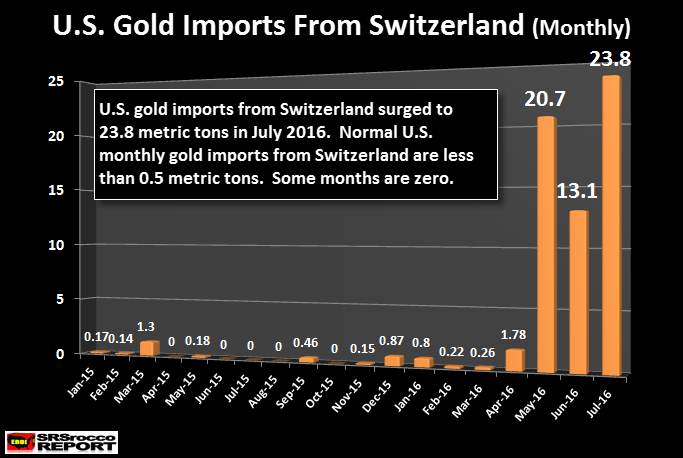 As I stated in my previous article, WHAT'S GOING ON?? Record Swiss Gold Flow Into The United States: the Swiss exported 20.7 mt of gold in May 2016, up considerably from its monthly average 0.4 mt. Even though gold imports from Switzerland declined the next month to only 13.1 mt in June, they were still much higher than their monthly average going back until Jan. 2015.
But, as we can see… U.S. gold imports from Switzerland jumped 82% in July to 23.8 mt compared to June. There has been speculation in the precious metals community as to why the Swiss are now exported gold to the United States. While many theories seem plausible, the one that makes the most sense is that investors in Europe who have their gold stored in Switzerland are moving it to the United States to protect it from the implications of negative interest rates.
Furthermore, after the Brexit vote for the U.K. to leave the European Union (In June), it has also put a lot of stress on investors holding assets within the E.U. countries. For whatever reason, gold bullion is now flowing into the United States from Switzerland in record volume for the first time in many years.
This next chart shows the annual imports of gold from Switzerland going back until 2000: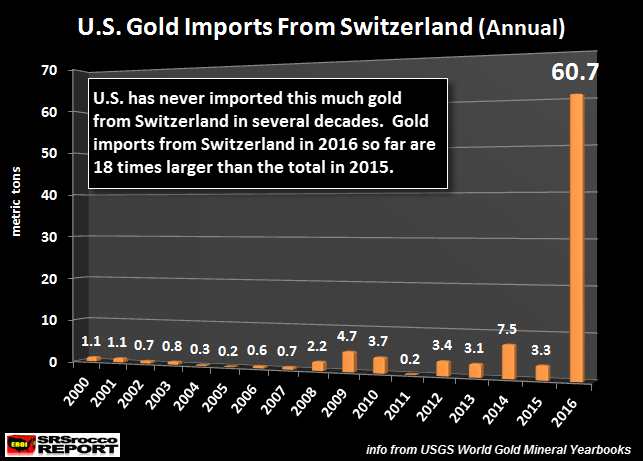 As we can see, Switzerland's gold exports to the U.S. are already 60.7 mt in 2016, up more than 18 times the volume in 2015. Again, for whatever reason, Swiss gold is heading into the United States in record volume.
In addition, this is the first year the U.S. has imported more gold than it has exported in several years: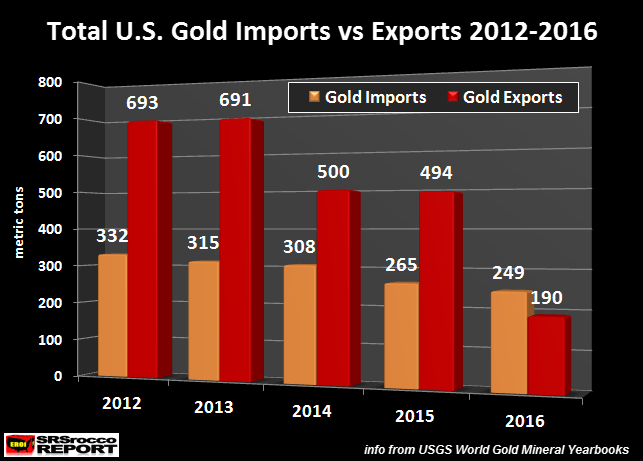 In 2012, the United States exported a record 693 mt of gold, while imports were only 332 mt. Even though the volume of U.S. gold exports declined in 2014 and 2015, they were still much higher than imports (62% & 86% respectively).

However, this has changed in the first seven months of 2016, as the U.S. has imported 249 mt of gold versus exports of only 190 mt. The majority of the increase of U.S. gold imports came from Switzerland. Of the 249 mt of U.S. gold imports Jan-July 2016, Switzerland accounted for 60.7 mt, compared to only 3 mt in 2015.

With the upcoming Chinese Yuan into the IMF SDR (Special Drawing Rights) on Oct 1st, the situation for the U.S. Dollar going forward will come under increased stress as global trade moves more into Chinese Yuan currency. This will negatively impact the U.S. Treasury holdings by foreigners as they move into owning more Chinese Yuan for trade.

The days of the U.S. Dollar Reserve currency status is coming to an end. It is no surprise that Russia and China continue to add a great deal of gold to their official holdings.

Lastly, I will be publishing a very important article on the precious metals next week. It will provide analysis on the top four precious metals (Gold, Platinum, Palladium and Silver) that most investors have not seen before. It will be out either Monday or Tuesday next week.

Check back for new articles and updates at the SRSrocco Report.


| Digg This Article

-- Published: Sunday, 25 September 2016 | E-Mail | Print | Source: GoldSeek.com