-- Published: Monday, 3 October 2016 | Print | Disqus
By Bob Loukas
The Gold market continues to be lethargic. Two weeks ago, negative rumblings about Deutsche Bank pushed Gold higher out of the Half Cycle Low. But the move quickly stalled on a gold price reversal, ensuring that the current Daily Cycle (DC) would remain Left Translated.
Goldís current sluggishness is not unexpected, however. 18 weeks into any Investor Cycle should see sellers largely controlling the action, and Iíd expect that to be the case with Gold until it finds an Investor Cycle Low (ICL).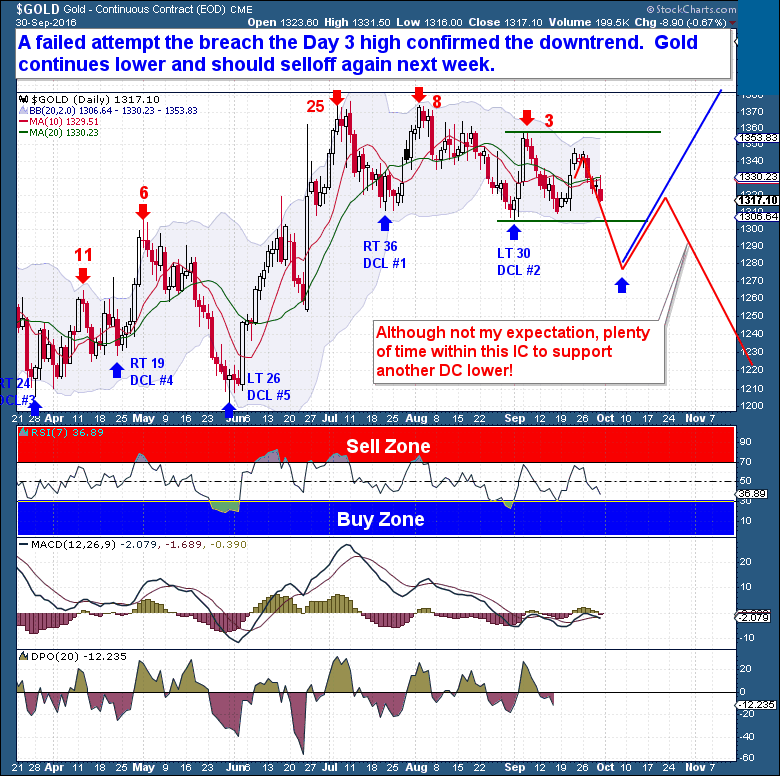 Considering the advanced age of the Investor Cycle (IC), itís impressive how well Gold has held up. And itís a boost to bulls that the Miners and Silver are following suit with relative strength of their own. The broader precious metals complex appears to be consolidating its massive gains from early 2016 via time, rather than price, and thatís decidedly long term bullish.
The Miners, in particular, provide a case in point. GDX rose 120% in 6 months to start 2016, and in the 2 months since topping have retraced a relatively meager 20%. Iíve discussed the volatility of the Miners frequently, so readers will know that such relative strength during a move into an ICL is extremely bullish for the intermediate and longer terms.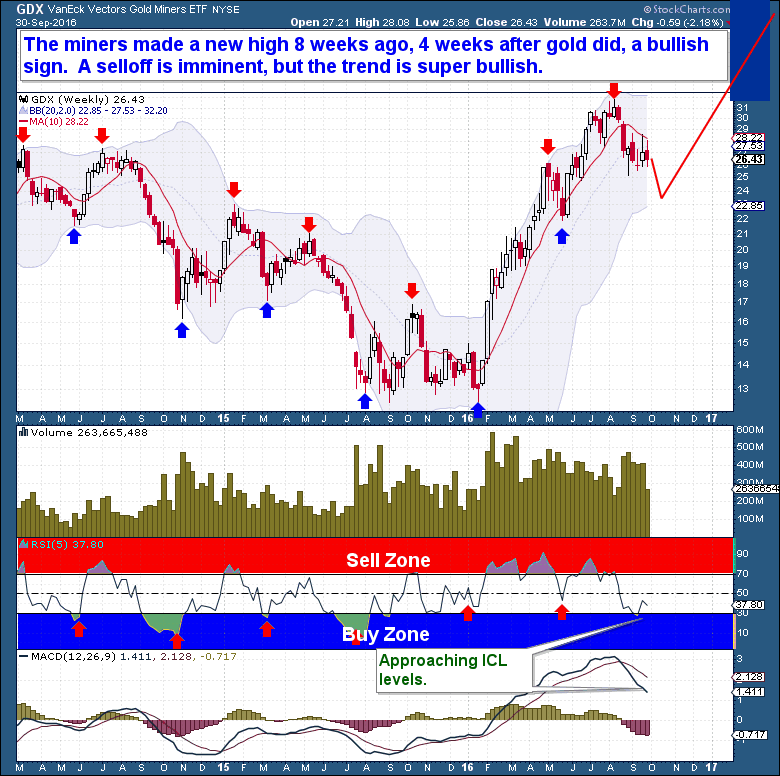 Itís easiest to see the Goldís bullish consolidation via time on the Investor Cycle chart. Gold topped 12 weeks ago and has a failed Daily Cycle behind it, yet is down only $70 from the IC peak. Itís a classic bull market consolidation of the huge six-month rally, and is a significant change in character from what we all lived through during Goldís bear market.
A Gold Price Reversal is on the way, make no mistake about it, but we may need to be patient as we wait for it. Gold could need another full Daily Cycle lower before finding its ICL, and that would mean another 4-5 weeks of declines. Rest assured, however, that the bull market trend is firmly established. During the next series of higher ICís, I expect the general public to again pay attention to Gold.

Trading Strategy
Long term investors should already be holding a strong core portfolio. Short term fluctuations in the Gold Price market should only be viewed as an opportunity to add to long term positions. If youíre under invested, I personally would not wait for a Cycle Low, this price level is more than attractive.

Traders should be flat or short this market currently. There is a real possibility that weíre going to see a large stop run below $1,305 on gold and the Sept 1st lows in the precious metals miners. Within 5 to 10 trading days however, we should see a Cycle Low and reversal form, providing an excellent opportunity for traders to get Long this sector for what could be a promising new Daily and Weekly Cycle.


| Digg This Article

-- Published: Monday, 3 October 2016 | E-Mail | Print | Source: GoldSeek.com