-- Published: Tuesday, 7 February 2017 | Print | Disqus
Gold prices rising & up 6.6% YTD

Signal "impending market volatility"

World has never been more uncertain (see chart)

Fear in Wall Street versus Fear in Washington
Price of 'plunge protection' rising even as VIX remains low
Smart money diversifying into gold
Important to watch rising gold and rising bond yields
Gold may prove the "tell"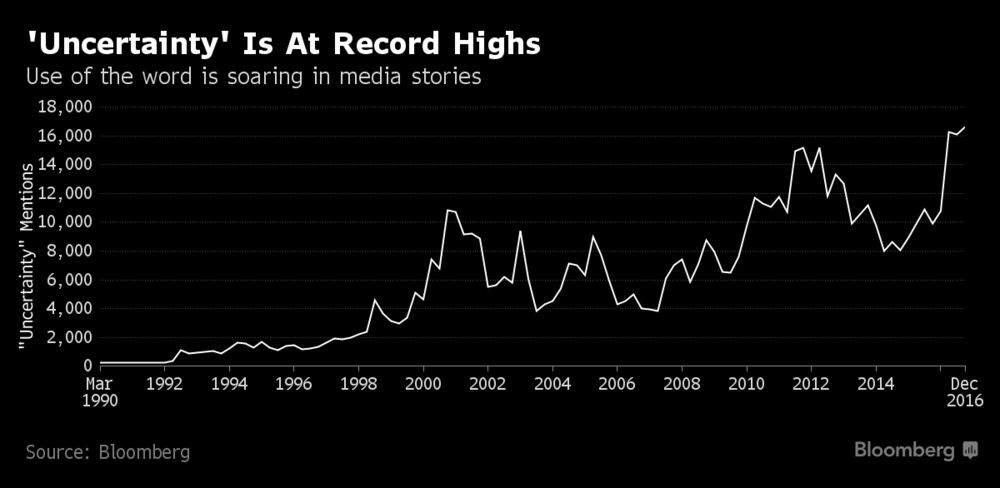 Bloomberg have done an excellent article replete with five must see charts including gold charts that suggest that we are on the verge of significant market volatility and turmoil.
From Bloomberg:
"A former TV star as U.S. president doesn't seem to have injected markets with much of a ''fear factor.'' But digging beneath the surface of an eight-year bull run exposes subtle signs that hint at an uneasy optimism.
The Dow Jones Industrial Average has sailed past 20,000 and the S&P 500 is nearing its life-time high set in January, indicating that investors have so far shrugged off the uncertainty brought by the new administration.
Here are five charts that suggest all is not well in markets:"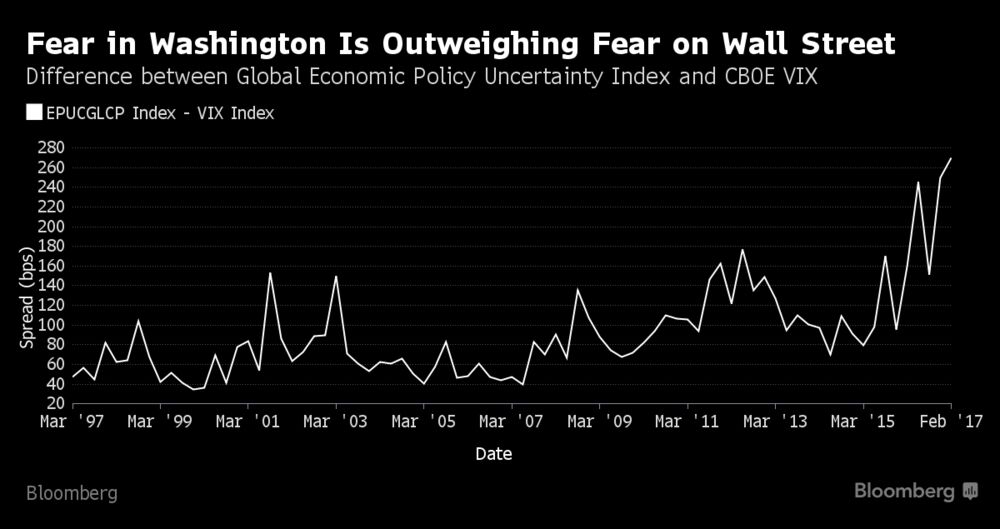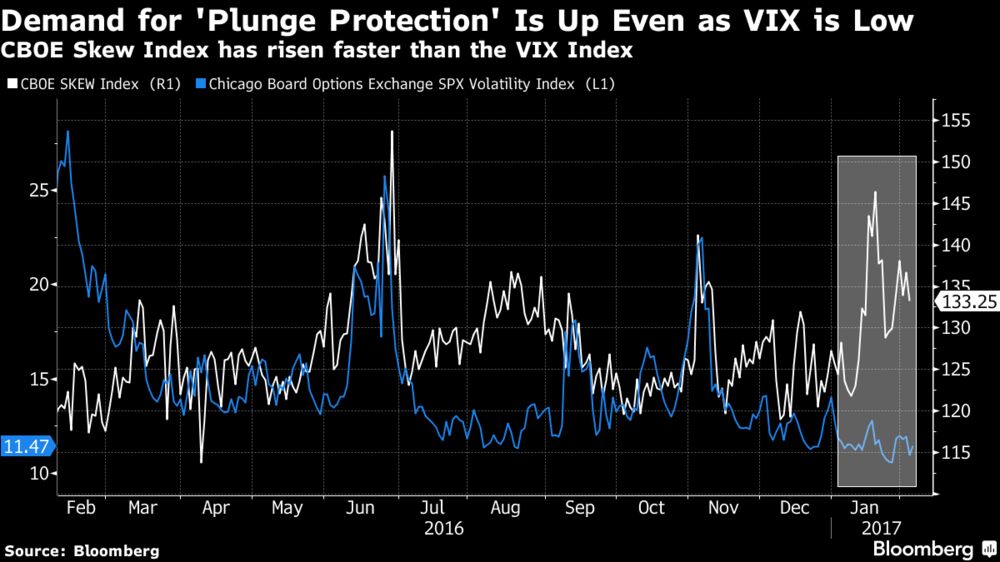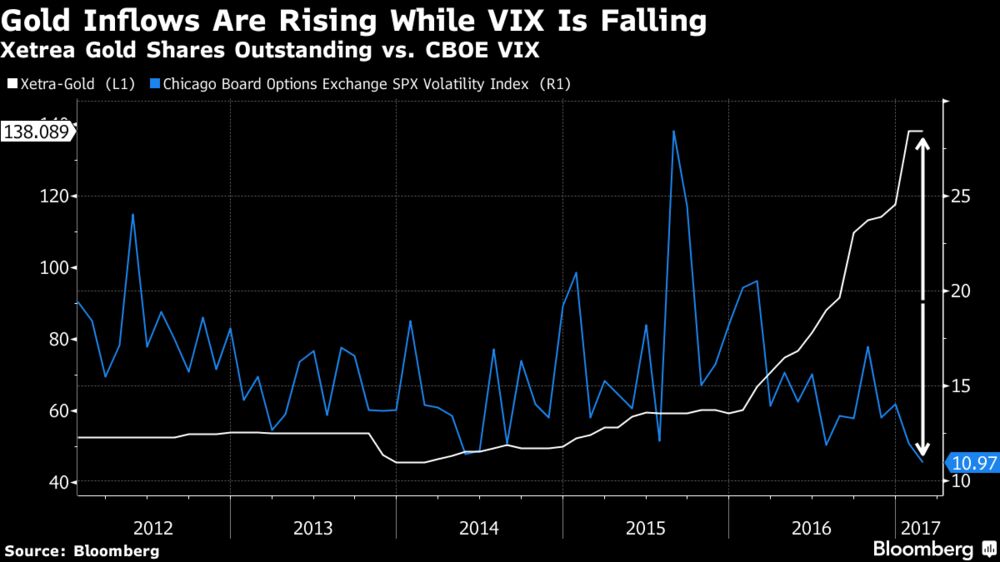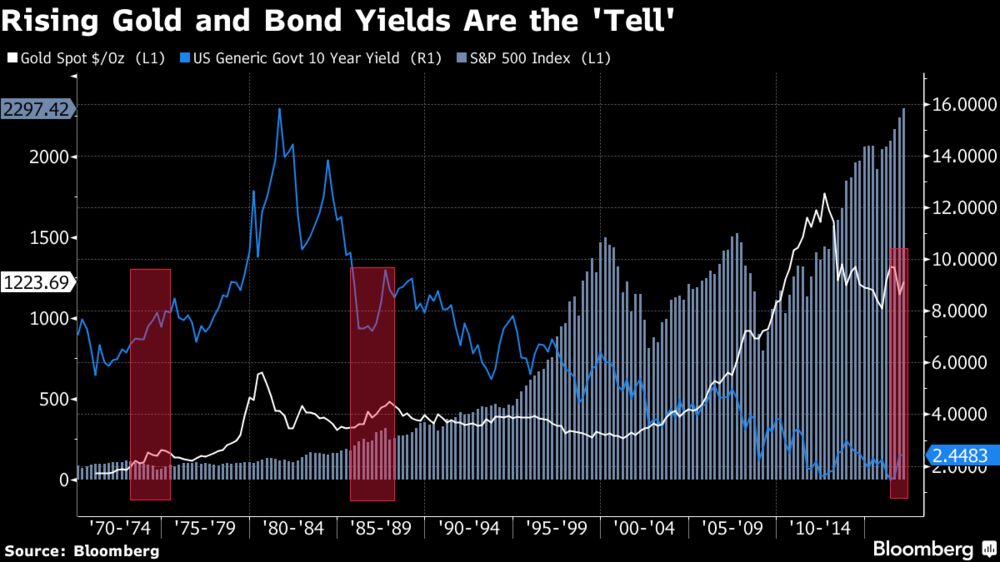 The article concludes by saying that it is important to watch rising bond yields and rising gold prices. We note that this was a toxic combination which was seen in the 1970s. The article concludes:

"Gold may prove the "tell," according to Chris Flanagan, also at Bank of America. He advises investors to watch "for the combo of rising yields and rising gold prices to signal impending market volatility." Three consecutive quarters of rising benchmark bond yields and gold prices preceded previous market falls including the 1973-1974 bond market crash and Black Monday in 1987, he says. The yield on the benchmark 10-year U.S. Treasury has risen to 2.44 percent from 1.77 percent since Trump's election win. Gold has moved sideways."

Read the full article on Bloomberg here

Gold and Silver Bullion – News and Commentary

Gold hits highest since November, politics and dollar boost (Reuters.com)

Gold Climbs to Two-Month High on Concern About Trump's Policies (Bloomberg.com)

Hedge funds make record bet on rising oil prices (IrishTimes.com)

Trump, When Asked About Putin, Says US Isn't 'So Innocent' (Bloomberg.com)

Iran Carries Out New Missile Tests After Trump Imposes Sanctions (Bloomberg.com)

Video: Trump Fears Seen Benefiting Gold Bulls (Bloomberg.com)

Five Charts That Say All Is Not Well in Markets (Bloomberg.com)

Goldman Sachs Economists Are Starting to Worry About President Trump (Bloomberg.com)

Bill Gross: Central bank 'financial methadone' isn't going to end well (CNBC.com)

Gold bugs licking their lips as Trump sentiment turns (FXStreet.com)

Gold Prices (LBMA AM)

07 Feb: USD 1,231.00, GBP 995.14 & EUR 1,154.43 per ounce
06 Feb: USD 1,221.85, GBP 978.34 & EUR 1,138.15 per ounce
03 Feb: USD 1,214.05, GBP 970.93 & EUR 1,128.99 per ounce
02 Feb: USD 1,224.05, GBP 966.14 & EUR 1,131.88 per ounce
01 Feb: USD 1,210.00, GBP 960.01 & EUR 1,122.03 per ounce
31 Jan: USD 1,198.80, GBP 964.91 & EUR 1,119.20 per ounce
30 Jan: USD 1,189.85, GBP 949.38 & EUR 1,112.63 per ounce
27 Jan: USD 1,184.20, GBP 943.81 & EUR 1,108.77 per ounce

Silver Prices (LBMA)

07 Feb: USD 17.60, GBP 14.21 & EUR 16.49 per ounce
06 Feb: USD 17.60, GBP 14.10 & EUR 16.39 per ounce
03 Feb: USD 17.28, GBP 13.84 & EUR 16.10 per ounce
02 Feb: USD 17.71, GBP 13.95 & EUR 16.38 per ounce
01 Feb: USD 17.60, GBP 13.91 & EUR 16.29 per ounce
31 Jan: USD 17.29, GBP 13.86 & EUR 16.07 per ounce
30 Jan: USD 17.10, GBP 13.65 & EUR 16.03 per ounce
27 Jan: USD 16.70, GBP 13.32 & EUR 15.61 per ounce


| Digg This Article

-- Published: Tuesday, 7 February 2017 | E-Mail | Print | Source: GoldSeek.com