-- Published: Monday, 27 February 2017 | Print | Disqus
By Stefan Gleason
Gold prices are up more than 11% since bottoming last December. Their gains last week took the gold market right up to its 50-week moving average. In 2015, attempted rallies reversed at the 50-week moving average. Could this level once again serve as a barrier to further price advances?
Either way, long-term gold bulls shouldn't sweat this particular technical level. Major bull markets need to pull back and reconsolidate periodically.
Whether that starts happening this week, or later on at higher price levels, a downturn of some magnitude is inevitable.
One indicator that may be pointing toward a pullback sooner rather than later is the negative divergence in gold mining stocks which are often leading indicators for the yellow metal.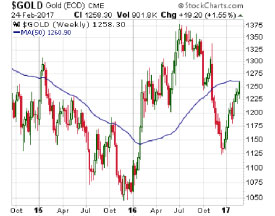 Despite gold spot prices rallying along with the broader U.S. equity market last week, the HUI Gold BUGS (Basket of Unhedged Gold Stocks) Index fell by 3.8%. That suggests that some big institutional speculators are turning bearish on gold near term.

If you're looking to accumulate bullion, a pullback should be welcomed as an opportunity to get in at lower levels. Long-term bulls will not want to see anything as severe as the drawdown that occurred in the second half of 2016, however. They will be looking for any coming correction to bottom out above the $1,125/oz low hit in December.

Higher highs and higher lows characterize a major bull market. The December 2016 low was a higher low than the one from 2015. A higher high will occur when gold prices can move above $1,375. At that point, the public might start taking notice of precious metals markets – which so far this year have been overshadowed by the series of record highs in the U.S. stock market.

President Donald Trump has taken credit for the rally in stocks. His vows to cut taxes and regulations have, no doubt, driven buying by investors.

Over the weekend, Trump sent out this tweet: "Great optimism for future of U.S. business, AND JOBS, with the DOW having an 11th straight record close. Big tax & regulation cuts coming!"

Trump also wants a weaker dollar to help boost U.S. manufacturing. That could put him in conflict with the Janet Yellen Fed if it moves to raise interest rates.

Trump will have the opportunity to appoint multiple new members to the Federal Reserve Board. It's one of the reasons why top financial and geopolitical analyst Jim Rickards is so bullish on gold.

"If Trump follows through on the logic of the cheaper dollar, he's going to appoint doves to the Board. The market's going to get the signal immediately and the price of gold is going to soar," Rickards said in a recent Money Metals podcast interview. "We've got some very short run headwinds, maybe between now and April, but for certainly the second half, even the last three quarters of the year, I'm extremely bullish on gold."

There will be some bumps along the way. But those who hang on tight for the ride in gold and silver markets stand to be rewarded.

Stefan Gleason is President of Money Metals Exchange, the national precious metals company named 2015 "Dealer of the Year" in the United States by an independent global ratings group. A graduate of the University of Florida, Gleason is a seasoned business leader, investor, political strategist, and grassroots activist. Gleason has frequently appeared on national television networks such as CNN, FoxNews, and CNBC, and his writings have appeared in hundreds of publications such as the Wall Street Journal, Detroit News, Washington Times, and National Review.


| Digg This Article

-- Published: Monday, 27 February 2017 | E-Mail | Print | Source: GoldSeek.com