-- Published: Tuesday, 18 April 2017 | Print | Disqus
Gold Bullion Erases Post- Election Fall as Trump Wrong on Dollar – Daily Prophet
Robert Burgess of Bloomberg Prophets

President Donald Trump sent currency markets into a tizzy late Wednesday when he signaled his preference for a weaker dollar. "I think our dollar is getting too strong, and partially that's my fault because people have confidence in me," Trump told the Wall Street Journal.
Although the greenback immediately dropped before stabilizing Thursday, that's only part of the story. In fact, it has been falling all year as traders lose confidence in Trump's ability to push his pro-business, pro-growth policies through Congress. Judging by the Federal Reserve's U.S. Trade Weighted Real Broad Dollar Index, the currency is weaker now than at the end of November, the month of Trump's election victory. Other markets are sending similar signals. Stocks are rolling over and yields on Treasuries suggest optimism for stronger economic growth is quickly fading.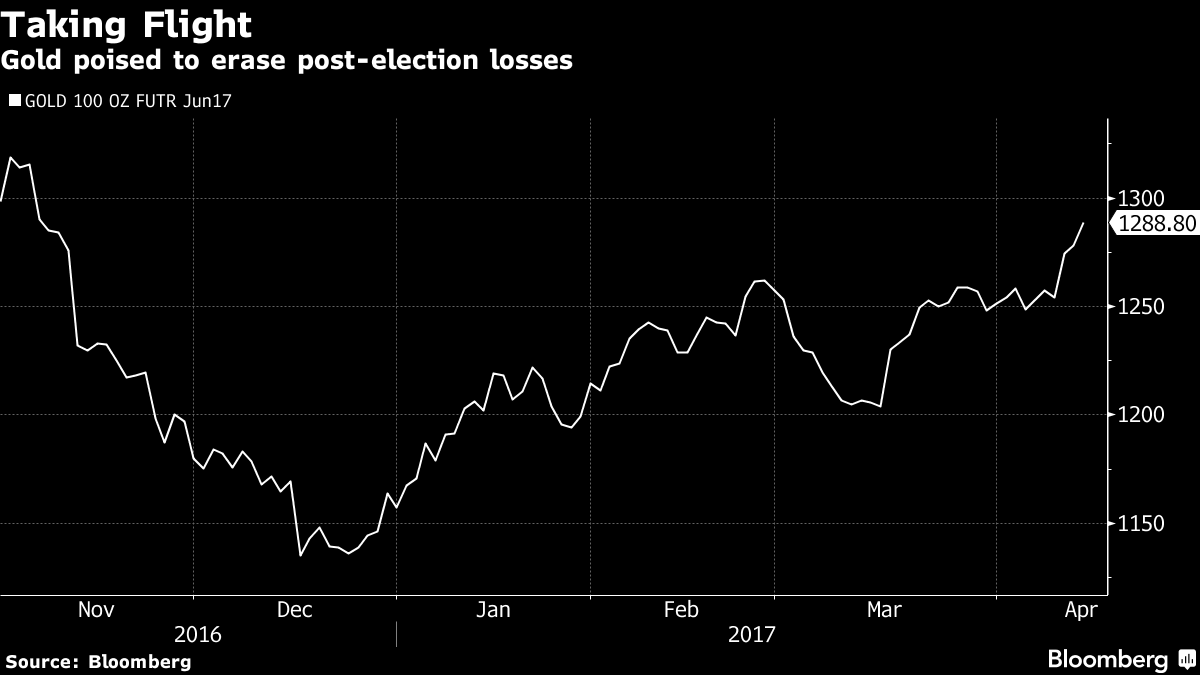 BULLISH ON GOLD
It's no wonder that perhaps the only market hotter than the one for Treasuries is the one for gold. Bullion is up 11.4 percent this year to $1,289.10 an ounce. In a survey this week, traders and analysts were the most positive on gold since December 2015, according to Bloomberg News' Eddie van der Walt and Ranjeetha Pakiam.

In yet another bullish sign, prices have climbed above the 200-day moving average and Britain's Royal Mint said bullion purchases jumped 20 percent in the first quarter.

"We have all these latent threats that have been around for a while, Trump, European elections, Brexit, and they're all just becoming a little more acute," said Mark O'Byrne, a director at broker GoldCore Ltd. in Dublin.

Full article on Bloomberg Prophets here

Gold and Silver Bullion – News and Commentary

Global Financial-Market Stress Jumps to This Year's High (Bloomberg.com)

PRECIOUS-Gold firm as North Korea worries offer support (Reuters.com)

Asia stocks mixed, dollar subdued amid North Korea concerns (Reuters.com)

Sotheby Auction in Hong Kong Sells Pink Diamond for $71.2 million (BusinessInsider.com)

White House denies Donald Trump demanded gold carriage procession with the Queen (Standard.co.uk)

Daily Prophet: What Trump Got Wrong About the Dollar and 'Hot' Gold (Bloomberg.com)

Video: Gold Seen Climbing on Weak Dollar, Global Political Tension (Bloomberg.com)

Gold Has Figured It Out (ZeroHedge.com)

India Gold Imports Said to Jump 582% on Festival, Wedding Demand (Bloomberg.com)

CONSPIRACY vs FACT: How Much Gold Is In The World? (GoldSeek.com)

Asia's Richest Man Is "Aggressively Adding Direct Exposure To Gold" (ZeroHedge.com)

Gold Prices (LBMA AM)

18 Apr: USD 1,285.00, GBP 1,025.82 & EUR 1,205.46 per ounce
13 Apr: USD 1,286.10, GBP 1,025.28 & EUR 1,208.42 per ounce
12 Apr: USD 1,272.30, GBP 1,018.22 & EUR 1,199.02 per ounce
11 Apr: USD 1,255.70, GBP 1,011.47 & EUR 1,183.75 per ounce
10 Apr: USD 1,253.60, GBP 1,011.15 & EUR 1,184.40 per ounce
07 Apr: USD 1,264.30, GBP 1,017.38 & EUR 1,188.82 per ounce
06 Apr: USD 1,253.75, GBP 1,004.88 & EUR 1,175.27 per ounce

Silver Prices (LBMA)

18 Apr: USD 18.42, GBP 14.56 & EUR 17.27 per ounce
13 Apr: USD 18.56, GBP 14.80 & EUR 17.45 per ounce
12 Apr: USD 18.31, GBP 14.65 & EUR 17.27 per ounce
11 Apr: USD 17.94, GBP 14.44 & EUR 16.91 per ounce
10 Apr: USD 17.94, GBP 14.47 & EUR 16.97 per ounce
07 Apr: USD 18.40, GBP 14.81 & EUR 17.31 per ounce
06 Apr: USD 18.22, GBP 14.63 & EUR 17.09 per ounce

http://www.goldcore.com/us/


| Digg This Article

-- Published: Tuesday, 18 April 2017 | E-Mail | Print | Source: GoldSeek.com