-- Published: Monday, 24 July 2017 | Print | Disqus
By Graham Summers
Janet Yellen has confirmed that the US Dollar is going to collapse.
I don't mean a systemic, going to zero, collapse (though one day the $USD, like all fiat currencies will fail). I mean that the $USD is going to drop hard in the coming 18+ months.
How hard?
I believe we'll see the $USD in the 80s sometime in 2018. That's a full 11% lower from where the $USD is today. Put simply, the entire move in the greenback that was driven by the Fed ending QE will be unwound.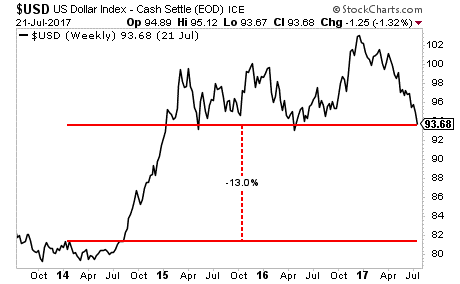 How do we know this?
Janet Yellen's testimony to Congress earlier this month was a clear signal.
First, a little context…
For months now, numerous Fed officials have been publicly stating that the Fed was embarking on a significant tightening schedule.
This has been one of the most coordinated and clear Fed PR campaigns in recent history with numerous Fed officials calling for 3-4 rate hikes in 2017 as well as Fed balance sheet shrinking.
Then on Tuesday and Wednesday July 11th and 12th respectively, Fed Chair Janet Yellen testified in front of Congress that the Fed is just about done with tightening. Moreover, she stated that the Fed WOULDN'T use its balance sheet normalization as a monetary policy (indicating that it won't use it to drain liquidity from the system).
The $USD, which was already trending downward in spite of the Fed's previous hawkishness, promptly collapsed. And Gold erupted higher.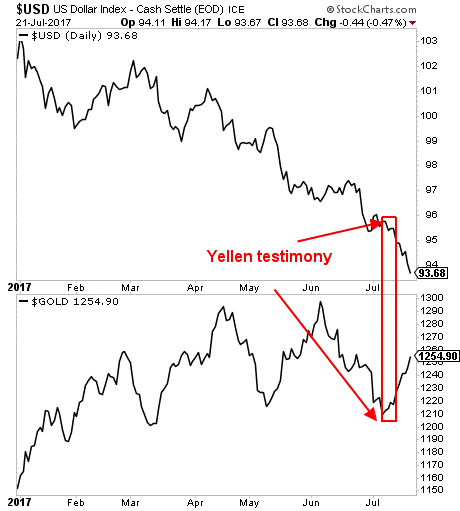 It's time to get moving into inflation plays.

If you're not taking steps to actively prepare your portfolio for this, you need to so now.

Graham Summers

Chief Market Strategist


| Digg This Article

-- Published: Monday, 24 July 2017 | E-Mail | Print | Source: GoldSeek.com