-- Published: Wednesday, 16 August 2017 | Print | Disqus
– World's largest hedge fund Bridgewater buys $68 million of gold ETF in Q2
– Investors poured $870 million into SPDR Gold in Q2
– Billionaire Paulson keeps 4.36 million shares in SPDR Gold
– "Risks are now rising and do not appear appropriately priced in" – warns Dalio on Linkedin
– Investors should avoid ETFs and paper gold and own physical gold
– Given negative interest rates, companies should consider allocating some of corporate deposits to physical gold as done by Munich Re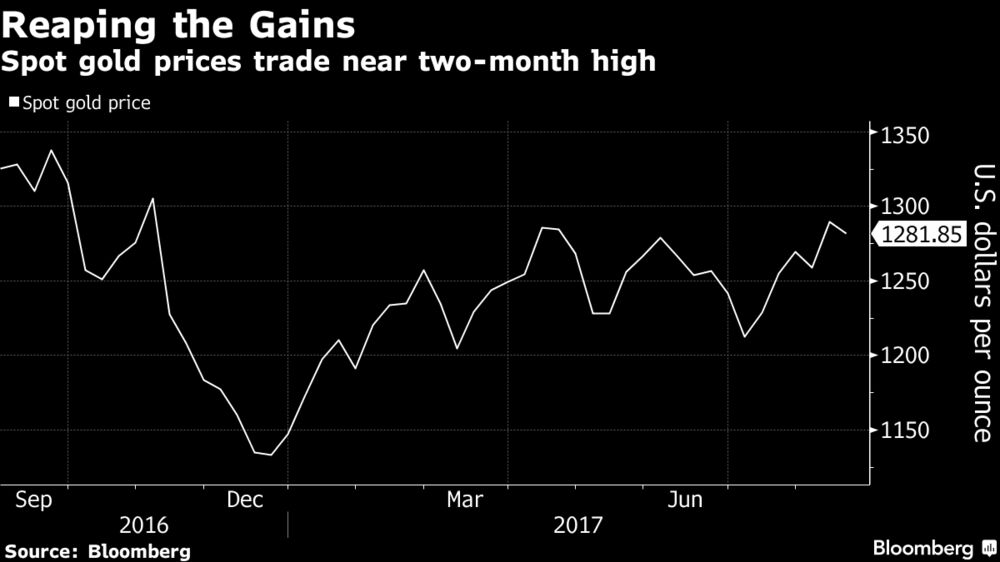 From Bloomberg:
Hedge-fund managers including billionaire John Paulson are being rewarded as investor worries over everything from uneven economic data to U.S.-North Korean tensions fuel a rally in bullion.
At the end of June, Paulson & Co. owned 4.36 million shares of SPDR Gold Shares, a U.S. government filing showed Monday. That's unchanged from the three months through March. Bridgewater Associates, the world's largest hedge fund, added the ETF to its portfolio in the quarter, with the purchase of 577,264 shares valued at $68.1 million, a regulatory filing showed Aug. 10. Templeton Global Advisors Ltd. boosted its stake in Barrick Gold Corp.
Investors poured $870 million into SPDR Gold in the second quarter, taking the fund's total assets to $34 billion as U.S. inflation continued to undershoot the Federal Reserve's target, putting at risk policy makers' projection for rising interest rates. While the prospect of monetary policy tightening remains, investors recently turned their focus on geopolitical strains as North Korea's Kim Jong Un threatened the U.S. territory of Guam, boosting demand for bullion as a haven.
"Prospective risks are now rising and do not appear appropriately priced in," billionaire Ray Dalio, who manages Bridgewater, said in a LinkedIn post, as he recommended investors allocate 5 percent to 10 percent of their assets to gold.
Dalio also flagged rising odds that the U.S. Congress may fail to raise the debt ceiling, "leading to a technical default, a temporary government shutdown, and increased loss of faith in the effectiveness of our political system."
Full article on Bloomberg here

Related Content
World's Largest Reinsurer Buying Gold To Counter Punishing Negative Rates
"Do You Own Gold?" Ray Dalio at CFR: "Oh Yeah, I Do"
Gold Is Undervalued – Leading Money Managers
Gold ETFs or Physical Gold? Hidden Dangers In GLD
News and Commentary
Gold falls on easing North Korea tensions, strong U.S. data (Reuters.com)
Gold prices inch up ahead of minutes from latest Fed meeting (Reuters.com)
Asian Shares Mixed, Korea Advances as Calm Returns (Bloomberg.com)
UK car lenders vulnerable after surge in risky loans – BoE (IrishTimes.com)
'Deep' Subprime Car Loans Hit Crisis-Era Milestone (Bloomberg.com)
Bank of America Warns of an 'Ominous' Sign for Stocks (Bloomberg.com)
Investors should be looking at gold (Barrons.com)

UK debt tide is rising – how can you avoid drowning? (TheGuardian.com)

Prepare for negative interest rates in the next recession – Rogoff (Telegraph.co.uk)

US dollar's fall could become a self-fulfilling prophecy (SCMP.com)

Own a few bitcoin but realise it is speculation (StansBerryChurcHouse.com)

Gold Prices (LBMA AM)

16 Aug: USD 1,270.15, GBP 985.13 & EUR 1,082.29 per ounce
15 Aug: USD 1,274.60, GBP 986.92 & EUR 1,084.05 per ounce
14 Aug: USD 1,281.10, GBP 987.34 & EUR 1,085.48 per ounce
11 Aug: USD 1,288.30, GBP 993.67 & EUR 1,096.47 per ounce
10 Aug: USD 1,278.90, GBP 985.39 & EUR 1,091.67 per ounce
09 Aug: USD 1,267.95, GBP 974.80 & EUR 1,079.79 per ounce
08 Aug: USD 1,261.45, GBP 967.78 & EUR 1,068.20 per ounce

Silver Prices (LBMA)

16 Aug: USD 16.68, GBP 12.96 & EUR 14.25 per ounce
15 Aug: USD 16.89, GBP 13.12 & EUR 14.38 per ounce
14 Aug: USD 16.97, GBP 13.09 & EUR 14.39 per ounce
11 Aug: USD 17.09, GBP 13.18 & EUR 14.53 per ounce
10 Aug: USD 17.08, GBP 13.14 & EUR 14.57 per ounce
09 Aug: USD 16.59, GBP 12.76 & EUR 14.14 per ounce
08 Aug: USD 16.39, GBP 12.57 & EUR 13.87 per ounce


| Digg This Article

-- Published: Wednesday, 16 August 2017 | E-Mail | Print | Source: GoldSeek.com