-- Published: Tuesday, 6 February 2018 | Print | Disqus
– Gold gains 0.6% in USD and surges 1.7% in euros and pounds
– European stocks fall more than 3% at the open after sharp falls in Asia
– DJIA falls 1,175 points, S&P 500 down 4.1% and Nikkei plummets 4.7%
– Gold rises from $1,330 to $1,342, £942 to £960 and €1,067 to €1,085 /oz
– Bitcoin crashes another 10% and has now plummeted by 70% to below $6,000
– Increased risk aversion will drive safe haven demand for gold as its hedging properties are appreciated again
Source: Bloomberg via Mining.com

Gold prices rose today in all major currencies as a rout in global equities prompted investors to seek shelter in safe haven gold.

Spot gold prices were up 0.4 percent to $1,345.00 per ounce this morning in early European trading following Monday's 0.6 percent gain in dollar terms. Gold saw larger gains in euros, sterling and other currencies as the dollar bounced back after a recent pronounced weakness.

Bitcoin plummeted for a fifth day, dropping below $6,000 and leading other digital tokens lower. A backlash by banks and government regulators against cryptocurrencies is impacting already fragile sentiment due to recent sharp falls.

Yesterday, bitcoin tumbled as much as 22 percent to $6,579. It has lost 70 percent of its value from a record high $19,511 in December. Other crypto currencies also fell sharply on Monday, with Ripple losing as much as 21 percent and Ethereum and Litecoin also weaker – down 16% and 13% respectively.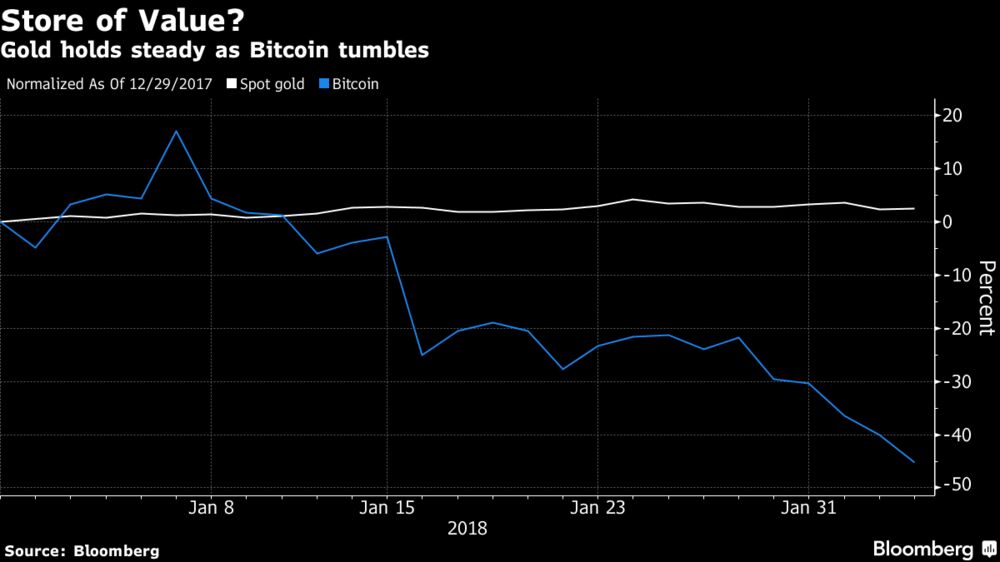 We believe gold prices may rise further as the global rout in stock markets should lead to a period of risk aversion and a new found appreciation for gold's hedging and safe haven attributes.

However, as was seen during the 'Lehman moment' in 2008, gold could see short term weakness if stock markets continue to crash as speculators see margin calls and some liquidate all futures positions.

The fact that gold made good gains in all currencies yesterday, including the dollar, bodes well for gold and shows there is robust demand and the fundamentals of the gold market are sound. This is more than can be said than the fundamentals of the US economy and indeed of global stock and bond markets.

News and Commentary

Gold rises as equity sell-off spurs safe-haven buying (Reuters.com)

Global Stock Sell-Off Deepens, Yen Gains Haven Bid (Bloomberg.com)

These Charts Show Just How Bad the Selloff in Risk Assets Is (Bloomberg.com)

Bitcoin Tumbles Almost 20% as Crypto Backlash Accelerates (Bloomberg.com)

Monday massacre: Gold price rises as stocks crater (Mining.com)

Why the stock market is selling off, explained (WashingtonPost.com)

4 Takeaways From Monday's Stock Market Sell-Off (NYTimes.com)

Gundlach: 'Hard to love bonds at even 3 percent' yield (Reuters.com)

Why the European sovereign debt crisis is back (CapitalAndConflict.com)

Argument against crypto is getting tired (StansBerryChurcHouse.com)

Gold and Silver Price Riggers Arrested – David Morgan (Youtube.com)

Two Elephants In The Room That The GOP Has Completely Forgotten (DavidStockMansContraCorner.com)

Gold Prices (LBMA AM)

05 Feb: USD 1,337.10, GBP 947.20 & EUR 1,072.49 per ounce
02 Feb: USD 1,345.00, GBP 946.48 & EUR 1,077.61 per ounce
01 Feb: USD 1,341.10, GBP 941.99 & EUR 1,077.98 per ounce
31 Jan: USD 1,343.35, GBP 950.29 & EUR 1,078.98 per ounce
30 Jan: USD 1,345.70, GBP 954.37 & EUR 1,083.56 per ounce
29 Jan: USD 1,348.40, GBP 955.07 & EUR 1,085.46 per ounce

Silver Prices (LBMA)

05 Feb: USD 16.88, GBP 12.01 & EUR 13.56 per ounce
02 Feb: USD 17.14, GBP 12.05 & EUR 13.72 per ounce
01 Feb: USD 17.19, GBP 12.09 & EUR 13.82 per ounce
31 Jan: USD 17.23, GBP 12.17 & EUR 13.84 per ounce
30 Jan: USD 17.30, GBP 12.24 & EUR 13.91 per ounce
29 Jan: USD 17.34, GBP 12.33 & EUR 13.99 per ounce


| Digg This Article

-- Published: Tuesday, 6 February 2018 | E-Mail | Print | Source: GoldSeek.com comments powered by
Previous Articles