-- Published: Monday, 26 March 2018 | Print | Disqus
By Clint Siegner
Gold production numbers for 2017 are still being compiled but estimates call for the first annual decline in mine output since 2008.
The gold price fell dramatically in the months following the 2011 peak in prices. It has languished at, or near, the cost of production for years. Low gold prices are having a predictable effect on mine output.
Many projects with marginal ore deposits were rendered uneconomic. High cost operators went out of business. Exploration budgets got slashed dramatically. And all of these factors compound a larger underlying issue. It is increasingly difficult to find gold deposits that make sense to mine. New discoveries are less than a fifth of what they were in 2006.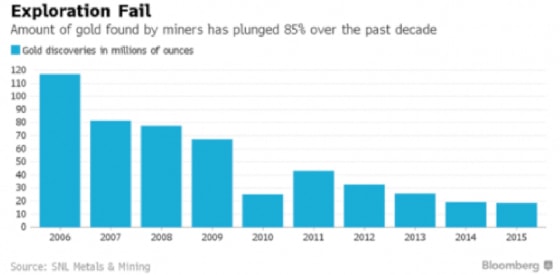 Much higher gold prices will drive more exploration and should boost discoveries. Some projects which have been mothballed due to higher costs will become feasible once again. But the trend seems clear – the drought in discoveries, which began more than a decade ago, looks likely to persist regardless of the gold price. And the struggle to find economic deposits will translate to a serious decline in production in the years ahead.

Some forecasters believe 2016 represented peak gold production. To the extent that physical supply is a determinant in the price, gold investors have something to look forward to. However, and unfortunately, price discovery happens in the broken and rigged futures markets.

When it comes to trading in gold futures, the physical supply and demand for the metal is barely a consideration.

Practically no one trading contracts cares about getting delivery.

During periods of high speculative demand in the futures markets, the bullion banks stand ready to sell a virtually unlimited number of fresh new contracts. Physical gold may be scarce, but available paper gold has been limitless.

Someday the confidence in gold (and silver) futures is likely to collapse.

Some event will prompt traders to look at the shocking amount of leverage built into the contracts. They will suddenly be uncomfortable with how little physical metal there is supporting the enormous paper trade. When too many begin standing for delivery of bars, they will be handed cash instead, provided their counterparties are solvent.

The markets will wake up and find all of the paper which was supposed to represent gold actually does nothing of the kind. The peak in paper gold will have passed.

Diminishing mine output will definitely have ramifications for the gold price, but the metal won't find fair market value until people stop demanding paper and start demanding the real thing. Gold investors should be encouraged by prospects of a peak in physical gold, but the real celebration will have to wait until the peak in paper gold is behind us.

Clint Siegner is a Director at Money Metals Exchange, the national precious metals company named 2015 "Dealer of the Year" in the United States by an independent global ratings group. A graduate of Linfield College in Oregon, Siegner puts his experience in business management along with his passion for personal liberty, limited government, and honest money into the development of Money Metals' brand and reach. This includes writing extensively on the bullion markets and their intersection with policy and world affairs.


| Digg This Article

-- Published: Monday, 26 March 2018 | E-Mail | Print | Source: GoldSeek.com