-- Published: Monday, 25 June 2018 | Print | Disqus
By Clint Siegner
The sound money movement reemerged on the national political scene a decade ago. In 2008, the financial crisis brought in a fresh wave of U.S. gold and silver investors.
Ron Paul and the Tea Party advocated for limiting government and ending the Federal Reserve system. Sound money advocates made real inroads in recruiting Americans to their cause based on evidence that the nation is headed for bankruptcy.
The implications of the most recent financial crisis went way beyond budget and finance.
Many Americans grasped the more significant lesson. The perpetual expansion of government spending lay behind the corresponding decline in personal liberty for them, their children, and their children's children.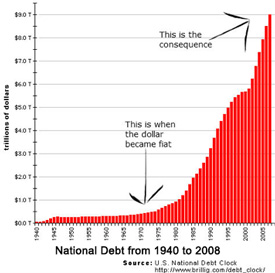 Dishonest money is a dream for politicians and bankers, but it is a nightmare for citizens. Charts showing the final abandonment of the remnants of the gold standard in 1971 and the exponential rise in government debt helped people make the connection between dishonest, unlimited fiat money and unlimited government.
Here is one example from the Daily Caller...
The trend shown on this chart has not changed or improved. The red bar on the right hand side of the current chart now stands more than twice as high with total government debt north of $21 trillion.
There is no credible effort in Washington to limit spending. It is safe to say U.S. deficits and the corresponding borrowing will continue to rise exponentially. It will continue until confidence finally collapses; either in the nation's ability to repay, or in the dollar, or both.
The nation needs sound money more desperately now than ever.
Unfortunately, the debt chart above isn't the only chart that tells a damning story. Below is a chart from TF Metals Report which shows the regular beatings given to silver in recent months. The picture for gold looks similar.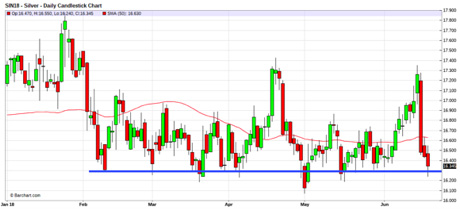 This is what a controlled market looks like!

The bankers and central planners hated the lesson Americans got following the 2008 financial crisis. They are using the markets to condition people to respond differently. Buy stocks, buy bonds -- any conventional "paper" securities. And, for the love of Pete, keep borrowing.

For gold and silver investors, the conditioning is delivered in the form of a regular bludgeoning each time the metals start to show strength.

Any who still question whether markets are manipulated, simply aren't paying attention. Or they rely upon CNBC for all of their investment news. The topic has been covered extensively on alternative news sites, including by Money Metals.

Crooked and relentlessly painful markets, combined with optimism surrounding Donald Trump, is a potent combination.

Yes, there was some grumbling when Trump signed the latest budget and expansion of government.

However, many fewer Americans feel the sense of alarm that prevailed when the Federal government was running trillion-dollar deficits under Obama. Others may be alarmed, but they question whether gold and silver will work as honest money given the price never seems to reflect the reality of the nation's finances.

Too many Americans are effectively tuned out when it comes to the message of sound money and limited government. That is tragic. Few will be ready and a whole lot more will be caught by surprise when the inevitable reckoning finally arrives.

Clint Siegner is a Director at Money Metals Exchange, the national precious metals company named 2015 "Dealer of the Year" in the United States by an independent global ratings group. A graduate of Linfield College in Oregon, Siegner puts his experience in business management along with his passion for personal liberty, limited government, and honest money into the development of Money Metals' brand and reach. This includes writing extensively on the bullion markets and their intersection with policy and world affairs.


| Digg This Article

-- Published: Monday, 25 June 2018 | E-Mail | Print | Source: GoldSeek.com