-- Published: Friday, 8 February 2019 | Print | Disqus
By: Nicholas LePan, Senior Mining Reporter at GoldSeek
It was back in September 2018 when America's newest gold and silver producer, Northern Vertex (TSX-V: NEE) (US: NHVCF) announced commercial production, at its 100-per-cent owned Moss Mine located in Northwestern Arizona, just a couple of miles off the old route 66.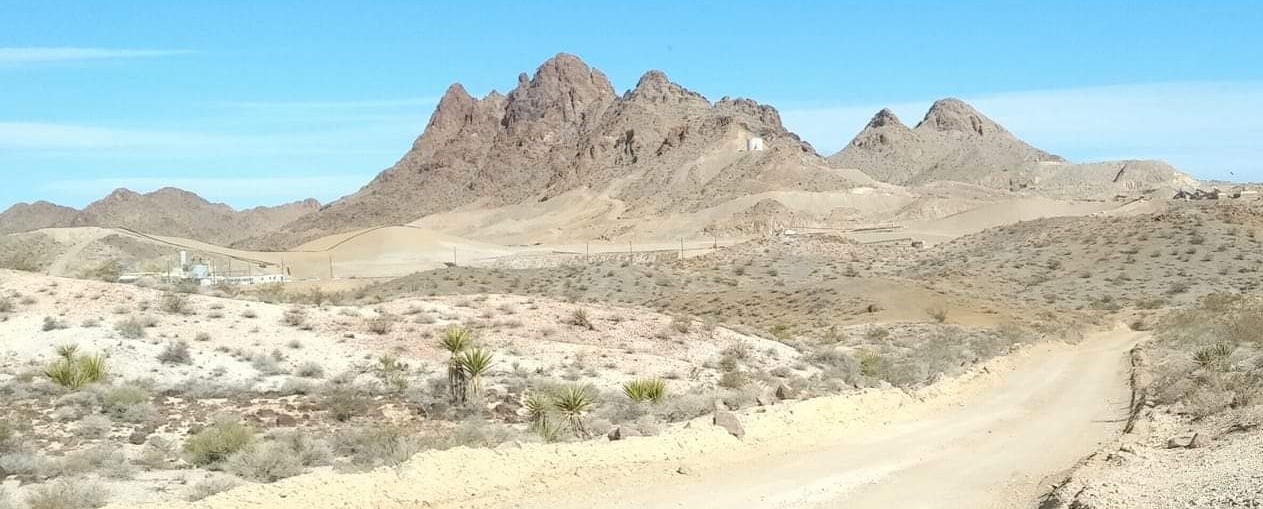 (The road to the Moss Mine, circa 2018)
However, as any mine developer knows the past few years have been a challenge to secure financing on good terms to ensure a mine project keeps moving forward; a good opportunity for those with money, not so much for those looking for it.
Northern Vertex was no exception, by the time the company announced commercial production it had accumulated over US$20 million in debt to be paid back over a short two-year window. A heavy obligation for many new miners, especially for a start-up gold heap leach operation, which can sometimes take months to optimize its operation. In response to making the required heavy monthly payments , the company recently announced a $28-million (USD) refinancing to strengthen its balance sheet and pay off its creditors.
The refinancing comprised a $20-million upfront payment from Maverix Metals Inc. and a fully-funded private placement for $8-million. Proceeds were used to fully repay the company's debt facility with Sprott Private Resource Lending and repay $2 million owed from a previous arrangement with Greenstone Resources.
Both these debts carried a heavy burden of approx. US$1.3 million going out the window every month for the next 20 to 28 months. Resulting in a critical amount of cash leaving the company while is ramping up to full production while cash is in short supply. The new deal with Maverix, however eliminates these large monthly payments resulting in significant short-term cash savings for Northern Vertex.
Source: pg. 9, Northern Vertex Corporate Presentation: https://northernvertex.com/site/assets/files/2053/2019-01-13-cp_nee.pdf
As per shown it the chart above this transaction reduces debt payments by US$15 million between December 2018 to January 2019. Plus, it gives the company additional cash for near mine exploration to increase mine life beyond 10 years.
However, nothing is for free, Maverix Metals in return received the rights to the silver stream from the Moss Mine, which make up approximately one ninth of the metal production from the mine for the foreseeable future.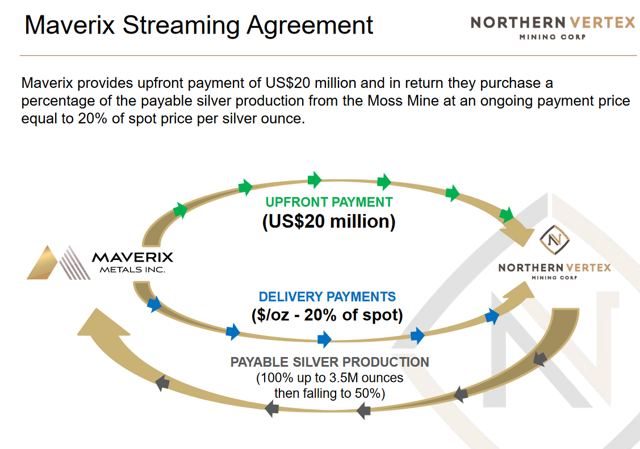 Under the terms of the agreement, Maverix receives 100% of the payable silver stream by paying Northern Vertex 20% of the spot price for silver. This deal only applies up to the first 3.5 million ounces coming out of the Moss Mine, after which it will fall to 50% of production.
Northern Vertex intends to use the balance of the proceeds to fund the continued ramp up of mining operations at the Moss Mine and for working capital and general corporate purposes. Although the company has exceeded in several areas of its operations, production at Moss is in the early stages with only one month of commercial production reported and well below its expected targets for the full year of 2019.
Operating Results for the Quarter Ended September 30, 2018:
Commercial Production
of One Month Ended
September 30, 2018

Three Months Ended
September 30, 2018

Gold ounces produced:

1,882

5,554

Silver ounces produced:

8,527

20,536

Gold ounces sold:

1,507

5,404

Silver ounces sold:

6,296

19,037
Production Guidance:
| | | |
| --- | --- | --- |
| | Fiscal Year 2019 | Fiscal Year 2020 |
| Gold Ounces | 32,000 – 36,000 | 52,000 – 57,000 |
| Silver Ounces | 224,000 – 248,000 | 451,000 – 487,000 |
| Gold Equivalent Ounces | 36,000 – 40,000 | 59,000 – 65,000 |
With this limited production the company reported a loss for its first fiscal quarter of 2019 was $1.46 million ($0.01 per share) compared to a loss of $2.55 million ($0.02 per share) for the same period last year. However, with less debt payment going out of the window each month and improving production, Northern Vertex is on its way to positive cash flow and should show an improved balance sheet next quarter.
The share price of Northern Vertex is currently trading at C$0.25 (cents) or year lows, as the market has largely focused on early production numbers and ignored the fact that the company began commercial production six months ahead of schedule. In addition, the value of the Company's shares has remained stagnate during the past couple of months, during an improving price environment for gold and silver. Any additional upticks in silver and gold price movements, will be a nice tailwind to the company's share price. To date, Northern Vertex has ~230 million shares outstanding.
Without heavy debt repayments, Northern Vertex is now in a strong position to improve its value for its investors as production ramps up making the Company "America's next positive cash flow producing mine".
About Northern Vertex:
Northern Vertex Mining Corp. (TSX-V: NEE) (US: NHVCF), is focused on low cost gold and silver production at its 100% owned Moss Mine in NW Arizona. The company announced commercial production on September, 1, 2018 at its open pit mining and heap leach gold mine. Based on a 2017 Preliminary Economic Assessment, Moss Mine has a 10-year mine life with an internal rate of return of 63%.
Website: https://northernvertex.com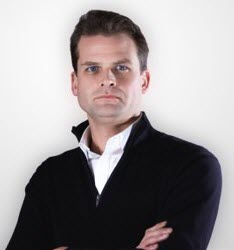 Nicholas LePan

Senior Mining Reporter at GoldSeek.com

Nicholas LePan has been following the metal markets for over a decade as a marketing manager at Stockwatch.com and writer at GoldSeek.com and Visual Capitalist.

Legal Notice / Disclaimer: This document is not and should not be construed as an offer to sell or the solicitation of an offer to purchase or subscribe for any investment. GoldSeek.com, have based this document on information obtained from sources it believes to be reliable but which it has not independently verified; GoldSeek.com makes no guarantee, representation or warranty and accepts no responsibility or liability as to its accuracy or completeness. Expressions of opinion are those of GoldSeek.com only and are subject to change without notice. GoldSeek.com assume no warranty, liability or guarantee for the current relevance, correctness or completeness of any information provided within this Report and will not be held liable for the consequence of reliance upon any opinion or statement contained herein or any omission. Furthermore, we assume no liability for any direct or indirect loss or damage or, in particular, for lost profit, which you may incur as a result of the use and existence of the information, provided within this Report.

Additional Disclosure: The owner, editor, writer and publisher and their associates are not responsible for errors or omissions. The author of this report is not a registered financial advisor. Readers should not view this material as offering investment related advice. Authors have taken precautions to ensure accuracy of information provided. Information collected and presented are from what is perceived as reliable sources, but since the information source(s) are beyond our control, no representation or guarantee is made that it is complete or accurate. The reader accepts information on the condition that errors or omissions shall not be made the basis for any claim, demand or cause for action. Past results are not necessarily indicative of future results. Any statements non-factual in nature constitute only current opinions, which are subject to change. The information presented in stock reports are not a specific buy or sell recommendation and is presented solely for informational purposes only. The author/publisher may or may not have a position in the securities and/or options relating thereto, & may make purchases and/or sales of these securities relating thereto from time to time in the open market or otherwise outside of the trading timeframe listed above. Nothing contained herein constitutes a representation by the publisher, nor a solicitation for the purchase or sale of securities & therefore information, nor opinions expressed, shall be construed as a solicitation to buy or sell any stock, futures or options contract mentioned herein. The companies mentioned herein may be sponsor of GoldSeek.com. Investors are advised to obtain the advice of a qualified financial & investment advisor before entering any financial transaction.


| Digg This Article

-- Published: Friday, 8 February 2019 | E-Mail | Print | Source: GoldSeek.com comments powered by
Previous Articles