-- Published: Monday, 29 April 2019 | Print | Disqus
COLORADO SPRINGS, CO, April 29, 2019 (GLOBE NEWSWIRE) -- via NEWMEDIAWIRE – Gold Resource Corporation (NYSE American: GORO) (the "Company") reports first gold production from Isabella Pearl in its Nevada Mining Unit ahead of schedule. Gold Resource Corporation is a gold and silver producer, developer and explorer with operations in Oaxaca, Mexico and Nevada, USA. The Company has returned $111 million to its shareholders in consecutive monthly dividends since July 2010 and offers its shareholders the option to convert their cash dividends into physical gold and silver and take delivery.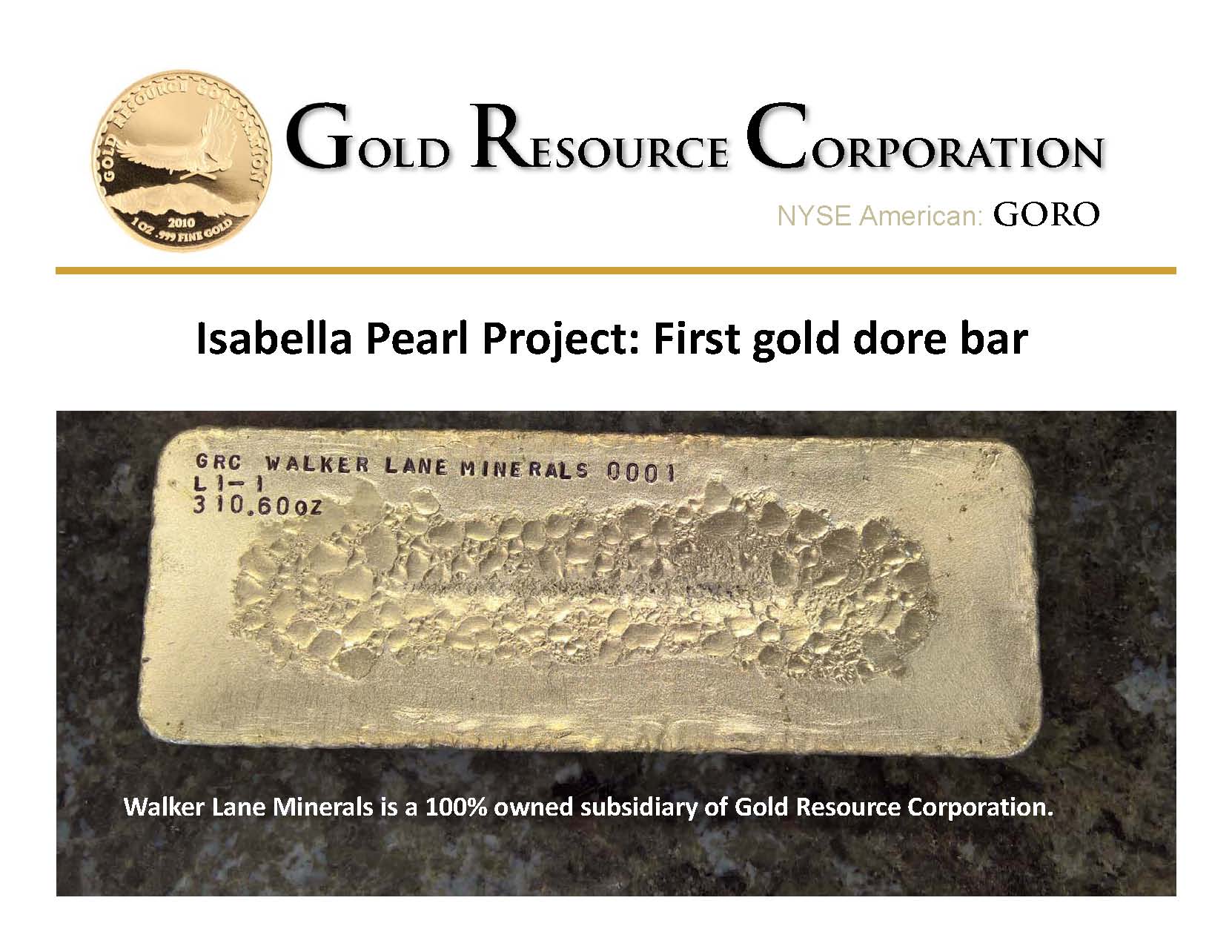 The Company broke ground on the Isabella Pearl project in June 2018 with the goal of first gold production by twelve months in June 2019. After ten months of construction progress, the Company announced on March 25, 2019 that it had begun the initial stages of gold processing by applying and circulating leach solution to ore loaded on the heap leach pad. With the focus on reaching cash flow at the earliest possible time, two panels under leach, and final construction of the project's ADR processing facility ongoing, management decided to utilize a third-party to process gold loaded carbon accumulating in the ADR plant and pour gold dore ahead of schedule. The dore will be shipped and sold to a refinery in the coming days. The spent carbon was regenerated and will be returned to the process cycle at the Isabella Pearl project. Additional gold loaded carbon shipments are planned in the next few days.
"It is a tremendous milestone to have produced our first gold dore from Isabella Pearl in just over ten months from breaking ground on the project," stated Gold Resource Corporation's CEO and President, Mr. Jason Reid. "Building a project like this is so exciting. An incredible amount of planning, work and problem solving goes into bringing a project like this online. Our team is still working hard to complete the final portions of the ADR process facility, from which we expect to pour dore bars on site in the future; however, after evaluating the ease of delivery and reasonable cost to utilize a third-party to process our gold infused carbon, it was an easy decision to achieve cash flow sooner than anticipated. These initial first several hundred ounces of gold are the beginning of what we believe will be a great gold project for Gold Resource Corporation shareholders. We remain focused on ADR construction completion over the next several months and now look towards the project production ramp up phase at Isabella Pearl. We are placing more ore on the pad, more panels under leach and increasing leach circulation flows."
About GRC:

Gold Resource Corporation is a gold and silver producer, developer and explorer with operations in Oaxaca, Mexico and Nevada, USA. The Company targets low capital expenditure projects with potential for generating high returns on capital. The Company has returned $111 million back to its shareholders in consecutive monthly dividends since July 2010 and offers its shareholders the option to convert their cash dividends into physical gold and silver and take delivery. For more information, please visit GRC's website, located at www.goldresourcecorp.com and read the Company's 10-K for an understanding of the risk factors involved.

Legal Notice / Disclaimer:

This document is not and should not be construed as an offer to sell or the solicitation of an offer to purchase or subscribe for any investment. GoldSeek.com, have based this document on information obtained from sources it believes to be reliable but which it has not independently verified; GoldSeek.com makes no guarantee, representation or warranty and accepts no responsibility or liability as to its accuracy or completeness. Expressions of opinion are those of GoldSeek.com only and are subject to change without notice. GoldSeek.com assume no warranty, liability or guarantee for the current relevance, correctness or completeness of any information provided within this Report and will not be held liable for the consequence of reliance upon any opinion or statement contained herein or any omission. Furthermore, we assume no liability for any direct or indirect loss or damage or, in particular, for lost profit, which you may incur as a result of the use and existence of the information, provided within this Report.

Additional Disclosure: The owner, editor, writer and publisher and their associates are not responsible for errors or omissions. The author of this report is not a registered financial advisor. Readers should not view this material as offering investment related advice. Authors have taken precautions to ensure accuracy of information provided. Information collected and presented are from what is perceived as reliable sources, but since the information source(s) are beyond our control, no representation or guarantee is made that it is complete or accurate. The reader accepts information on the condition that errors or omissions shall not be made the basis for any claim, demand or cause for action. Past results are not necessarily indicative of future results. Any statements non-factual in nature constitute only current opinions, which are subject to change. The information presented in stock reports are not a specific buy or sell recommendation and is presented solely for informational purposes only. The author/publisher may or may not have a position in the securities and/or options relating thereto, & may make purchases and/or sales of these securities relating thereto from time to time in the open market or otherwise outside of the trading timeframe listed above. Nothing contained herein constitutes a representation by the publisher, nor a solicitation for the purchase or sale of securities & therefore information, nor opinions expressed, shall be construed as a solicitation to buy or sell any stock, futures or options contract mentioned herein. The companies mentioned herein may be sponsor of GoldSeek.com. Investors are advised to obtain the advice of a qualified financial & investment advisor before entering any financial transaction.


| Digg This Article

-- Published: Monday, 29 April 2019 | E-Mail | Print | Source: GoldSeek.com comments powered by
Previous Articles