-- Published: Sunday, 28 June 2020 | Print | Disqus
With the gold price refusing to be knocked down below the $1,700/oz. level, it finished the weak above $1,750 [spot] and looks to be building a base, readying for its next leg higher. With continued monetary and fiscal malfeasance, showing no signs of abating anytime soon, it Is only a matter of time until new all-time highs in gold are reached. This will bode very well for the mining stocks. The trend higher is intact but the complex should get a boost once Q3 earnings are released, as most companies were impacted to some degree in Q2 due to suspension of operations.
$AXU, $CXB.TO, $CXBMF, $CLM.V, $SIOCF, $GLDX.V, $SSPXF, $GPL, $GRSL.V, $GRSLF, $LDG.TO, $LGDTF, $MKO.V, $MAKOF, $MTA, $OSK.TO, $OBNNF, $VGCX.TO, $VITFF, $VZLA.V, $VIZSF, $WPM
Alexco Resources: The company received its update water use license and further amended its silver streaming agreement with Wheaton Precious Metals and announced a positive production decision [with production of concentrate expected in Q4] along with a $26m financing to fill the remaining funding gap. The amended streaming is two-fold:
During the initial two years [8m oz. pf payable silver production], Wheaton will retain its 25% silver stream; however, the silver production payment to Alexco will be adjusted such that the operation will be able to withstand extremes [to the downside] in pricing. Following the initial two years, the formula will be adjusted. The on-going purchase price is subject to a maximum and minimum of 90% and 10% of the prevailing spot price.

Introduction production payment [first 2yrs]: 90 – ((Spot Price – 15) x 10). For example, if the prevailing spot price of silver is $18, the on-going payment in the first two years would be equal to: 90 – ((18 – 15) x 10) = 90 – (3 x 10 = 30) = 60 or 60% of the spot price = 60% x $18 = $10.80/oz.
After the first 2 million silver ounces delivered to Wheaton Precious, the formula is adjusted as follows: 90 – ((18 – 13) * 8) = 90 – (5 x 8 = 40 = 90 – 40 = 50) or 50% of the spot price = 50% x $18 = $9/oz.
The on-going purchase price bottoms at $23/oz. at 10% or $2.30/oz. For every $1/oz. increase in the silver price, the per oz. payment increases $0.10/oz.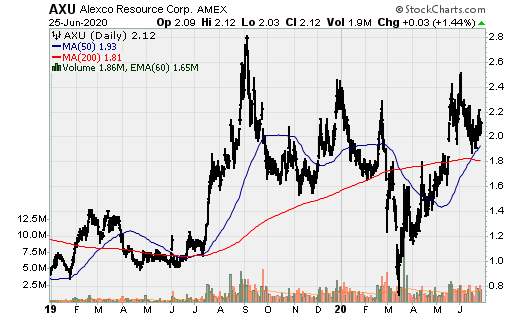 Calibre Mining: One of my favorite junior producers continues to trade at a significant discount based on Net Asset Value and 2021E cash flow multiple, announced updated 2020 production and cost guidance as well an increased exploration drill program for the 2H 2020. Revised 2020 production is now projected to be 110-125k oz. Au at cash costs and AISC of $880-$920/oz. and $1,070-$1,100/oz. This is revised downward from 140-150k oz. Au in 2020 at AISC of $1,020-$1,060/oz. The increase in AISC is largely due to increased drilling of 13k meters as well as 20k meter infill drilling program. There is a clear path to 200k oz. Au at $900-$950/oz. by 2022 and plenty of capacity to increase production towards 250k oz.+ in 2023/2024.

With the current gold price, Calibre should be able to advance and develop higher-grade targets, such that 2023/2024 production could be materially higher. The company has announced some very significant drill results at Panteon, Limon Norte, Jabali underground and Amalia and together with the significant excess capacity, is the perfect recipe for organic production growth at lower costs. I continue to believe that a tie-up between Mako Mining and Calibre would make a lot of sense, providing the combined company with an additional producing mine by Q4 2020 [San Albino], which has AISC in the lowest decile on the industry cost curve and a very attractive development project. This would make the combined company the premier producer in Nicaragua with a very commanding land package.

READ FULL REPORT:

https://silverseek.com/article/gold-silver-seeker-report-week-mining-issue-19-gold-holding-strong-drill-results-royalties



| Digg This Article

-- Published: Sunday, 28 June 2020 | E-Mail | Print | Source: GoldSeek.com comments powered by
Previous Articles by Chris Marchese, Chief Mining Analyst at GoldSeek.com