-- Published: Thursday, 12 November 2015 | Print | Disqus
As the bear market in gold concludes, mining majors and investors alike are focusing on only the most promising deposits in the most stable regions with strong management teams backing them up. Gold Standard Ventures (AMEX: GSV | TSV-V: GSV), with its multitude of gold deposits on mining-friendly Nevada's Carlin Trend, could well fit the bill.
The company has been working diligently for years to cobble together a coherent land packing on the southern end of the mighty Carlin trend, and thanks to some major breakthroughs last year the company can now boast that the Railroad-Pinion project holds the second largest land package on the whole trend, second only to Newmont itself.
Gold Standard has established at least four deposits at the project already, including their brand-new discovery north of their Dark Star deposit, and is actively drilling to expand them. Already mining companies have taken note and invested in the junior explorer, leaving it cashed up and ready to add ounces at a time when few juniors can say the same.
Big-game Hunting
The term 'elephant country' is probably thrown about too often, but Nevada is one of the few places it can legitimately be used. The stable, mining-friendly state produces 75% of U.S. gold production, coming in at 5.6 million oz. of production in 2012 thanks to the mega-deposits of the Carlin Trend that have produced more than 80 million oz. gold.
Courtesy Gold Standard Ventures
The trend is a northwest-aligned string of more than 40 separate sedimentary rock-hosted gold deposits, created by four domes of igneous intrusion cores that uplifted Paleozoic rocks that helped create the Carlin deposits.
Gold Standard's Railroad-Pinion project is centered on the fourth and southernmost dome-shaped window, about 47 miles southwest of Elko, Nevada. Newmont's Rain/Emigrant open pit heap leach operation sits just north of Gold Standard's property.
But despite the choice location, Gold Standard's property package has never before been systematically explored because of more than 40 years of fractured ownership.
The company has spent the past five years making deals and concessions to fill in holes and create a unified, district-scale property package.
Gold Standard made a big breakthrough in early 2014 when it reached a deal with Scorpio Gold Corp. on the remaining portion of the Pinion land area it was working to acquire.
The deal cemented the company's land position in southern Railroad and led the way to other important property deals later in the year, including a 2,140-acre land package that included the Dixie Creek prospect and the new Dark Star deposit.
Today the company can boast of having a 45 square mile land package on the Carlin Trend, subject to various royalties and other concessions, up from about 14 square miles in 2010.
Rich Beginnings
Of course a large land package is worth nothing if there's no gold there, but Gold Standard made some fortunate early discoveries on its land that left little doubt the property had potential.
The company started drilling some blind targets on the North Bullion target, driven mostly by gravity testing and simple road access, and in 2012 made a major discovery. The company pulled an intercept of 164 meters grading 3.38 g/t gold, and followed that up later in the year with a 124 meter intercept grading 4.05 g/t gold.
Further drilling in 2013 punched through to a lower breccia at North Bullion, with intervals of 98 meters averaging 3.26 g/t gold and 74 meters grading 3.67 g/t gold.
The company had a bona fide discovery on its hands, and rode the wave of excitement, closing some big financings as the company's share price peaked as high as $2.87.
But with the rich mineralization starting more than 200 meters below ground the drill program was expensive, and establishing a resource was going to take a fair bit of drilling.
So Gold Standard shifted focus to its other promising targets including Pinion, a near-surface oxidized target that would be much cheaper to explore. Plus previous exploration of the target meant it already had a historic resource and 380 holes drilled into it.
The company's 2014 deal with Scorpio and others gave the company a wealth of results and raw core, so Gold Standard delved into the much cheaper established data and then developed a 13-hole targeted drill program to confirm the historic results.
By September Gold Standard had its first resource estimate – 20.8 million tonnes of indicated grading 0.63 g/t gold for 423,000 oz. gold, plus a further 55.9 million tonnes inferred averaging 0.57 g/t gold for just over a million oz. more gold, all using a 0.14 g/t Au cutoff.
Similar efforts at Dark Star returned an initial resource of 23.1 million tonnes grading 0.51 g/t Au for 375,000 oz. gold, with the same 0.14 g/t Au cutoff.
Recent drill results just north of Dark Star, have indicated similar widths to the massive North Bullion discovery, with intercepts of 157 meters grading 1.51 g/t gold and 149 meters grading 1.38 g/t gold. With both resources oxidized and sitting near surface Gold Standard has the potential of becoming a low-cost open pit heap leach operation like Newmont's Emigrant mine to the north.
Cyanide testing on the Pinion deposit has already shown recoveries of 82.4% in the oxidized breccia that hosts most of the gold at Pinion, while the company is now following up with bottle roll testing on composites from 48 holes from the Pinion deposit.
Stocking up
Even the most promising deposits aren't of much use if you can't afford to explore them, so Gold Standard has been equally concentrating on securing funds for its long-term sustainability and ability to explore.
In May the company announced a strategic partnership with OceanaGold Corp (TSX: OGC), which put up $16.2 million to buy 25 million shares of Gold Standard at $0.65 per share for about a 14.9% interest in the company.
The OceanaGold investment followed Agnico Eagle's buy-in of 5% of Gold Standard in 2013, while institutional investors like FCMI currently own about half the company's 166 million outstanding shares.
The $16 million injection came on top of an US$8.9 million equity raise by Gold Standard at the beginning of the year, a sizable raise for any junior in this market.
The company needs the money not just for exploration, but also to maintain its land holdings. The company is on the hook for about $644,000 a year just to maintain the patented claims and private lands it now controls within the Railroad-Pinon project.
The cost of keeping its properties led the company to relinquish its claims in the Crescent Valley, East Camp Douglas and East Bailey projects in Nevada earlier this year after a deal to sell them to Tanqueray Exploration fell through.
Gold Ventures expects to save about US$400,000 a year by letting the projects go, but did end up with $6.9 million in write downs from the projects.
Thanks to modest exploration spending, which totaled about $2.1 million at the end of June, the company still had about $17 million in the bank as of August, enough to keep going for years if need-be.
Finding Gold
With a healthy treasury and its land package secured, Gold Standard is now focused on adding ounces and creating economic deposits. The company has identified no less than sixteen target areas it wants to explore, but it has only been able to drill nine so far.
The exploration program is being lead by John Norby, chief geologist, and Mac Jackson, vp of exploration and senior geologist.
Norby has over 30 years of experience as an exploration geologist, including many years designing and executing explorations programs for the likes of Newmont Mining, Placer Dome, Barrick Gold, and Victoria Gold on Nevada's Carlin Trend.
While Jackson has 16 years of experience as a geologist and has contributed to the discover of the Leeville and Turf deposits on the Carlin Trend, and the Fiber Line deposit at Twin Creeks.
The exploration team has already completed a first round of drilling this year with about 3,500 meters of reverse circulation in the Pinion deposit and 2,000 meters at Dark Star to extend both resources. The company is now working on a second round of drilling, still focused mainly on Pinion and Dark Star.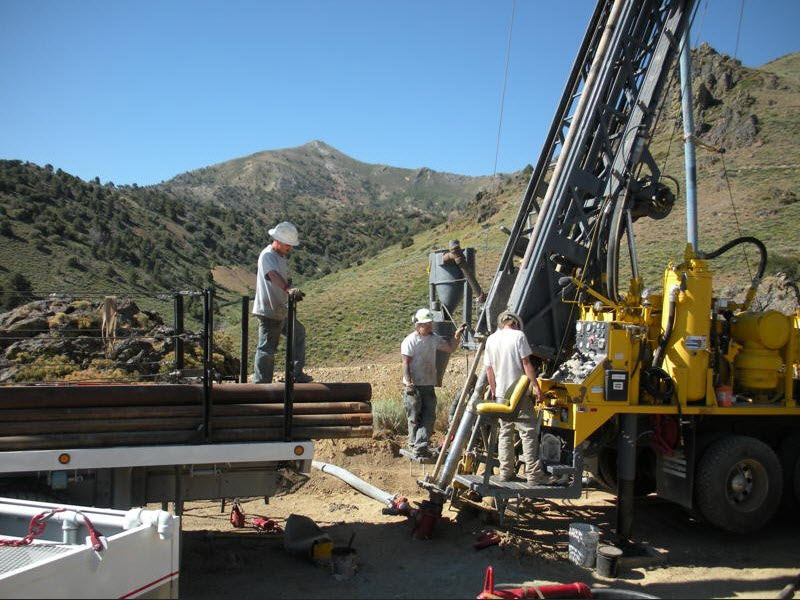 Drilling Photos - Railroad-Pinion Project
Results from the first round included hole PIN15-02 that hit 24.4 meters grading 1.38 g/t Au in a hole 150 meters northwest of the maiden Pinion resource, while to the south hole PIN15-03 hit multiple gold zones showing mineralization continues beyond the limits of the resource.
There was significant drilling news out this week. Results are back from drill hole DS15-11 which confirms a "substantial new, higher grade oxide gold zone north of the Dark Star Deposit." The 515 meter drill hole hit a 157 meters carry 1.51 g/t Au.
The new gold zone is an "order of magnitude better grade and thickness than anything they have seen before at Dark Star". The discovery at hole DS15-11 now extends the prior discovery drill hole DS15-10 by 60 meters to the east and 10 meters to the north. The golden results were well received by the markets which understood the game changing results. GoldStandard's share price rose by nearly 30% as one of the top performing stocks on the AMEX on Tuesday.
At Pinion the company has already completed five holes testing the northwest extension of the deposit for 500 meters, and plans to also test the southward extension.
I spoke with Jonathan Awde, Gold Standard's President and CEO, about upcoming exploration work. "We have hammered down our costs." With drilling costs having dropped considerably in the past year the company is also planning to once again drill the North Bullion target, to try and extend the high grade lower breccia zone with five drill holes planned. Mr. Awde added that there is a "lot of openness to explore and North Bullion provides a major opportunity for us to increase shareholder value."
Elsewhere on its property the company has planned a single 500 meter hole to test the Irene target some 2.4 km west of the Pinion deposit, three holes at the Sentinel target 100 meters with of the Far North zone, which forms part of the Pinion resource estimate, and is also considering further exploration at the Bald Mountain and Central Bullion targets.
Foundations
With a promising drill program underway and the money to fund it, Gold Standard Ventures is already in a rarified category for junior explorers these days. Add in the second-largest land package on the Carlin Trend and a management team with extensive experience in the area and the company truly starts to look very interesting.
Recent drill results from the near-surface targets haven't drawn headlines for high grades, but the company is still expanding the resources and renewed drilling on North Bullion could generate some of those stock-moving intercepts.
By late this year or early 2016 the company plans to update both resources and release metallurgical results, all of which will help set the company up for potential economic studies next year.
Junior resource investing is tough for everyone in the market these days, but Gold Standard Ventures checks many of the boxes that investors should be looking for in these lean times. As the gold market begins to consolidate and move higher, the first companies to make a leap higher from these very depressed levels will be the select group with the right projects and management teams.
Chart courtesy stockcharts.com
I am selectively investing in junior gold projects. I continue to believe that Nevada remains relatively undervalued for its favorable location and is among the best places to invest. As senior gold companies continue to mine through their gold reserves, they will hunt for their next gold mines. If Gold Standard Ventures continues to successfully explore for district scale discoveries, they will become an increasingly more attractive target. And with the successful discovery of a higher-grade oxide gold zone this past week, Gold Standard is turning back on the excitement at the Carlin trend! Gold investors can now accumulate this exciting gold explorer for a fraction of its price from just a few years ago.
Peter Spina
President - GoldSeek.com
- Twitter: @GoldSeek
- E-mail List: Sign-Up Here
Legal Notice / Disclaimer: This document is not and should not be construed as an offer to sell or the solicitation of an offer to purchase or subscribe for any investment. SilverSeek.com, have based this document on information obtained from sources it believes to be reliable but which it has not independently verified; SilverSeek.com makes no guarantee, representation or warranty and accepts no responsibility or liability as to its accuracy or completeness. Expressions of opinion are those of SilverSeek.com only and are subject to change without notice. SilverSeek.com assume no warranty, liability or guarantee for the current relevance, correctness or completeness of any information provided within this Report and will not be held liable for the consequence of reliance upon any opinion or statement contained herein or any omission. Furthermore, we assume no liability for any direct or indirect loss or damage or, in particular, for lost profit, which you may incur as a result of the use and existence of the information, provided within this Report. Additional Disclosure: The owner, editor, writer and publisher and their associates are not responsible for errors or omissions. The author of this report is not a registered financial advisor. Readers should not view this material as offering investment related advice. Authors have taken precautions to ensure accuracy of information provided. Information collected and presented are from what is perceived as reliable sources, but since the information source(s) are beyond our control, no representation or guarantee is made that it is complete or accurate. The reader accepts information on the condition that errors or omissions shall not be made the basis for any claim, demand or cause for action. Past results are not necessarily indicative of future results. Any statements non-factual in nature constitute only current opinions, which are subject to change. The information presented in stock reports are not a specific buy or sell recommendation and is presented solely for informational purposes only. The author/publisher may or may not have a position in the securities and/or options relating thereto, & may make purchases and/or sales of these securities relating thereto from time to time in the open market or otherwise outside of the trading timeframe listed above. Nothing contained herein constitutes a representation by the publisher, nor a solicitation for the purchase or sale of securities & therefore information, nor opinions expressed, shall be construed as a solicitation to buy or sell any stock, futures or options contract mentioned herein. The companies mentioned herein may be sponsor of SilverSeek.com. Investors are advised to obtain the advice of a qualified financial & investment advisor before entering any financial transaction.


| Digg This Article

-- Published: Thursday, 12 November 2015 | E-Mail | Print | Source: GoldSeek.com