-- Published: Tuesday, 28 February 2017 | Print | Disqus
Equipped with a new name and ticker to reflect its growing ambition, GoldMining Inc. (TSX-V: GOLD, OTCQX: GLDLF) is pushing ahead with its expanded stable of gold-copper projects while still on the lookout for new ones.
"We are pleased to change the name of the company to GoldMining Inc. to better reflect our diversified project portfolio and strategy to build a leading gold acquisition and development company throughout the Americas," stated founder Amir Adnani at the time of the change in December.
The Vancouver-based junior, known until recently as Brazil Resources, has picked up promising projects outside of its original focus of Brazil in recent years including development properties in Alaska and most recently Colombia.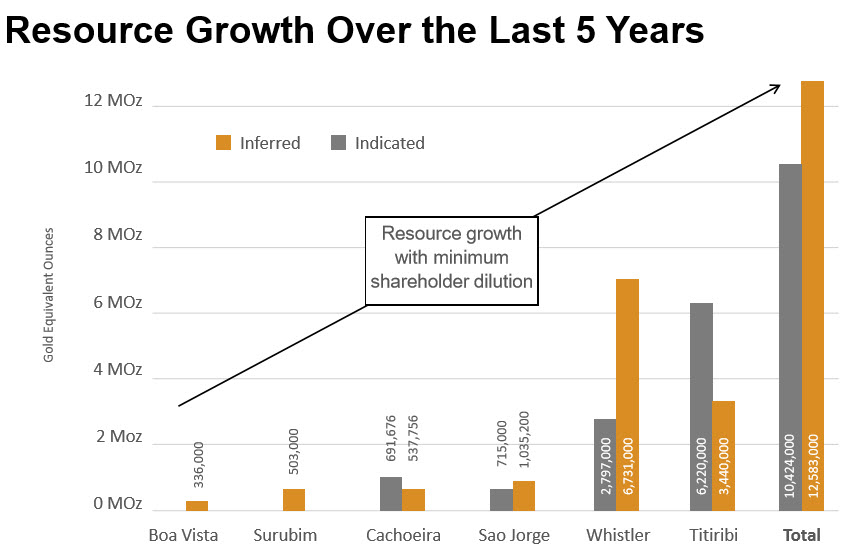 Courtesy: GOLD-Corporate Presentation
The new additions fit in with the companyꞌs strategy, set by chairman Adnani, to pick up advanced-stage gold projects at a discount and move them towards production. So far, the strategy has left GoldMining with 8 million measured and indicated ounces, plus 10million inferred resources, of gold spread across the Americas, plus $20 million in the bank to advance them and buy more.
They also have added 1.8 billion pounds of copper with their Alaskan and Colombian acquisitions. With bullish uranium prices, rallying the last several weeks into the mid and upper $20ꞌs, GoldMining provides opportunity with its Canadian uranium project, located in the western Athabasca Basin, owned with French energy giant Areva (25%).
Home base
Brazil was the companyꞌs launching point and still the home of its most advanced projects, including Sao Jorge and Cachoeira.
The company first secured Cachoeira in 2012 as the market dropped, and last year paid off its final commitments to Luna Gold for full ownership of the Para State property.
The project has three defined gold deposits with a combined indicated resource of 17.5 million tonnes grading 1.23 g/t gold for 692,000 ounces, plus an inferred resource of 15.7 million tonnes averaging 1.07 g/t gold for 538,000 ounces, all thanks to the more than $25 million already spent on exploration.
Cachoeira does hold a 4 per cent net smelter return royalty, with minimum payments of US$300,000 that started in 2014 even though production did not. But the company says itꞌs in negotiations to defer all payments until it has the permits and licenses and starts production, a deferral that had been granted to previous operators.
Further southwest in Para state sits GoldMiningꞌs Sao Jorge project, with an indicated resource of 14.4 million tonnes grading 1.54 g/t gold for 715,000 oz. gold plus 28.2 million tonnes averaging 1.14 g/t gold for just over a million ounces.
More than 90 per cent of Sao Jorgeꞌs 56,000 hectares of land remains unexplored, while GoldMining also has exploration potential at its earlier-stage Surubim and Boa Vista projects also near the town of Novo Progresso.
The company has already spent more than $4.4 million on the two advanced projects with engineering and environmental studies, and has applied for environmental licenses at Cachoeira and a mining concession at Sao Jorge.
Elsewhere in Brazil, the company also holds the earlier-stage Artulandia, Montes Aureos, and Trinta projects, which could come into play at a future date.
Besides properties, the company also has financial and management connections to Brazil.
Paulo Pereira, President of GoldMining, studied in Brazil before spending part of his 25-year career exploring and developing mining projects in the country.
The companyꞌs Brazil connections are also bolstered by Mario Garnero as a director, who is also the principal shareholder of the Brasilinvest Group. The private merchant bank, with some $6-billion in structured and initiated projects, is also a significant investor in GoldMining.
The bank has helped prop up institutional investment to about 35 per cent of shares outstanding, while insiders hold another 25 per cent, and retail investors the rest.
Wider ambitions
Not content with focusing only on Brazil, the company, led by Garnet Dawson as Chief Executive, has been searching widely for projects.
Dawson, a professional geologist with more than 30 years of experience in the trade across the Americas, Europe, Africa and China, has helped provide that wider perspective.
Seeing potential in a wider geography, GoldMining first looked far north, snapping up the Whistler project from Kiska Metals Corp. in 2015.
The Whistler project, sitting about 150 km northwest of Anchorage, now has three defined deposits with combined resources of 110.3 million indicated tonnes grading 0.5 g/t gold and 0.14% copper or 0.79 g/t gold equivalent for 2.8 million gold equivalent ounces, plus 311 million inferred tonnes grading 0.47 g/t gold and 0.11% copper or 0.68 g/t gold equivalent for 6.73 million gold equivalent ounces.
The company says the deposits are open in several directions and future drill programs will focus on adding to these near surface deposits, as well as outlining higher-grade zones within this extensive mineralization.
Spanning 170 sq. km, the Whistler project has numerous other promising targets, partially outlined thanks to more than C$50 million worth of exploration work including 70,000 metres of drilling.
Colombia
For its most recent addition, GoldMining looked back to South America, seeing potential in the geography and growing stability of Colombia.
Last September the company closed a deal on Titiribi, handing over five million shares plus a million warrants to NovaCopper Inc. In return, GoldMining gained control of a nearly 40-sq.-km land package in the highlands of central Colombia thatꞌs already seen some $60 million in exploration work between 2010 and 2014 with more than 140,000 metres of core over 270 holes.
The exploration work by NovaCopper subsidiary Sunward established several near-surface bulk tonnage gold-copper porphyry and associated epithermal gold systems, sitting in nine mineralized areas.
GoldMining put the existing data to work quickly, producing a resource estimate last October that showed a measured and indicated resource of three combined deposits totalling 286 million tonnes grading 0.5 g/t gold for 4.6 million oz. gold, plus copper in some deposits for 654 million lbs. copper. Inferred resources add an additional 208 million tonnes at 0.49 g/t gold for 3.3 million oz. gold and 78 million lbs. copper.
Operations will be aided by the local infrastructure, with paved road access, high power electrical lines passing within 3 km of the project, and the regional hub of Medellin only 70 km northeast.
The company joins a roster of companies developing gold projects in the area, including Red Eagle with commercial production to be declared at its San Ramon gold mine in the first quarter of 2017, Continental Goldꞌs flagship Buriticá project receiving its environmental permit in the fourth quarter of 2016, and Gran Colombiaꞌs producing Segovia and Marmato gold mines.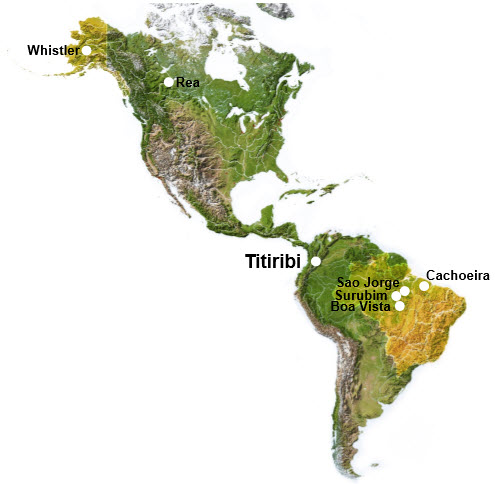 Courtesy: GOLD-Corporate Presentation
Cashed up
GoldMining has gathered up its roster of projects while keeping total shares outstanding at a reasonable 118 million shares, plus another 17 million options and warrants.
The latest Titiribi deal added less than 4.6 per cent dilution, in a deal worth about C$12 million based on Brazil Resourceꞌs 20-day average price before the deal closed.
The company also cashed up in November, raising $12.4 million at $2.50 a unit. The financing was originally set at $4 million, but heavy interest led to multiple rises in the target and an oversubscribed private placement.
"We are very pleased with the strong level of support shown by existing and new individual and institutional investors in this oversubscribed Private Placement," said Adnani at the time.
The financings were helped along by a rapidly appreciating stock price, which went from trading in $0.40 CAD range in January 2016 to a peak of $3.35 CAD nine months later.
That price has more recently been hovering at around $2 CAD, giving the company about a $240-million CAD market cap.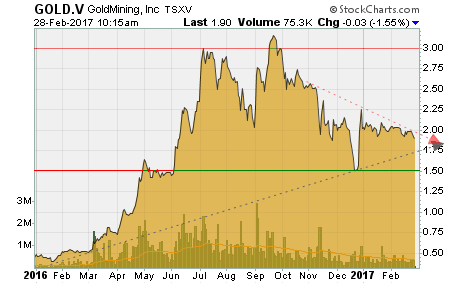 Courtesy: Stockcharts.com
But with more than 10 million ounces of indicated gold equivalent ounces, 12.6 million ounces more in inferred ounces, plus much more in the works, the company should see big movements along with the gold price.
Looking forward
Having assembled a group of promising gold projects across the Americas, GoldMining is now starting to pivot to the other half of its name and push the projects towards production.
Mining entrepreneur Adnani is no stranger to putting mines into production, having founded Uranium Energy Corp. and led it to production within five years.
Early permitting work is already underway in Brazil, while it will be looking to expand and advance its projects in Alaska and Colombia.
The company also has its Rea uranium project in Alberta, a holdover of an earlier takeover, that saw some exploration work last year and that GoldMining looking to spin off or sell.
It holds 75 per cent of the project thatꞌs seen more than C$10 million of work, and which French energy giant Areva owns the remaining stake.
GoldMining is, however, keeping development and exploration budgets tight at all projects, as it waits for permitting and potential movement in gold prices.
All the while, management is still on the hunt for new opportunities that hold an existing sizable resource with high potential for expansion, says Adnani.
"With over $20 million of cash and major institutional holders that have been long-term backers of the company's business plan, we are in a strong position to continue the acquisition strategy that has consistently increased shareholder value over the past five years," he recently stated.
Finding those promising projects at a good price has never been easy, but GoldMining has in a short time shown it can flush them out.
The company has an ambitious road ahead as it works to push its projects towards production, some of which have sizable, lower-grade resources which gives the company significant leverage to the gold price!
With several promising deposits and over 18 million gold ounces (indicated and inferred) under its control already, the company is well positioned to benefit the upside in gold prices, and has already shown that it can skillfully add ounces to its roster with minimal dilution to shareholders.
GoldMining has built its vision of building a portfolio of gold ounces for a low cost to its shareholders on the belief that gold prices will not remain depressed. I fully agree that the last several years in gold is a gift to those who have been able to accumulate ounces.
GoldMining certainly has aggressively done so and continues to significantly add ounces to its portfolio such as Septemberꞌs massive gold-copper Titiribi acquisition. Now with gold prices looking to make a move towards $1,500/ounce and higher, GoldMining will become even more lucrative for investors and to other mining companies in need to replenish their own ounces. I believe this will continue to fuel GoldMining as a gold stock outperformer in the coming leg higher in the bull market.
- Peter Spina, President of GoldSeek.com
GoldMining.com
TSX-V: GOLD | OTCQX: GLDLF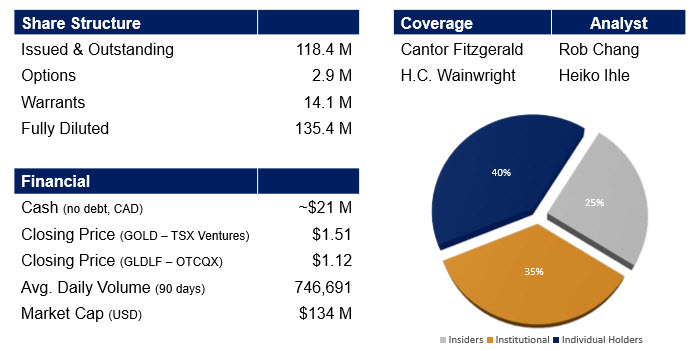 More information on Gold Mining..
Peter Spina's experience with the precious metal markets started back in the mid-1990s, which led to the creation of GoldSeek.com back in 1995. Today GoldSeek.com ranks in the top three most popular global gold websites and its sister site, SilverSeek.com ranks as the most visited silver website in the world. Back at the start of the new secular precious metals bull market, Peter established the technically-focused subscription newsletter, which at the start of 2005 was merged into the more comprehensive Gold Forecaster (goldforecaster.com) service. In addition to the newsletter and websites, Peter frequently appears in the media including MarketWatch, Reuters, and Investors Business Daily.
- Twitter: @GoldSeek

- E-mail List: Sign-Up Here

Legal Notice / Disclaimer: This document is not and should not be construed as an offer to sell or the solicitation of an offer to purchase or subscribe for any investment. GoldSeek.com, have based this document on information obtained from sources it believes to be reliable but which it has not independently verified; GoldSeek.com makes no guarantee, representation or warranty and accepts no responsibility or liability as to its accuracy or completeness. Expressions of opinion are those of GoldSeek.com only and are subject to change without notice. GoldSeek.com assume no warranty, liability or guarantee for the current relevance, correctness or completeness of any information provided within this Report and will not be held liable for the consequence of reliance upon any opinion or statement contained herein or any omission. Furthermore, we assume no liability for any direct or indirect loss or damage or, in particular, for lost profit, which you may incur as a result of the use and existence of the information, provided within this Report.

Additional Disclosure: The owner, editor, writer and publisher and their associates are not responsible for errors or omissions. The author of this report is not a registered financial advisor. Readers should not view this material as offering investment related advice. Authors have taken precautions to ensure accuracy of information provided. Information collected and presented are from what is perceived as reliable sources, but since the information source(s) are beyond our control, no representation or guarantee is made that it is complete or accurate. The reader accepts information on the condition that errors or omissions shall not be made the basis for any claim, demand or cause for action. Past results are not necessarily indicative of future results. Any statements non-factual in nature constitute only current opinions, which are subject to change. The information presented in stock reports are not a specific buy or sell recommendation and is presented solely for informational purposes only. The author/publisher may or may not have a position in the securities and/or options relating thereto, & may make purchases and/or sales of these securities relating thereto from time to time in the open market or otherwise outside of the trading timeframe listed above. Nothing contained herein constitutes a representation by the publisher, nor a solicitation for the purchase or sale of securities & therefore information, nor opinions expressed, shall be construed as a solicitation to buy or sell any stock, futures or options contract mentioned herein. The companies mentioned herein may be sponsor of GoldSeek.com. Investors are advised to obtain the advice of a qualified financial & investment advisor before entering any financial transaction.


| Digg This Article

-- Published: Tuesday, 28 February 2017 | E-Mail | Print | Source: GoldSeek.com