-- Published: Friday, 11 August 2017 | Print | Disqus
There are not many junior mining companies that can in under a year, produce high grade copper drill results and complete additional financing for a second drill program. With experienced management and good ground to explore, anything can happen.
On July 19, 2016, Camino Minerals (TSX-V: COR) entered into an option agreement with Minas Andinas SA, to acquire a 100% interest in the Los Chapitos copper, gold and silver project located in the Department of Arequipa, Peru. Move forward four months to November, 22, 2016, the company signed a 5-year access deal to the Los Chapitos property with the community of Atiquipa. On Nov. 20, 2016, a majority of attendees voted to allow Camino access to the lands for a one-time payment of $1,500 (U.S.), and providing technical support for finding additional water resources for agricultural and ranching operations.
It was only 5 months later on April 18, 2017 when the company produced impressive drill results with the headline result coming out of Hole CHR-002 which intersected 1.30 per cent copper over 106 metres (with the hole ending in mineralization), including 2.12 per cent copper over 38 m from the Adriana Zone.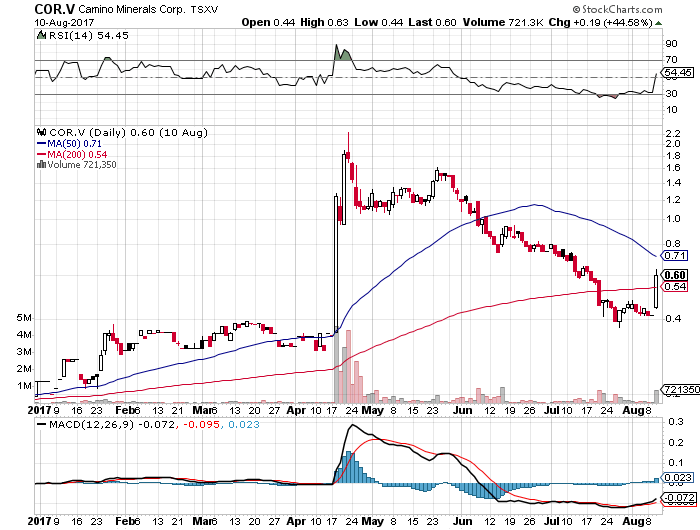 $COR.v stock chart courtesy www.stockcharts.com
The April 18 drill results sent the company's share price to an intraday high of $2.21 settling at $1.24 by the end of the day. Armed with some impressive results, the company threw on the suits to raise some money. The company raised in total $5.0 million in a private placement at 95 cents per unit to fund its second phase drilling program at Los Chapitos. However, the second phase drill results did not create the same market activity with results such as 168.5 m of 0.72% Cu and 88.5 m of 0.84% Cu at Chapitos at the Adriana zone and 27.2 m of 0.72% Cu at the Katty zone. The share price has since declined to 45 cents at time of publication.
The company says step--out drilling will continue at the Katty zone where four additional holes have been completed, and at the Adriana zone where an additional five holes have been completed. Assays are pending for these outstanding drill holes and will be reported when available. In addition, the company is finalizing drill targets to test the Pilar and Vicky areas located two kilometres to the southeast of the Katty zone. Permit applications have been filed for a separate drill program on the Atajo zone, located on the western side of the property. So early, Los Chapitos appears to be in a target rich environment but there is still plenty of work to be done before another round of financing is needed.
The Chapitos property is located 15 kilometers north of the coastal city of Chala, Department of Arequipa, Peru, approximately 9 hours' drive south of Lima along the Pan American highway. Gravel roads connect to the highway from the towns of Chala and Tanaka. The mineralization is thought be related to an Iron Oxide Copper Gold type deposit, similar to the Mina Justa deposit which is approximately 100 kilometers to the northwest along the same trend. Small-scale mining was active on the western side of the property in the 1940s and 1950s, which produced high-grade copper oxide mineralization from the El Atajos zone. The Atiquipa community lands covers the western half of Chapitos, including the Atajo zone, which has historical workings along 400 metres of strike length, that returned surface chip samples values averaging 2.10 per cent copper over 38 metres, and a second line averaging 1.57 per cent copper over 64 metres. Until Camino arrived, no contemporary or systematic exploration had been undertaken on the property.
Approximately six kilometres to the east are three additional zones which outcrop along a one km trend. The Adriana zone is exposed over a surface area measuring 75 m by 150 m, with historical sampling ranging from 0.3 per cent to 2.6 per cent copper as oxides. The Katty zone measures 50 m by 125 m and has historical sampling ranging from 0.3 per cent to 6.6 per cent copper. The Carlota zone, which lies between the Adriana and Katty zones, measures 100 m by 150 m and contains lower-grade mineralization grading up to 1 per cent copper. The Adriana zone is located on a six kilometer, northwest-southeast trend that has seen surface sampling, mapping and ground geophysics by Camino to define targets. There are currently two diamond drills working on this side of the property.
The management behind the company appears to have traded their successes in the Canadian cold for the warmer climes of Peru. Company management has an impressive track record with many members having previously worked together on Pretivm's (TSX:PVG) Brucejack property that went into production this year. At the head of the company is Kenneth McNaughton, who has extensive experience with companies that are currently in production. He joined Pretivm Resources Inc. in 2011 as Vice President and Chief Exploration Officer. Prior to that, he was Senior Vice President, Exploration for Silver Standard Resources Inc. Ken Konkin, P. Geo., as General Manager of Exploration Peru for Camino, has managed precious and base metal exploration programs for 30 years throughout North America, South America and Russia. He was the project manager for the surface exploration programs at the Brucejack/Snowfield Projects for Pretivm. W. Perry Durning, M.Sc., Consultant, has been active in mineral exploration for over 43 years. Mr. Durning cofounded with F. L. "Bud" Hillemeyer, Consultant, La Cuesta International, Inc. in 1993 and has worked primarily in Mexico since that time. Mr. Durning and Mr. Hillemeyer were selected by the PDAC as the 2010 co-award winners of the Thayer Lindsley Award in recognition for La Cuesta's multiple grassroots discoveries in Mexico.
The company has an excellent share structure of 43,079,780 shares outstanding giving it an approximate market capitalization of $19,817,000 at time of publication. Ken McNaughton, President & CEO, holds 13.4 % of issued shares and directors and management combined hold 23.9%. Furthermore, the company has seen insider buying and with a large contingent of shareholders who bought in the private placements at 95 cents for a stock currently trading at 45 cents, there is going to be strong support for this company to continue to do work.
The speed with which the company identified mineralization, drilled and financed further work, is a testament to good management and regional knowledge of historical workings but at the end of the day, drill results will reveal the truth. The only way to get at the truth is to keep on drilling and with more upcoming drilling results, investors are keenly watching this company.
Back in January, I named Camino Minerals one of my top several picks for 2017 and it remains so today as my largest copper exploration investment. I have been a buyer since in the open market and placement at levels above and below the current price. I now believe the selling in the stock is well overdone, exhausted. Now with copper prices rallying towards $3 per pound along with more drill results pending, I find Camino to be an excellent risk/reward investment opportunity at these levels with their solid management team now accelerating the copper discovery process.
- Peter Spina, President of GoldSeek.com
To Learn More:
http://www.caminominerals.com/s/Home.asp
Peter Spina's experience with the precious metal markets started back in the mid-1990s, which led to the creation of GoldSeek.com back in 1995. Today GoldSeek.com ranks in the top three most popular global gold websites and its sister site, SilverSeek.com ranks as the most visited silver website in the world. Back at the start of the new secular precious metals bull market, Peter established the technically-focused subscription newsletter, which at the start of 2005 was merged into the more comprehensive Gold Forecaster (goldforecaster.com) service. In addition to the newsletter and websites, Peter frequently appears in the media including MarketWatch, Reuters, and Investors Business Daily.
- Twitter: @GoldSeek

- E-mail List: Sign-Up Here

Legal Notice / Disclaimer: This document is not and should not be construed as an offer to sell or the solicitation of an offer to purchase or subscribe for any investment. GoldSeek.com, have based this document on information obtained from sources it believes to be reliable but which it has not independently verified; GoldSeek.com makes no guarantee, representation or warranty and accepts no responsibility or liability as to its accuracy or completeness. Expressions of opinion are those of GoldSeek.com only and are subject to change without notice. GoldSeek.com assume no warranty, liability or guarantee for the current relevance, correctness or completeness of any information provided within this Report and will not be held liable for the consequence of reliance upon any opinion or statement contained herein or any omission. Furthermore, we assume no liability for any direct or indirect loss or damage or, in particular, for lost profit, which you may incur as a result of the use and existence of the information, provided within this Report.

Additional Disclosure: The owner, editor, writer and publisher and their associates are not responsible for errors or omissions. The author of this report is not a registered financial advisor. Readers should not view this material as offering investment related advice. Authors have taken precautions to ensure accuracy of information provided. Information collected and presented are from what is perceived as reliable sources, but since the information source(s) are beyond our control, no representation or guarantee is made that it is complete or accurate. The reader accepts information on the condition that errors or omissions shall not be made the basis for any claim, demand or cause for action. Past results are not necessarily indicative of future results. Any statements non-factual in nature constitute only current opinions, which are subject to change. The information presented in stock reports are not a specific buy or sell recommendation and is presented solely for informational purposes only. The author/publisher may or may not have a position in the securities and/or options relating thereto, & may make purchases and/or sales of these securities relating thereto from time to time in the open market or otherwise outside of the trading timeframe listed above. Nothing contained herein constitutes a representation by the publisher, nor a solicitation for the purchase or sale of securities & therefore information, nor opinions expressed, shall be construed as a solicitation to buy or sell any stock, futures or options contract mentioned herein. The companies mentioned herein may be sponsor of GoldSeek.com. Investors are advised to obtain the advice of a qualified financial & investment advisor before entering any financial transaction.


| Digg This Article

-- Published: Friday, 11 August 2017 | E-Mail | Print | Source: GoldSeek.com comments powered by
Sign-Up for Free E-mail list: Peter Spina

Peter Spina's experience with the precious metal markets started back in the mid-1990s, which led to the creation of GoldSeek.com back in 1995. Today GoldSeek.com ranks in the top three most popular global gold websites and its sister site, SilverSeek.com ranks as the most visited silver website in the world. Back at the start of the new secular precious metals bull market, Peter established the technically-focused subscription newsletter, Gold Seeker Report, which at the start of 2005 was merged into the more comprehensive Gold Forecaster (goldforecaster.com) service. In addition to the newsletter and websites, Peter frequently appears in the media including MarketWatch, Reuters, and theStreet.com

Previous Articles by Peter Spina