-- Published: Friday, 10 February 2017 | Print | Disqus
Here are a few of the charts that currently have my attention:
1) The industrial metals bottomed (in price) as a group early last year. They were then led higher as a group by iron-ore, the metal that according to many analysts had the most bearish fundamentals and could therefore not sustain a rally.
The following chart (from barchart.com) shows that the iron-ore price has more than doubled since its early-2016 bottom. It made a marginal new high this week, so there is no evidence yet that the rally is over.
When the iron-ore price eventually reverses it will be a warning that the broad-based industrial-metals rally is close to an end.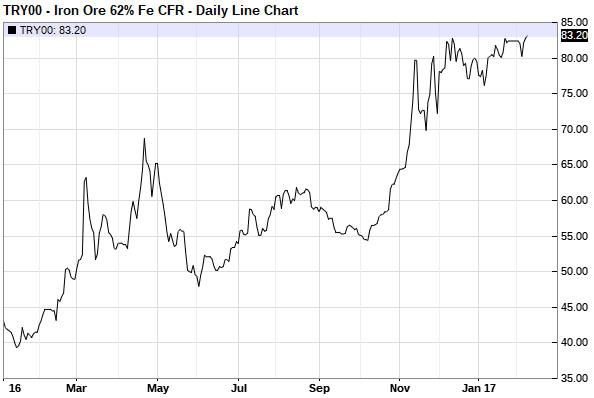 2) The following chart compares the euro with the difference in yield between 10-year German Government bonds and 10-year US Treasury notes. The euro has tracked this interest-rate differential quite closely over the past two years and very closely over the past 6 months.
The implication is that for the euro to extend its short-term rebound, German yields will have to remain in an upward trend relative to US yields. How likely is that?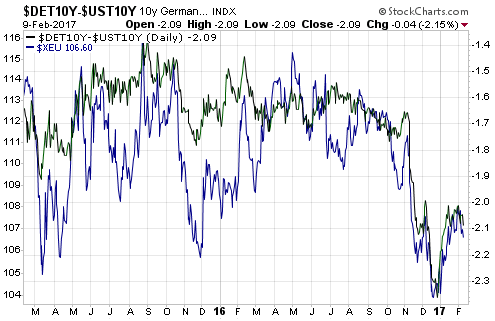 3) The Dow Transportation Average (TRAN) traded comfortably above its November-2014 high during December-2016 and January-2017, but in each case it failed to give a monthly close above the November-2014 close. This means that TRAN still hasn't broken above its 2014 peak on a monthly closing basis, which represents an interesting non-confirmation of the breakouts achieved by other indices.
Will TRAN finally break out on a monthly basis this month?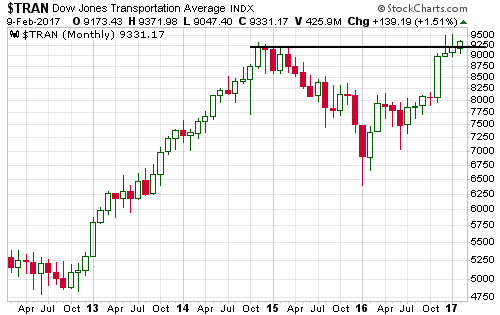 4) In early-July of last year the Commitments of Traders (COT) data indicated that speculators were as bullish as they ever get on long-dated Treasury securities. This set the stage for an important price top. By December the sentiment situation had shifted 180 degrees, with the COT data indicating that speculators were as bearish as they ever get on long-dated Treasury securities. The stage was therefore set for an important price bottom.
The recovery from the December-2016 bottom is probably not yet close to being over.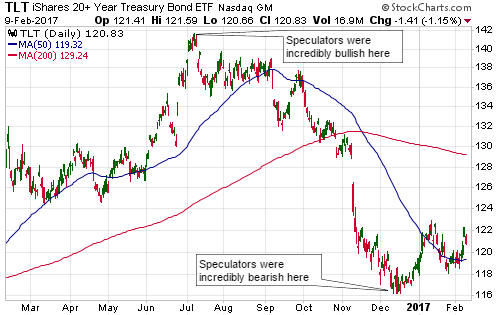 | Digg This Article

-- Published: Friday, 10 February 2017 | E-Mail | Print | Source: GoldSeek.com