John Williams
Shadow Stats


John Williams Shadow Government Statistics is a monthly electronic newsletter that exposes and analyzes the flaws in current U.S. Government data and reporting, as well as in certain private-sector numbers. It also looks at the financial markets free of the hype so often put forth in the popular financial media. Generally published on the second Wednesday of the month, the newsletter is supplemented by Flash Updates and occasional Alerts that highlight unusual developments. The publication includes regular analysis of:
* The prior month's reporting (employment/unemployment, CPI, GDP, retail sales, housing statistics, factory orders, trade balance, consumer confidence, purchasing managers' survey and others) including estimates of actual results net of any reporting biases.
* The coming month's reporting, highlighting unusual circumstances and biases that could bring results in above or below market expectations.
* Economic series that are relatively free of reporting biases and what they indicate about the economy and inflation.
* Special features detailing the background of government series not previously explored in the newsletter, along with updates to changes in reporting methodologies for all major series.
*Markets Perspective -- part of the regular newsletter -- where the financial markets are assessed net of ongoing hype from Wall Street, the Federal Reserve and the Administration.
* Alternate Data Series -- covering the CPI, GDP and a continuing version of the discontinued M3 series -- are available for downloading by subscribers.
Subscription Rates: $89.00 for six months, $175.00 for twelve months.

Visit the web page: Click Here
James Turk
GoldMoney.com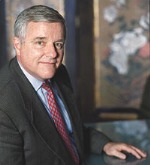 James Turk is founder of GoldMoney.com, which operates the leading digital gold currency. He also publishes the Freemarket Gold & Money Report, an investment newsletter he founded in 1987. Previously, after a decade with the international department of Chase Manhattan Bank, he managed the commodity department of the Abu Dhabi Investment Authority. His media appearances include GoldSeek.com, CNN, Bloomberg, CBSMarketWatch, CNBC, Barron's, the Wall Street Journal, and Financial Sense Online.
To visit my webpage: click here.