-- Posted Thursday, 28 March 2013 | | Disqus


Wall Streetexpressed relieved that Europe'scentral bank agreed to release 10 billion euros ($13 billion) of emergencyrescue funds for Cyprus. In exchange, Cyprus agreed to shrink its bankingindustry, cut its budget, implement economic reforms and privatize some stateassets. Although the measures are expected to result in heavy losses for Cyprus' bondholders and large depositors, Wall Street was just glad tododge another bullet.
Optimism over the lack ofpanic in Cyprus pushed theS&P 500 (SPX) to a record closing high. The new high in theSPX was preceded two days earlier by a new high in the NYSE Advance-Decline(A-D) line, a sure sign that higher prices were ahead. Internal momentumon the NYSE is also still rising, which helps dictate the path of leastresistance for stocks in the near term.
The big questionon investors' minds is how much longer the U.S. stock market can continue toavoid Europe's increasing troubles? It has been 130 days since the market has seen a pull back ofat least 5-10%. Many investors wonder if we'll ever see such a pullbackagain as long as the Federal Reserve has the proverbial "pedal to the metal"with its loose money program. The answer to this question is more thanlikely "yes" considering that the market has always had such corrections inprevious quantitative easing (QE) periods.
Witness thedeclines in the stock markets of several major European nations as well thecontinued weakness in the euro currency. European bourses wereconsiderably weaker for the week, led by a fresh new quarterly low in the euroETF (FXE). Spain's IBEX 35 stock index was down by as much as 6%, testingits quarterly low while the Italy ETF (EWI) dropped 5% in a 2-dayperiod.. The country that got the euro zone avalanche started back in2010 – Greece – saw its stock market decline to yet another new low today viathe Greek ETF (GREK) shown below.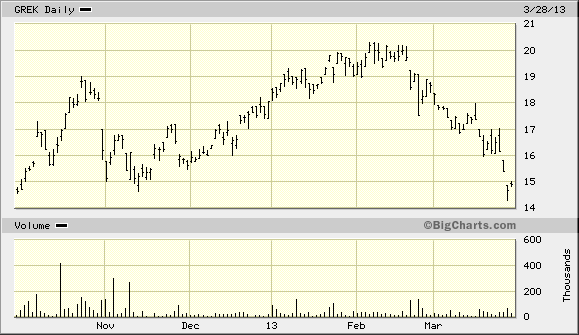 As Sharps Pixleypointed out, "Although the Finance Ministers highlighted that Cyprus is aspecial situation, the European banking crises and contagious effects are veryreal." Italy meanwhile still doesn't have a government. Each of thestock markets and country ETFs mentioned above present a picture of a weakenedcontinent vulnerable to even the slightest bad news.
Speaking offinancial contagions, Randall Forsyth, writing in this week's Barron's,pointed out the history of overseas financial crises and how they all have ahistory of eventually making their way to the U.S. Sixteen years ago theThai baht became the first major currency to fall in the Asian currencycrisis. That crisis eventually spread beyond the region and made itspresence felt in the U.S. and around the world. The collapse of Long TermCapital Management hedge fund in 1998 and near meltdown of the global financialsystem was a result of that contagion.
"In 2008," wroteForsyth, "Iceland was the improbable site of a credit bubble and bust. Money flooded into the island nation's burgeoning banks in pursuit of highreturns. Eventually, the amount at issue grew to about 10 times the sizeof Iceland's economy. But the bubble's collapse led to defaults toforeign creditors, notably those in the U.K. and the Netherlands, and a massivedevaluation of Iceland's currency, the krona."
Then there wasthe crisis with Greek government bonds in 2010 which required a massive bailout. The crisis in Greece spread to banks in Ireland, Spain, and Portugal, withspillover effects on U.S. equities.
The fear amonginvestors is that Cyprus' move to essentially penalize large bank depositorswill feed a larger fear that this will become the norm in troubled Europeannations. Rana Foroohar pointed out in the latest issue of Timethat the current Cypriot government was voted in because it promised to protectbank deposits. "Even if small depositors end up safe," she wrote, "evenif Cyprus doesn't become the economic equivalent of the assassination ofAustrian Archduke Ferdinand, which started World War I – the damage to trusthas been done." As Mohamed El-Erian, CEO of PIMCO, pointed out, "Thepopulation is quickly losing confidence in the political order."
All of which isto say that the fatal concoction of European bank troubles and a weakening eurocurrency along with depositor/investor mistrust of banks could easily result inanother financial contagion in the coming months. And this is just thesort of thing the gold market could use to reverse its fortune.
Price of Oil
Is the Fed's QE programincreasing food and fuel costs for consumers? Peter Kenny, managingdirector at Knight Capital Group, thinks so. In an interview with Breakout.comhe stated that the Fed's QE policy is pushing up the price of fuel, which inturn raises the price for everything else in the economy. While monthly headline inflation data is below theFed's 2% target, Kenny and many other market watchers see it showing upelsewhere "in everything we assume is a part of our daily life."
According to Kenny, QE is pushingup the price by about 50% instead of the $65 a barrel level where he believesit should be based on current supply and demand. Since the Fed isactively injecting more money into the economy, he says that has resulted in"more dollars chasing that fuel" leading to higher prices.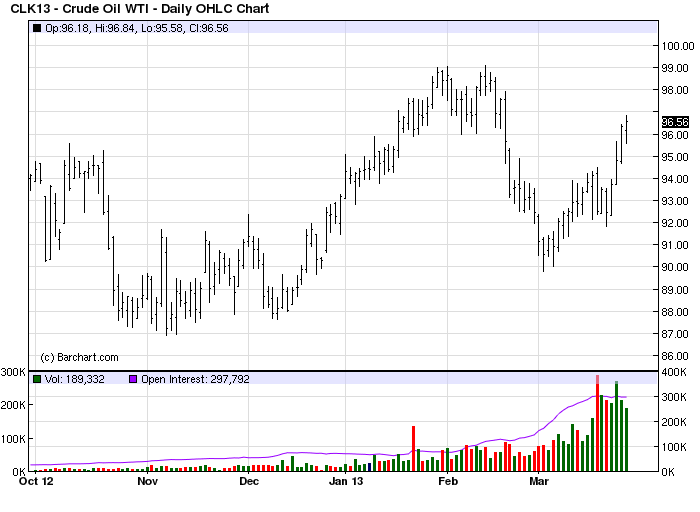 Kenny also sees evidence of theFed's intervention in the stock market. "The soft bid we see in equity markets and that we run intoevery time there's a sell-off, that soft bid is the direct result ofquantitative easing."

Few investorsdoubt the effects of the Fed's stimulus efforts in boosting oil and stockprices. Without the impact of higher oil prices the effects of thedeflationary long-term cycle would be evident in every sector of theeconomy. What's debatable is how it all ends. Will the Fed succeedin beating the 120-year deflationary cycle scheduled to end in 2014 with its QEpolicy? Or will the structural forces of deflation prevail despite theFed's strongest efforts as we head closer to the final bottom of thecycle?

Mr. Kresshimself always believed that while stimulus could temporarily soften the blowof the cycle, no amount of central bank/government intervention couldultimately stop the Master Cycle of inflation/deflation. It's tooearly to say with any certainty that Kress was wrong but we'll at least have abetter idea just how power the Fed has over the market once we see the market'sreaction to the upcoming quarterly cycle peak.

ConsumerSpending

Dr. Scott Brown of Raymond James Financial last week wrote aprescient commentary on U.S. consumer spending worth mentioning. "Oneoften talks about 'the consumer,'" he wrote, "but there's no such thing." Brown pointed out that the top 20% of income earners account for abouthalf of personal income and half of consumer spending. Spending for the top 20%of households likely won't be much affected much by the payroll tax increase,delayed tax refunds, or higher gasoline prices. Stock market wealth gainswill also increase spending for the upper 20% group, he added.

"Note that the stock market wealth effect on spending isrelatively small, but a large enough change in wealth can certainly move theneedle on spending. The wealth effect is also asymmetric. A 20% rise in stockmarket wealth may add about 0.6% to spending, while a 20% decline might reducespending by about 2.0%."

Dr. Brown went on to say, "For the other 80%, the payroll taxincrease and higher gasoline prices matter a lot. Recall that, for a householdmaking $60,000 per year, the payroll tax increase reduced spending by $100 permonth. The payroll tax reduction of the last few years was perhaps the mostunadvertised tax cut in history. Most people were unaware that the cut hadoccurred, but the added take-home pay helped support consumer spending growth."

He concluded: "Many workers were unaware that the payroll tax rosein January. Hence, the impact on consumer spending is likely to show up with alag. In addition, higher gasoline prices normally have a lagged effect onspending. Gasoline prices may be falling now, but the full impact of the risein February has yet to be felt."

MomentumStrategies Report

The stockmarket recovery is nearly four years old, and investors wonder if it willcontinue. While many experts have made forecasts for the coming year, fewhave been as impressive as the Kress cycles in projecting the market's year-aheadperformance since the recovery began.

Each yearI publish a forecast for the coming year based on a series of historicalrhythms known within Kress cycle theory. Last year's forecast wasremarkably accurate in predicting the pivotal market turns, including the June1 bottom in the S&P.

Here's asampling from last year's forecast:

"Thefirst five months of 2012 will likely be characterized by greater than averagevolatility....This will create a level of choppiness to coincide, if not exacerbate,the market's underlying predisposition to volatility owing to the euro zonedebt crisis…the May-June 2006 stock market slide could be repeated in May-June2012. Our short-term trading discipline should allow us to navigate thisvolatility and there should be at least two worthwhile trading opportunitiesbetween [January] and the scheduled major weekly cycle around the start of June2012. From there, the stock market should experience what amounts to thefinal bull market leg of the current 120-year cycle, which is scheduled tobottom in October 2014.

"Keepingin mind that like snowflakes, no two markets are exactly alike, the Kress cycleecho analysis for 2012 tells us to expect a final upswing for stocks in thesecond half of the year with the first half of 2012 likely to be more favorablyto the bears, especially if events in Europe are allowed to get out of hand."

This isyour opportunity to find out what the Kress cycles are telling us to expect for2013. Subscribe to the Momentum Strategies Report now and receive as mycompliments to you the 2013 Forecast issue.

Inaddition to that you'll also receive the MSR newsletter emailed to you eachMonday, Wednesday and Friday. MSR provides reliable forecasts andanalysis of U.S. and global markets based on internal momentum, cyclical andtechnical factors. Low-risk stock and ETF recommendations are also madebased on my proprietary system of selection. Specific entry and exitinstructions are also given for each recommendation.

[For the complete2013 Kress cycle forecast for the U.S. stock market and the latest newsletters,subscribe to the Momentum Strategies Report at the link below.]

http://www.clifdroke.com/subscribe_msr.mgi

ClifDroke is the editor of the three times weekly Momentum Strategies Reportnewsletter, published since 1997, which covers U.S. equity markets and variousstock sectors, natural resources, money supply and bank credit trends, thedollar and the U.S. economy. The forecasts are made using a uniqueproprietary blend of analytical methods involving cycles, internal momentum andmoving average systems, as well as investor sentiment. He is also theauthor of numerous books, including most recently "2014: America's Date WithDestiny." For more information visit www.clifdroke.com


-- Posted Thursday, 28 March 2013 | Digg This Article
| Source: GoldSeek.com