-- Published: Thursday, 27 October 2016 | Print | Disqus
We're about to enter that time when financial commentators offer up their best guesses as to what investors can expect in the Near Year. It always makes for fun reading, but it also never fails to disappoint. Instead of engaging in that tired exercise in futility, investors would do better to focus on something more productive. And that would be next year's most likely catalyst for stock and commodity prices.
Instead of asking the fruitless question, "At what price will the S&P 500 finish in 2017?" wouldn't it be better to ponder what could possibly stimulate asset prices out of their lethargy? Granted, this is as much a guessing game as the former question. But at least applying critical thinking to the catalyst question, investors are almost certain to uncover some hidden opportunities for profit.
Having said that, what could be next year's biggest catalyst for a meaningful breakout-type move in: the broad equities market, the commodities market, or individual issues within both categories? Putting the pieces of global events over the last year together and reading between the lines allows us to make at least one educated guess: military conflict. War is after all one of the biggest catalysts for both stock and commodity prices, and it has the added benefit of boosting the economy, short-term. Of course war must be paid for down the line, but that's why "kicking the can" was invented (so that the day of reckoning can be perpetually delayed).
Terrorist events have historically served both as precursors and pretexts for going to war. As the following graph shows, terrorism has expanded dramatically in recent years [Source: www.civilserviceindia.com]. The exponential increase in terrorist events will likely be used to justify further military excursions among the Western nations which have become the targets of these events.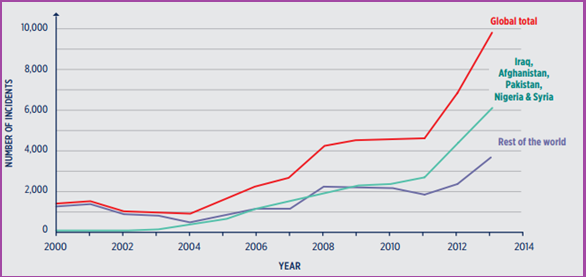 Indeed, the rumblings of war have been audible for some time now, and it's evident that what has kept the U.S. out of another overseas conflict has been the focus on this year's presidential race. The current Commander-in-Chief is bound by his promise to end America's long wars in Iraq and Afghanistan. The incoming president, however, will be under no such constraint. If that president just happens to be a certain candidate with the initials H.R.C., it's also likely that America will have its next war-time president.
As Micah Zenko argued in his recent Foreign Policy article on Hillary Clinton, the presidential hopeful has a long track record which strongly suggests she is a war hawk. "Though she has opposed uses of force that she believed were a bad idea," he wrote, "she has consistently endorsed starting new wars and expanding others."
While the U.S. has already been at war for 15 years, the intensity of our nation's war efforts have been dramatically scaled back in recent years. Under Clinton, it's easy to foresee a revival of warfare activities in the Mid East region. While Zenko's article was supportive of Hillary in the role of chief military commander he also acknowledged that "those who vote for her should know that she will approach such crises with a long track record of being generally supportive of initiating U.S. military interventions and expanding them."
The U.S. isn't the only major country which will likely see military action in the intermediate term. One region which of the world in which military activity may see a notable increase in the foreseeable future is the Far East. Japan is a case in point.
Earlier this year, Japan's Prime Minister Shinzo Abe has made a controversial call to revise Article 9 of the nation's constitution, which declares that "the Japanese people forever renounce war as a sovereign right of the nation and the threat or use of force as means of settling international disputes." In view of China's ongoing military buildup in the South China Sea and other threats, Abe has said the restrictions on Japan's military "do not fit into the current period."
Bert Dohmen of the Wellington Letter observed that an amendment to Article 9 "would lead to a military buildup, which always stimulates the economy," adding that "Japan could finally get out of its 25 year deflation" if Article is deleted.
In response to increasingly hostile behavior from nearby North Korea, Japan may also accelerate roughly $1 billion of planned upgrades to ballistic missile defense systems, according to Reuters. This consideration comes shortly after United States Strategic Command systems detected a failed missile launch recently in the northwest North Korean town Kusong. Japan has been considering the budget request that will determine whether to add a new missile defense layer from either Lockheed Martin Corp or from Aegis Ashore.
Defense firms like Ratheon, Lockheed Martin, Mitsubishi, and Boeing are reportedly on tight production schedules with a backlog of international orders. Following is a 10-year chart of the Dow Jones U.S. Defense Index (DJUSDN). As this graph illustrates, defense stocks have significantly outperformed the S&P 500 (SPX) in recent years. The average stock price for the leading defense companies underscores the immense war-related preparations and activity taking place within the sector.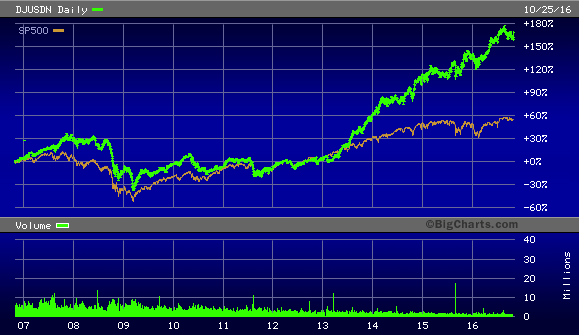 All over the world, it seems, nations are arming themselves with the offensive and defensive weapons of war. The production-for-use theory of economics states that military buildups always eventually lead to the employment of those weapons in actual warfare. Sooner or later the expansive activity that has been taking place in the defense sector in recent years will be implemented on the battlefields of the world. When it happens, investors who are prepared for it will not only avoid the deleterious aspects of war, but will also profit from it.

Mastering Moving Averages

The moving average is one of the most versatile of all trading tools and should be a part of every investor's arsenal. The moving average is one of the most versatile of all trading tools and should be a part of every investor's arsenal. Far more than a simple trend line, it's a dynamic momentum indicator as well as a means of identifying support and resistance across variable time frames. It can also be used in place of an overbought/oversold oscillator when used in relationship to the price of the stock or ETF you're trading in.

In my latest book, Mastering Moving Averages, I remove the mystique behind stock and ETF trading and reveal a completely simple and reliable system that allows retail traders to profit from both up and down moves in the market. The trading techniques discussed in the book have been carefully calibrated to match today's fast-moving and sometimes volatile market environment. If you're interested in moving average trading techniques, you'll want to read this book.

Order today and receive an autographed copy along with a copy of the book, The Best Strategies For Momentum Traders. Your order also includes a FREE 1-month trial subscription to the Momentum Strategies Report newsletter:

http://www.clifdroke.com/books/masteringma.html

Clif Droke is a recognized authority on moving averages and internal momentum. He is the editor of the Momentum Strategies Report newsletter, published since 1997. He has also authored numerous books covering the fields of economics and financial market analysis. His latest book is Mastering Moving Averages. For more information visit www.clifdroke.com


| Digg This Article

-- Published: Thursday, 27 October 2016 | E-Mail | Print | Source: GoldSeek.com