-- Published: Monday, 19 September 2016 | Print | Disqus
The purpose of this update is to point out that the PM sector correction may be completing RIGHT NOW, with sector indices at the 2nd low of a potential Double Bottom. Whether it is or not depends on the outcome of next week's Fed meeting – if they announce a rate hike, then both the broad market and the PM sector can be expected to break sharply lower. If they don't – if they put it off again till later, or never, then the PM sector should take off higher again. We cannot know in advance whether they will hike or not, but we can be sure that their intentions have already been telegraphed to the 1%, so that they can position themselves to profit in advance.
Going solely on the year-to-date chart for the GDX, it does look like it is completing a Double Bottom at the support level shown, and setting up for another big rally, although it could break either way. The chances of it breaking to the upside are now rated at 65% - against 35% for a breakdown, and it does make sense for the Fed not to hike, as its prime duty is to keep asset prices elevated for the benefit of the 1%, not look after the economy – they abandoned that responsibility many years ago.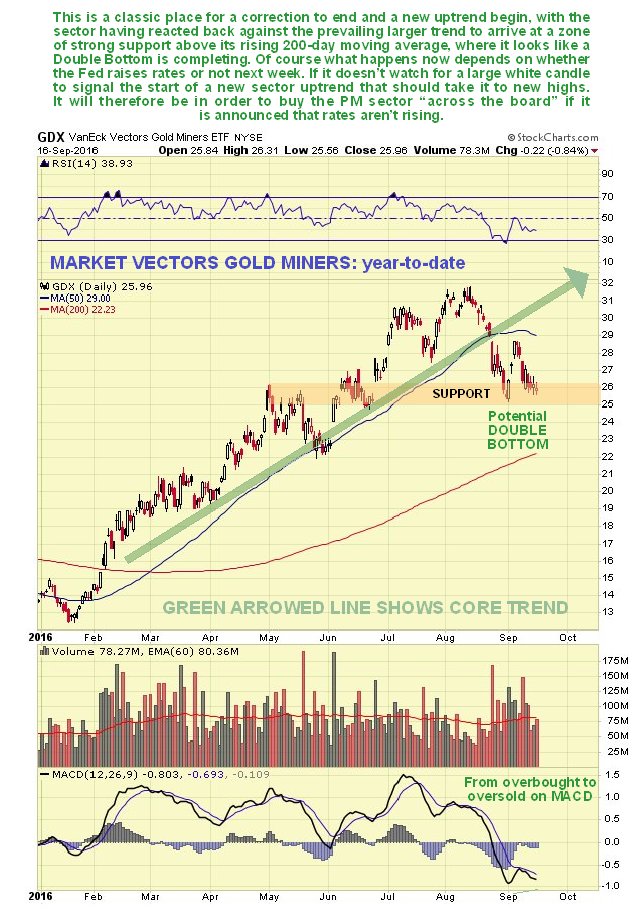 This would in fact be a classic place for a major new uptrend to begin; the sector has endured its deepest correction since this new bullmarket phase began, that has seen many quality stocks correct back heavily, and the sector has gone from being heavily overbought at the start of July to substantially oversold, and is in a zone of strong support above a rising 200-day moving average, which signifies that the larger trend is still definitely up. Yes, it could drop further if they hike interest rates next week, and it is this fear that is of course deterring would be buyers here.

How to handle this situation? – Well, one approach is to jump on the best PM stocks the moment it is clear that there will be no rate rise, if this is the outcome, for the sector can be expected to finish the day with a big white candle before continuing higher. Another approach is to take a chance and buy ahead of the announcement, and perhaps take out insurance in the form of Puts, in case a rate hike is actually announced and the sector then drops.

Whatever happens, the PM sector is certainly better value than it was two months ago, and statistically the odds favor the major uptrend resuming soon.

We will be looking at a range of better PM stocks to consider buying early this coming week on the site (we already looked at a range of Australian stocks in recent days).


| Digg This Article

-- Published: Monday, 19 September 2016 | E-Mail | Print | Source: GoldSeek.com comments powered by


Web-Site: CliveMaund.com

Previous Articles by Clive Maund