-- Published: Friday, 3 March 2017 | Print | Disqus
Originally published Tuesday, February 28, 2017
It is common for commodities to drop in unison, especially metals and oil, and last night we observed that oil looks set to drop hard soon, which was given added significance by the sharp drop in Precious Metals stocks yesterday, that calls time on the recent gold and silver rally that occurred this year to date.
That drop yesterday in the Precious Metals sector, which occurred without a concomitant drop in gold and silver, was the market "tipping its hand" because stocks tend to lead the metals, so we can expect gold and silver to follow suit shortly and drop – along with oil, and copper.
On the 6-month chart for gold we can see that the uptrend is weakening, with it taking the form of a bearish Rising Wedge, and as it has now arrived at significant resistance near to its still falling 200-day moving average, and is rather overbought, it is at a good point to turn lower.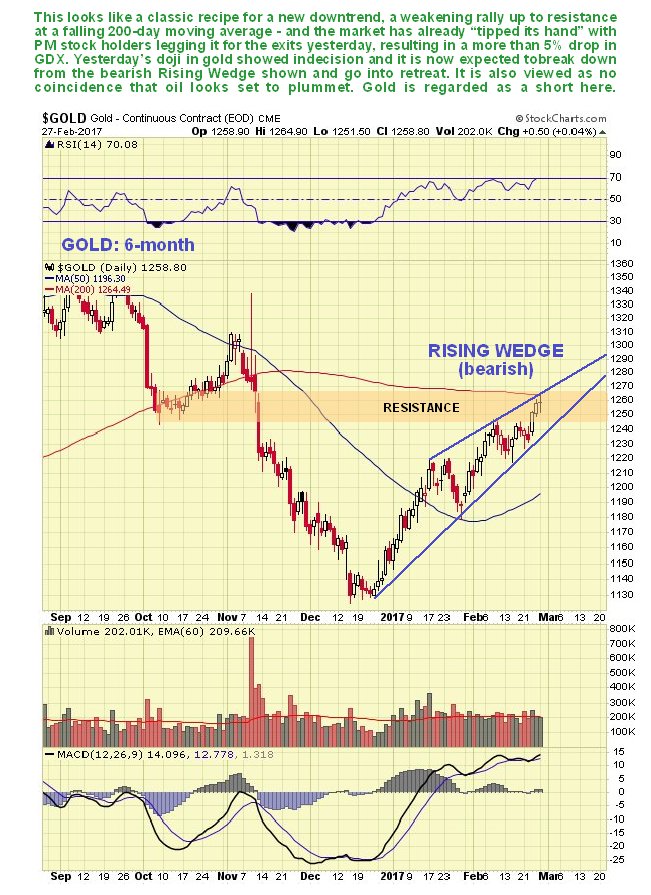 The picture is similar for silver, although its channel is not converging so much, and resistance is not so clearly defined. Silver is critically overbought on its RSI, which doesn't help. Notice on the 6-month chart how silver has a habit of rising in a bumbling hesitant manner much of the time, and suddenly plunging. We haven't had a plunge for quite a while and one looks due.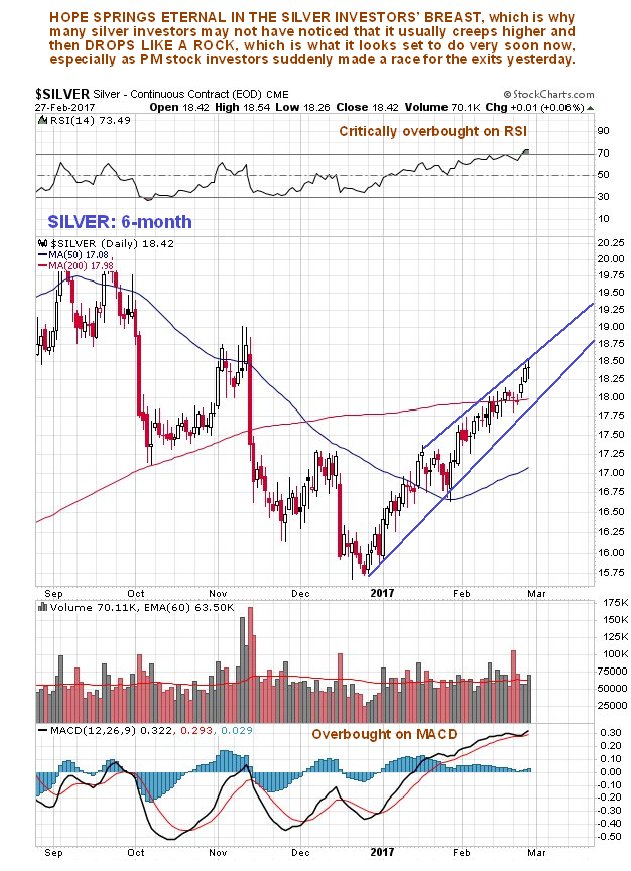 The resistance set to turn silver lower is more clearly visible on its 1-year chart, on which we can see its origins, and we can also see that the laws of proportionality (almost as important as the laws of manipulation) favor silver turning lower, as it has arrived at the upper boundary of a cone shaped downtrend.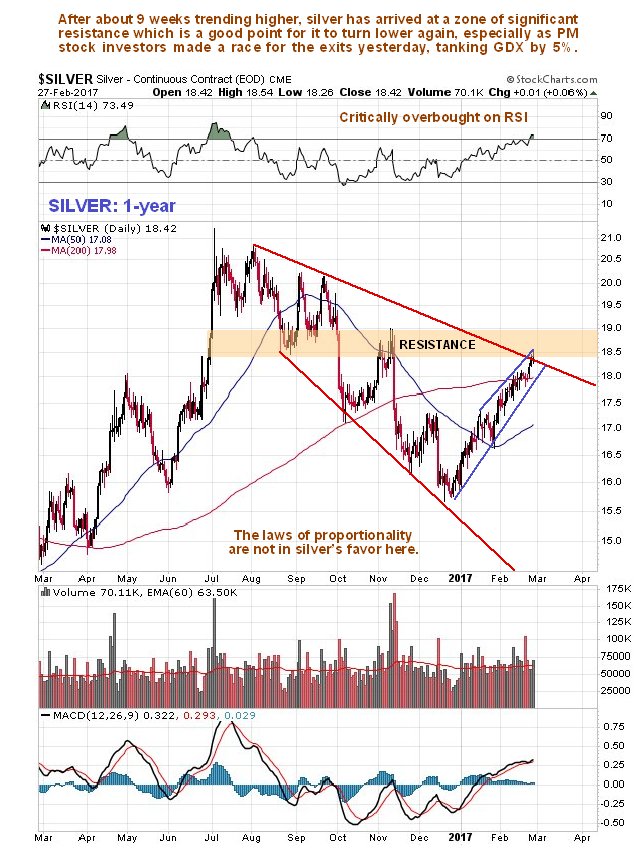 At this point it is worth considering silver's latest COT, which is looking increasingly ugly with high Commercial short and Large Spec long positions again. The last time readings were up at these levels was last July – August, before a lengthy downtrend set in, as we have seen on silver's 1-year chart.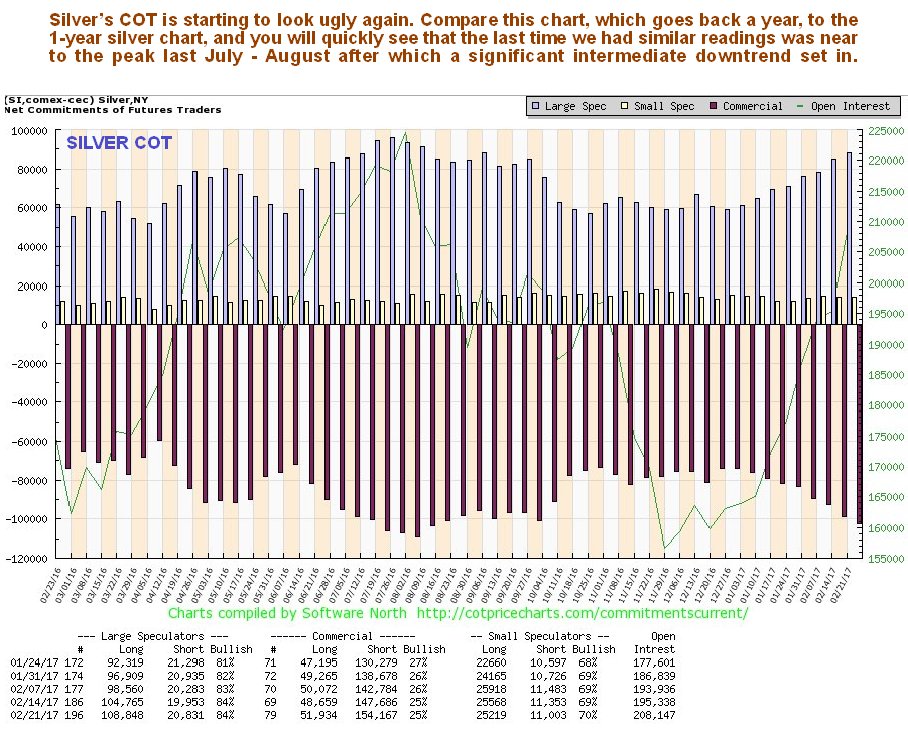 Click on chart to popup a larger clearer version.
Finally, the charts for GDX show that the market "tipped its hand" yesterday as it dropped over 5%, which was the biggest drop since last November. Since stocks lead the metals, this chart shows PM stock traders racing for the exits to book profits before a sector downtrend starts, which means that gold and silver should now follow suit and break lower.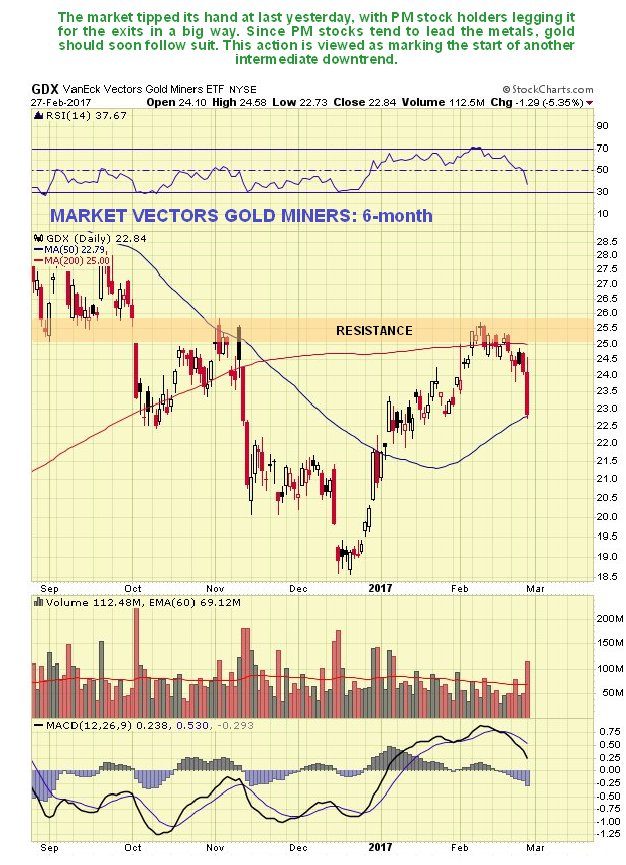 Just why GDX turned lower where it did is made more clear by its 1-year chart, on which we see that it had arrived at a band of quite strong resistance near to its flattening 200-day moving average. This breakdown is believed to mark the start of a sector intermediate downtrend, and oil and copper look set to join in this downside party too. Close stops should therefore be set beneath any open long PM stock positions. Twice leveraged ProShares Ultrashort Gold, code GLL, $75.82, is also recommended for immediate purchase, and a stop may be placed at $73.80. We will review its chart later.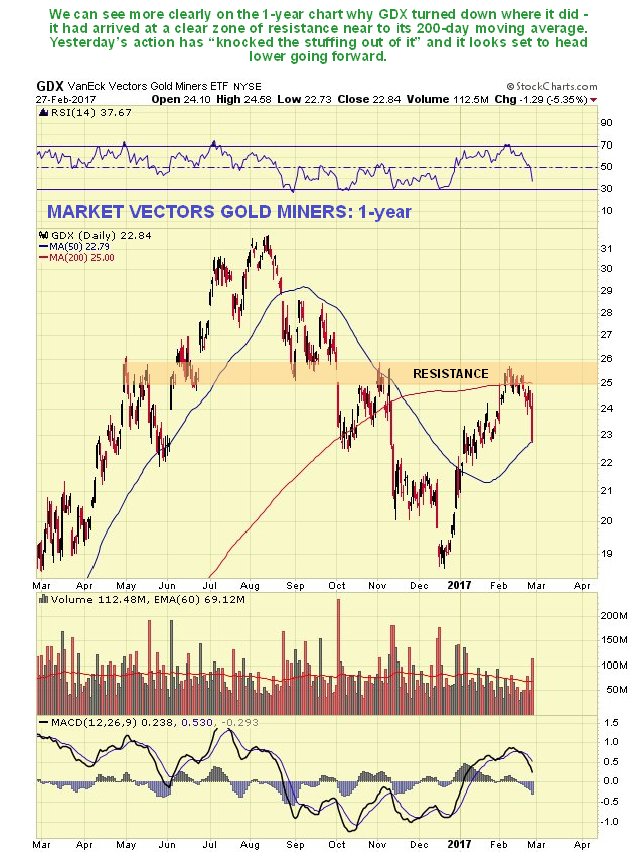 | Digg This Article

-- Published: Friday, 3 March 2017 | E-Mail | Print | Source: GoldSeek.com comments powered by


Web-Site: CliveMaund.com

Previous Articles by Clive Maund