-- Published: Monday, 14 March 2016 | Print | Disqus
Strengths
The best performing precious metal for the week was palladium with a gain of 3.48 percent. Both palladium and platinum surged early in the week on speculation that infrastructure spending in China would boost demand for the metals used in auto pollution control devices.
Gold investors are on the longest buying spree in five years, reports Bloomberg, with holdings of the precious metal in exchange-traded funds expanding for 18 days in a row. BCA Research agrees that now is the time to buy gold stocks too, stating in a recent report that while gold has had several false starts in recent years, a number of factors suggest that the latest rally will have durability.
On Monday Silver Standard Resources announced its agreement to buy outstanding common shares of Claude Resources, with the offer valuing Claude at C$337 million. According to Bloomberg, the price is about a 25 percent premium to the 20-day weighted average price of Silver Standard, and a 30 percent premium to Claude's closing price on March 4.
Weaknesses
While platinum did participate early in the week on hopes of China spending, it finished the week down 1.72 percent, predominately driven by a near 2 percent drop on Friday, making the metal the worst performing precious metal for the week.
Price sensitivity is showing up in the gold market. China reportedly raised its central bank gold reserves by the smallest amount since July 2015, reports Bloomberg. In India, February inbound shipments of gold fell to around 40 tons from 54.9 tons a year earlier, according to a group familiar with provisional Finance Ministry data.
New Gold announced this week that it has entered into gold price option contracts covering 270,000 ounces of the company's remaining 2016 production. In a similar nature, Polyus Gold International hedged half of its expected output this year, reports Bloomberg. It's clear that many companies are unsure about the current gold price and are locking in profits.
Opportunities
Silver may be ready to come out of gold's shadow, reports Bloomberg, with mine supplies forecast to contract this year. According to Standard Chartered Plc., mine production of silver will probably drop in 2016 for the first time in over a decade and demand is set to outstrip supple for a fourth straight year. Assets in ETFs backed by silver also climbed to the highest since September.
Signs of a slowing economy and deflationary pressures pointing to further easing in Europe are catching the attention of gold investors, reports the National Post. Macquarie analyst Michael Gray notes that global yields are now more important for bullion, which explains why there is so much focus on the European Central Bank. In a similar situation sits China and its slowing economy. February foreign trade contracted in the Asian nation, meaning we could see gold prices surge higher.
Full employment is edging closer, according to a report from Macquarie Research, as evidence of diminishing labor slack continues to mount. This could put further upward pressure on already firm underlying inflation measures in coming quarters, says the group.
Threats
Jeffries reports in its Global Equity Strategy, that with U.S. equity markets just shy of their all-time highs but earnings growth tepid, a debate has sparked over the legitimacy of the earnings being reported. The divergence between Generally Agreed Accounting Practices (GAAP) and pro-forma that began from mid-2014 widened annually to around 30 percent in 2015. However, as seen in the chart below, in the fourth quarter of 2015 there was a noticeable deviation between GAAP and pro-forma earnings from mid-2015, the report continues, widening to nearly 70 percent.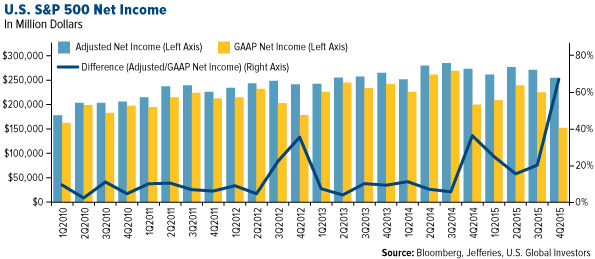 The ECB has pulled out all the stops to try and avoid a deflation trap, reports The Telegraph this week, citing the bank's launch of a triple-stimulus despite criticism from Germany that this will do more harm than good. Jurgen Stark, the ECB's former chief economist, believes the actions will end in chaos, stating "The ECB is ignoring the increasingly obvious negative side effects of its policy." The man who invented the term QE, Professor Richard Werner from Southampton University, believes the ECB's policies could destroy half of Germany's 1,500 savings and cooperative banks over the next five years, according to the article.
Goldman Sachs thinks the commodity rally will fizzle out saying now is an opportunity to short metals, according to Bloomberg. The group forecasts copper and aluminum prices will slide as much as 20 percent over the next year. As Lawrie Williams points out however, Goldman's call to short gold again hasn't been the investment bank's best move; it comments in its latest research report that it is down 5 percent on the call – with a stop loss indicated at 7 percent.

| Digg This Article

-- Published: Monday, 14 March 2016 | E-Mail | Print | Source: GoldSeek.com comments powered by

Previous Articles by Frank E. Holmes