-- Published: Monday, 18 April 2016 | Print | Disqus
Strengths
The best performing precious metal for the week was silver, up 5.66 percent. Silver has overtaken gold as the year's best performing precious metal, reports Bloomberg, extending its gains to 17 percent on the back of a stabilizing Chinese economy. The precious metal, which is used in a variety of industrial products, is now trading at a five-month high.
Following a strike that lasted nearly six weeks, a majority of gold sellers in India have finally reopened their doors. This is positive news for the global gold sector, which has been missing its largest buyer of the precious metal. Good news was reported in China as well, where gold demand picked up to 183.2 tonnes in March, according to Lawrie Williams. Gold demand surged in Japan too, with sales climbing 35 percent in the three months ended March 31 with the imposition of negative interest rates.
Deutsche Bank, one of four banks accused of manipulating silver futures prices, reached a settlement this week, reports Bloomberg. Lawyers for traders said the bank signed a binding agreement and arranged to expose other banks' rigging as well. Interestingly enough, Reuters reported Thursday that DB also reached a settlement in U.S. litigation alleging that it conspired to fix gold prices too, according to an article on ZeroHedge.
Weaknesses
The worst performing precious metal for the week was gold, down -0.42 percent. The yellow metal approached its longest run of declines in three weeks, reports Bloomberg. A stronger U.S. dollar and gains in equities curbed demand for an alternative investment.
Jobless claims in the U.S. fell unexpectedly last week, reaching a 42-year low, reports Bloomberg. For 58 consecutive weeks, claims have been below the 300,000 level that economists believe is typically consistent with an improving job market, making this the longest stretch since 1973. While many commentators view this as a positive sign of strength, the reality is that the job picture really can't improve much more as it has hit its lower limits based on historical data.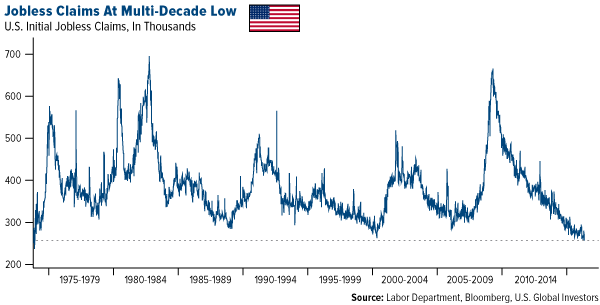 The Department of Mineral Resources released a revised draft mining charter that demands a "perpetual minimum 26 percent BEE [Black Economic Empowerment] ownership per mining right," reports Business Day. An analyst from HSBC notes that this comes despite the ongoing legal challenge to the "once empowered, always empowered debate." This could be a headwind for new investment in South Africa.
Opportunities
HSBC believes the gold/silver ratio (which measures how many ounces of silver it takes to by an ounce of gold) will narrow further, meaning that silver is outperforming. In a research note on Tuesday, the group stated that the ratio is back below 1:78, explaining that retail demand for coins and small bars, along with light institutional buying in the paper markets, has boosted silver. TD Securities sees gold strengthening as well, particularly on the back of a strong dollar, a dovish Federal Open Market Committee (FOMC), and equity market volatility.
James Rickards, chief global strategist at West Shore Funds, told Bloomberg that he thinks gold will soar 700 percent in the near future. His reasoning? Cyber threats. Rickards explained that the 21st century cyber age poses risks to digital money and wealth to all investors and savers. "The thing about gold is you can't hack it, you can't erase it, you can't delete it," he explains.
A number of drilling results were reported this week. Pure Gold intersected 56.2 grams per tonne (g/t) of gold over 1.3 meters at Russet South on the Madsen Gold Project. Oban Mining Corp. intersected 24.7 g/t of gold over 6.8 meters at its Windfall Lake gold project in Quebec. Roxgold provided an update for its Yaramoko Gold Project too, stating that the overall construction program is now 84 percent complete, with over 23,000 tonnes of ore now on the Run of Mine (ROM) pad. The company's first gold production remains on target for June 2016.
Threats
Total U.S. commercial bankruptcy filings by corporations of all sizes (along with other business entities), jumped 24 percent year-over-year in the first quarter, reports MacroStrategy Partnership. Following 22 straight quarters of declines, there has been rapid deterioration, which suggests the credit cycle could be turning. Deutsche Bank thinks that the world is "past the point of no return" in the default cycle, according to ETF Daily News.
OCBC Bank's bearish view on bullion remains unchanged, reports Bloomberg. The bank sees the precious metal falling to $1,100 an ounce by year end. UBS is also doubtful of gold's value. Rene Buehlman, global asset management head of Asia Pacific at UBS, stated "We don't think in the long run that's adding value to investors' portfolios as there is no yield to be gained."
The CME reported that it received notice from the Federal Reserve that it is authorized to open an account at the Fed which would "allow it to better safeguard cash deposited by its traders," writes Dave Kranzler on Goldseek.com. But why is a Fed custodial account any better than one held by a big bank? Is the CME preparing for an eventual Comex default? The ratio of physical gold available for deliver is dwarfed by the size of paper contract claims on such gold.

| Digg This Article

-- Published: Monday, 18 April 2016 | E-Mail | Print | Source: GoldSeek.com comments powered by

Previous Articles by Frank E. Holmes