-- Published: Monday, 6 June 2016 | Print | Disqus
Strengths
The best performing precious metal for the week was palladium, with a gain of 2.97 percent. Palladium moved up with gold on Friday, but in the prior week had been depressed by news that Russia had no plans to buy palladium for its state minerals depository.
While investors awaited the U.S. jobs report earlier in the week, one Bloomberg headline read "Gold Is 'Without Friends.'" To the market's surprise, however, payroll data came in much weaker than expected on Friday – the U.S. economy added 38,000 jobs, the fewest in almost six years – sending gold up for its biggest advance in 11 weeks.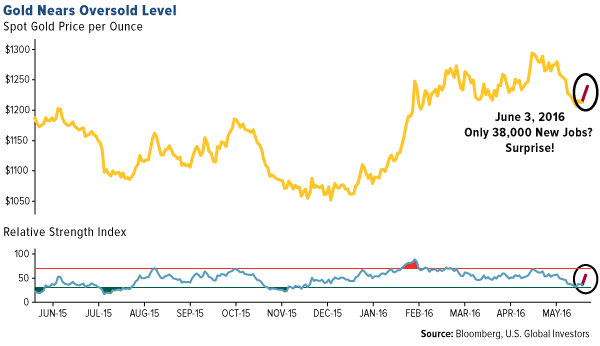 Gold traders are paying the most in at least half a decade to maintain their bullish gold bets, reports Bloomberg. According to Comex data, those holding June futures would have paid an extra $3.40 an ounce on May 23 to swap that position for the most-active August contract. "The bullish sentiment is coming at a cost for gold longs," Brad Yates, head of trading at Elemetal LLC, said. "There's massive speculative position starting to roll, so they're selling June and buying August."
Weaknesses
The worst performing precious metal for the week was platinum, only gaining 0.78 percent for the week. Headlines out of South Africa today stated that the National Union of Mineworkers (NUM) is demanding at least a 10-percent wage hike at the platinum mines.
The Perth Mint reported gold coin and minted bar sales for the month of May lower than the previous month's sales. According to mint data, gold sales in April came in at 47,542 ounces, but May sales were only 21,035 ounces.
Earlier in the week, bullion dipped below $1,200 an ounce, losing around $100 in less than a month on continued talk of a U.S. interest rate hike by the Federal Reserve, along with a stronger dollar. Despite gold hitting its lowest level since February 17 on Monday, Friday's jobs report has since sent gold higher. Data out of China also startled markets earlier in the week – Chinese stock-index futures plunged by the daily limit before snapping back in under a minute, reports Bloomberg. The China Financial Futures Exchange is investigating the tumble.
Opportunities
"Gold may be embarking on a new bull run and has the scope to rise to $1,400 per ounce over the coming year," Allocated Bullion Solutions (ABS) stated in a report on Wednesday. The group expects market weakness to persist in the short term, along with a reappraisal from the market on the path of U.S. monetary policy.
In a press release from Orex Minerals this week, the company highlights a 350 meter step-out hole where it hit silver, west of the Main Zone on its Sandra Escobar project. This particular hole yielded 46 meters core length starting at surface, grading 156 grams per ton of silver. Orex's share price gained nearly 30 percent on the news of the implied size growth in the company's new discovery. The Sandra Escobar project is shaping up to be one of the most significant silver discoveries this year and is attracting a lot of attention.
Rye Patch Gold recently announced a C$40 million private placement of subscription receipts to fund its acquisition of the Florida Canyon gold mine located in Nevada. We previously noted when Klondex Mines bought the Midas property about a year-and-a-half ago, calling that a "transformation transaction for Klondex." Well, the same is true here for Rye Patch Gold. The company is buying the Florida Canyon gold mine from a private Japanese owner who has gotten into a bit of a bind, thus Rye Patch is getting a completely de-risked operating mine at less than one-third the valuation of other comparable assets.
Threats
In this week's newsletter from Secular Investor, the group attempts to explain gold's pullback from its recent jump toward $1,300 an ounce. "While gold ETFs were racking in tons of fresh gold, Venezuela started dumping huge amounts of their gold holdings in recent weeks," the article explains. Admittedly, that is a lot of gold (up to 80 tons and more in the market), but the group says this is no real problem, calling it a "temporary hangover" until Venezuela is sold out of its gold.
Gold companies in South Africa will appeal against a court ruling that could see as many as half a million mineworkers suffering from lung disease suing current and former employers, reports Bloomberg. The lung disease is said to be caused by inhaling dust from the mines, continues the article, creating scar tissue in the organs and "increasing vulnerability to tuberculosis."
Primero Mining has launched a NAFTA challenge against Mexico, reports the Financial Post, claiming that authorities are trying to revoke its legal rights to collect more tax. The Daily IKN email digest shared its thoughts on the matter, which can be simply summed up as follows: What are they thinking? "You do not take a sovereign nation to dispute, let alone the country where you have your main operating mine unless you have exhausted all venues to negotiate," IKN reasons in its email.

| Digg This Article

-- Published: Monday, 6 June 2016 | E-Mail | Print | Source: GoldSeek.com comments powered by

Previous Articles by Frank E. Holmes