-- Published: Monday, 20 June 2016 | Print | Disqus
Strengths
The best performing precious metal for the week was gold; with a 1.97 percent rise in what was a volatile week of trading. As gold prices head for a third straight weekly gain, reports Bloomberg, at least one measure shows that bullion could have even further to run. Open interest, which is a tally of contracts in Comex futures, reached a one-month high as traders remain bullish.
Investors continue to add money to precious metal funds, even as the gold rally shows signs of slowing, reports Bloomberg. Assets in gold-backed ETFs have risen every day in June due to the increased geopolitical stress caused by the U.K. referendum. Similarly, at Sharps Pixley, a gold showroom in London's Mayfair district, the demand for bullion bars and coins is rising, as investors seek a safe haven metal in case of a British exit from the EU.
Gold jumped this week as fewer Federal Reserve officials expect the central bank to hike interest rates more than once this year. According to Bloomberg, projections from the FOMC show the number of officials who see just one increase rose to six from one in the previous forecasting round in March.
Weaknesses
The worst performing precious metal for the week was platinum; with a loss of 2.18 percent. The platinum price to gold price ratio has hit its lowest point since 1982. Historically, platinum has traded at a premium to gold. While platinum may look like a bargain relative to gold, the future acceptance of electric cars could be a game changer.
On Thursday, the British pound erased losses against the U.S. dollar following the killing of a U.K. lawmaker, reports Bloomberg. The tragedy fueled speculation that the nation's voters will be more likely to favor remaining in the EU in next week's referendum, continues the article, sending gold down from near two-year highs after it surged post the FOMC meeting.
Sabina Gold and Silver Corp. received a report from the Nunavut Impact Review Board (NIRB) this week relating to its Back River Gold Project in Nunavut, Canada. In the report, the NIRB recommended that the project not proceed to the licensing and permitting regulatory phase, noting the need for further consideration concerning caribou and climate change. Sabina's share price was down 38 percent for the week.
Opportunities
On Sunday, George Ogilvie resigned as CEO from Kirkland Lake Gold and won't stand for election as a director at the company's annual meeting, reports the Canadian Press. Former CEO of Lake Shore Gold, Anthony Makuch, will step in as CEO. We have great respect for George Ogilvie as he was the catalyst that turned Kirkland Lake around. He accepted the CEO position in November of 2013, and as you can see in the chart below, during Ogilvie's time at Kirkland, you would have never known this was a gold company that he was managing. Under Ogilvie's tenure the share price of Kirkland Lake rose 262.46 percent while the S&P/TSX Global Gold Index only gained 41.29 percent. The gains for the index really only came over the last six months when the gold price started to rise. We wish George further successes in his future endeavors.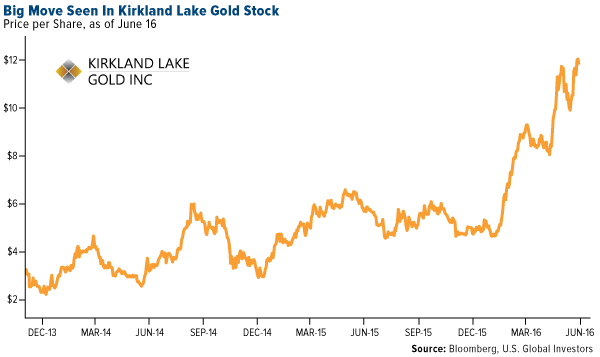 Brexit or not, James Steel of HSBC believes that gold can still rise to $1,400 an ounce, Barron's reports. If Britain chooses to stay, Steel says the precious metal is likely to fall, but to no more than $1,220 an ounce, or a 7 percent downside. And if the Brexit campaign succeeds? According to a Bloomberg survey of 22 traders and analysts, gold prices could rise to the highest in more than two years – potentially reaching $1,350 an ounce within a week of the vote.
Under new proposed regulations, India is looking to open up mining of gems and precious metals, reports Bloomberg, in order to cut reliance on imports. Mines Secretary Balvinder Kumar said in an interview that the country is set to auction about 50 blocks for diamond and gold exploration in the fiscal year starting April 1, aided by changes in the national mineral exploration policy to be unveiled by month end. Historically, it has been extremely difficult for any company to move a mining project forward. Rio Tinto Group has been trying to get approvals for its Bunder diamond mine site since 2004. If India's new mineral policies provide an economic path to production, then watch this space for potential new discoveries in the future.
Threats
The current ratio between gold and copper is showing a "recession-era fear level," Bloomberg reports. Gold jumped to the most expensive relative to copper since 2009 this week. The price of copper (seen as an economic bellwether), has slumped over Brexit worries, while the low interest rate outlook has fueled demand for bullion – driving the ratio between the two farther apart.
India's monsoon season could be reduced by the receding El Nino, reports Bloomberg Intelligence, leading to a poor harvest in the country, and thus, rising food prices. This could lead the world's largest consumer of silver, and second largest in gold, to spend more on food this year than jewelry, ultimately undermining demand for precious metals in the country.
Jeff Rhodes, CEO of Zee Gold in Dubai, added color to India's situation this week during an interview on Bloomberg TV. Rhodes said there is no demand for the metal now in India due to the monsoon, adding that kilo bars are even selling at a $30 discount in the country. The price of gold, according to Rhodes, could fall to $1,100 an ounce if the U.K. votes to stay in the EU, but has the potential to climb to $1,600 an ounce if the U.K. leaves.

| Digg This Article

-- Published: Monday, 20 June 2016 | E-Mail | Print | Source: GoldSeek.com comments powered by

Previous Articles by Frank E. Holmes