-- Published: Monday, 18 March 2019 | Print | Disqus
Strengths
The best performing metal this week was palladium, up 2.42 percent, despite speculators cutting their bullish view to a four-month low. Gold traders were bullish this week, after two weeks of being neutral on the outlook for the yellow metal, on the expectation that central bank policies will help spur demand, according to the weekly Bloomberg survey. Gold climbed back above the $1,300 per ounce level this week as the dollar retreated. Investors also considered the risks of the ongoing trade war and Britain's imminent departure from the European Union (EU). Commodity ETFs recovered their losses from last week with inflows of $177 million for the week ended March 14. Bloomberg data shows that precious metals funds had inflows of $270 million versus $732 of outflows last week.
According to India's Association of Gold Refineries & Mints, 2019 gold dore imports are seen at 280 tons, versus 260 tons a year ago. Bloomberg reports that the country's 23 refineries are increasingly buying dore from overseas supplies such as Ghana, Peru, Brazil and Bolivia. Gold prices also rose in India this week on the news of increased jewelry demand.
The $12 million retirement package for outgoing Goldcorp chairman Ian Telfer is at the center of the mega merger between Newmont and Goldcorp. Several industry players have expressed their discontent and even outrage about the payment, as Goldcorp performance has been poor since Telfer joined the management team three years ago. Although the deal will likely go through, it is positive to see strong backlash from this big payout, as it is not in the best interests of shareholders.
Weaknesses
· The worst performing metal this week was silver, down just 0.33 percent, as money managers cut their bullish view to an 11-week low. Turkey's gold reserves fell from the previous week in a continued pattern of selling reserves. Central bank holdings were down $536 million from the prior week, according to data as of March 8. The nation's reserves are down 19 percent year-over-year.
· South Africa, once the world's top producer, just experienced its 16th straight month of falling gold output. The nation's output declined 22.5 percent from a year earlier, compared with a 31 percent drop in December, according to Statistics South Africa. The nation is also struggling with rising electricity costs. This week the nation's energy regulator said that Eskom Holdings can raise prices by 9.4 percent by April 1, taking the total increase to 13.8 percent, reports Bloomberg. This electricity increase adds to miners' already rising costs.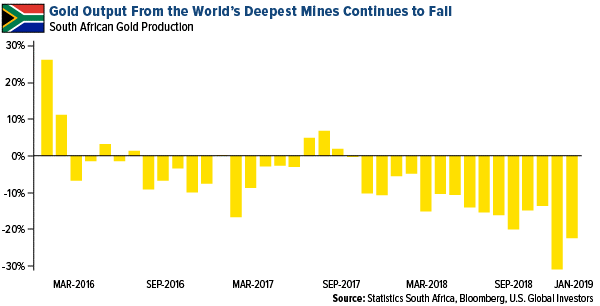 · In other news on South Africa's Eskom, Citi Research analysts said in a note this week that "Eskom has run out of positive catalysts" and that they believe "it is an optimal moment to enter a short." Goldman Sachs calls the company the "biggest single threat to South Africa's economy." The nation's construction industry is also struggling. Group Five's stock was suspended on Tuesday after 45 years of trading due to its filing for bankruptcy protection. Bloomberg's Janice Kew writes that "the current mix of a depressed South African economy, high levels of national debt and low infrastructure spending is proving toxic as contracts dry up."

Opportunities

· Jim Gallagher, CEO of North American Palladium, says that palladium cannot be replaced with platinum in gasoline-fueled cars. Palladium has unique chemical properties that make it a better choice for use in vehicle pollution-control devices than platinum, writes Bloomberg. This is positive for the precious metal, which has surged 22 percent so far this year as manufactures scramble to get their hands on it. Fiat Chrysler is recalling almost 862,520 gasoline-fueled vehicles and replacing the catalytic converters on all of those would require an additional 77,000 ounces of palladium, which could further contribute to a supply shock. Citigroup predicts that consumption of palladium will trail production by 545,000 ounces this year.

· Barrick and Newmont Mining entered into a historic joint venture at their operations in Nevada that will unlock $5 billion in synergies. In a statement released this week, Barrick CEO Mark Bristow said that "we listened to our shareholders and agreed with them that this was the best way to realize the enormous potential of the Nevada goldfields." The joint Nevada operations will create the world's single largest gold producer. Catherine Raw will run the joint venture and continue on as the chief operating officer of Barrick's North American business.

· Newcrest Mining, the third largest gold producer by market value, agreed to a $806.5 million deal to acquire a 70 percent joint-venture interest on a copper and gold mine owned by Imperial Metals in British Colombia, reports Bloomberg. Newcrest chief executive Sandeep Biswas said that the company's balance sheet did not restrict it from further purchases after the deal, signaling that more M&A activity should continue in the space.

Threats

· Inflation sentiment won't be running on fumes any longer, writes Bloomberg's Carl Riccadonna, in part due to crude oil being up 27 percent year-to-date and further price appreciation appearing likely. There is a 92 percent correlation between gasoline prices and year-ahead inflation expectations, which signals that rising crude should lift inflation. Riccadonna writes that heightened anxiety about inflation at the end of last year might have been overdone, as the drop in gas prices exceeded the usual seasonal decrease.

· The gold price increase could be stymied by positive data, according to Tapan Patel, senior analyst at India's most valuable bank, HDFC Bank. Patel said "things look to be settling down" and that "we can expect the risk appetite to come down and see investors shifting to the dollar from gold." The bank forecasts that gold will trade between $1,240 and $1,380 an ounce this year.

· The Commodity Research Bureau's Raw Industrials Index has failed to match the post-Christmas rise in stocks and junk bonds. Bloomberg writes that the stall in the gauge signals that the rally in risk assets might have gone too far. According to strategists at Morgan Stanley, the stalling gauge has led to turning points in risks assets in recent years.


| Digg This Article

-- Published: Monday, 18 March 2019 | E-Mail | Print | Source: GoldSeek.com comments powered by

Previous Articles by Frank E. Holmes