-- Published: Tuesday, 16 July 2019 | Print | Disqus
Strengths
The best performing metal this week was platinum, up 2.46 percent. The yellow metal jumped on Wednesday after Federal Reserve Chairman Jerome Powell's comments spurred bets on a cut in interest rates later this month. Powell said concerns over trade and global growth continue to weigh on the domestic economic outlook. "Low rates help make gold and other commodities more competitive against assets that offer interest," writes Bloomberg's Justina Vasquez.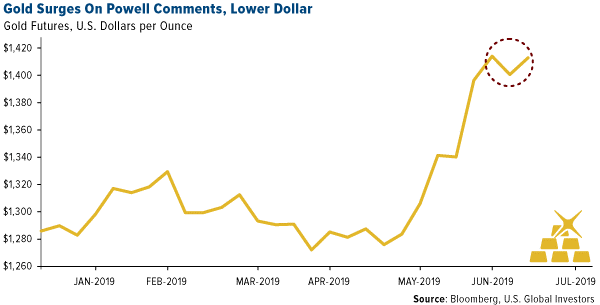 China's central bank raised its gold reserves for a seventh straight month in June, buying 10.3 tons on top of the nearly 74 tons bought since December, reports Bloomberg News. "Aside from its attempt to diversify holdings of dollars, owning more gold reserves is also an important strategy in China's rise as a superpower," says Howie Lee, economist at Oversea-Chinese Banking Corp.
Several gold miners reported positive second quarter results this week, reports Kitco News. Gran Colombia Gold hiked its 2019 production guidance from 225,000 to 240,000 ounces of gold. SSR Mining produced over 98,000 gold-equivalent ounces from its three operations, which keeps it on pace to meet or beat annual guidance, says the company's CEO. Wesdome Gold Mines mined 22,437 ounces in the second quarter, up from 16,628 ounces the same time a year ago. Lastly, Eldorado Gold is on track to meet its 2019 guidance after producing 91,803 ounces of gold this past quarter.
Weaknesses
The worst performing metal this week was palladium, down 1.58 percent. Gold slipped on Wednesday as the U.S. dollar pared earlier losses and the yield on U.S. Treasuries hit a one-month high. Ed Meir, an analyst at INTL FCStone, told Bloomberg that gold "is sort of caught between cross-currents." The yellow metal fell slightly on Friday morning following stronger than expected producer price index (PPI) data.
Titan had the biggest single-day decline in almost six years on Monday, falling as much as 10.9 percent, after the Indian jewelry maker said high gold prices have dented jewelry demand. The company said that the second quarter was a tough macro-economic environment and that growth was lower than planned, reports Blomberg.
Physical gold demand in Asia slowed this week as consumers sold back bullion to cash in on the price rally, reports Reuters. India, the world's second largest consumer, saw weaker demand due to a surprise rise in import duties from 10 percent to 12.5 percent last week and as prices hit a record of 35,145 rupees per 10 grams on Thursday.
Opportunities
The World Gold Council (WGC) released its mid-year outlook and cited financial market uncertainty and accommodative monetary policy as likely to support gold investment demand in the second half of 2019. HSBC raised its gold price forecast to $1,362 an ounce in 2019, up from $1,314. The National Australia Bank also raised its forecast for the yellow metal for the remainder of the year to $1,400 per ounce, up from $1,380 previously.
According to data compiled by Bloomberg, the iShares Silver Trust had its best week in a year and hasn't seen any outflows so far in July. Plus, the fund had its biggest monthly inflow since 2017 in June. Bloomberg's Colin Beresford writes that silver has benefitted from haven demand as major central banks respond to weakening economic growth with a more dovish stance. The gold-to-silver ratio was at 93 this week, just shy of the high of 100 reached in February 1991.
The U.S. dollar fell for the third consecutive day on Friday morning even after inflation data came in stronger than expected, reports Kitco News. Core U.S. consumer price index (CPI), excluding food and energy, rose 0.3 percent in June—the largest increase since January 2018. A weaker dollar has historically been constructive for the price of gold.
Threats
South African platinum miners, including Anglo American Platinum, Impala Platinum Holdings and Sibanye Gold, are conducting pay talks this week with a major labor union. Ahead of the talks the miners have set aside cash and metal stockpiles to endure a labor strike. However, the union is asking for a pay raise of as much as 48 percent.
KC Chang, precious metals analyst at IHS Markits, said in an interview with Kitco News that he expects gold prices to fall back to $1,300 an ounce by the end of the year. Chang says that the gold price rally in the last three weeks has run too far ahead of what economic fundamentals suggest and that there could be only one rate cut this year.
The Chinese economy continues to lose stream. China's exports fell in June by 1.3 percent from a year earlier as the trade war with the U.S. rages on. Reuters reports that China is expected to release data showing that its growth in the second quarter was the weakest in at least 27 years. This could contribute negatively to the overall slowdown in global growth.

| Digg This Article

-- Published: Tuesday, 16 July 2019 | E-Mail | Print | Source: GoldSeek.com comments powered by

Previous Articles by Frank E. Holmes