-- Published: Monday, 30 December 2019 | Print | Disqus
Strengths
The best performing metal this week was platinum, up 3.85 percent, with silver and palladium just trailing. Gold traders and analysts were overwhelmingly bullish on their outlook for the yellow metal in the weekly Bloomberg survey. Sentiment was bolstered as gold cracked back above $1,500 per ounce. Gold hit a seven-week high despite comments by President Trump that a trade deal signing with China would be imminent.
Gold had its biggest weekly advance in more than four months, and with only a few days left in 2019, the metal is headed for its best year since 2010, reports Bloomberg. Margaret Yang, analyst at CMC Markets Singapore Pte, says investors are betting that gold is poised for a rebound after three months of price consolidation. Turkey's central bank increased its gold holdings by $446 million from the previous week.
Gold's rally this week was largely driven by an unexpected drop in U.S. durable goods orders, which overshadowed rising new home sales, reports Bloomberg. Silver also rose and crossed above its 50-day moving average. Tai Wong, head of metals derivatives trading at BMO Capital Markets, said bullion "has momentum that is a little mysterious and no one wants to stand in the way."
Weaknesses
The worst performing metal this week was gold, up 2.19 percent. According to the National Bureau of Statistics, China's gold imports were 57 percent lower in November than the same period a year ago. Although higher from a month ago, total imports of non-monetary gold were just 45,817 kilograms. China is the world's top consumer of the metal.
China had another record year of corporate bond defaults in 2019, but it seems on purpose. Rebecca Choong Wilkins reports for Bloomberg that rising defaults are now a plan, as the government no longer steps in as frequently to help bail out troubled companies by buying bonds. In 2017 there was around 25 billion yuan worth of bond defaults and this year the figure is closer to 125 billion yuan. "It's getting more dangerous to count on some companies being, in essence, too connected to fail."
Bloomberg News reports that AngloGold Ashanti and joint venture partner Iamgold Corp. will sell their interests in the Sadiola Mine in Western Mali to Allied Gold Corp. for $105 million in cash. Allied Gold is a private company, so there little other information on the deal.
Opportunities
Gold could rise 20 percent to $1,800 an ounce next year due to growing recession fears. According to the median estimate of economists surveyed by Bloomberg, the likelihood of a recession in the next 12 months is 30 percent. The National Trucking Association puts the likelihood much higher at 80 percent. Extreme positioning in the futures market has been pared back, which could open the path for another rally close to $1,800.
Stocks have had their Santa Claus rally, while the Three Wise Men have been good to gold. According to Bloomberg data, in eight of the years this decade, gold prices have advanced from December 23 to January 3 with returns averaging 1.4 percent. This annual gold rally is largely due to jewelers restocking supplies after the busy Christmas season.
Palladium has soared more than 40 percent this year and could move even higher in 2020 due to the auto industry adjusting to meet new emission standards, reports Bloomberg. Morgan Stanley analysts project a palladium deficit of 1.06 million ounces. Higher emission standards globally could boost palladium loadings by 5 percent to 7 percent next year, according to TD Securities. Ryan McKay, a TD Securities analyst, says "2020 will be the year in which the largest number of emissions-legislation changes will be adopted." Palladium is a key component in autocatalysts that cut emissions in gasoline-powered vehicles.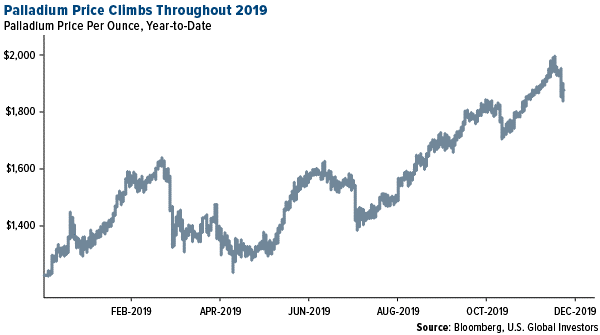 Threats
JPMorgan is bullish on 2020 and is advising clients to short gold via the options market, overweight equities and underweight bonds, reports Bloomberg. This is in big contrast to Goldman Sachs, which sees gold soaring next year. JPMorgan sees recession risks subsiding while Goldman sees recession risks arising from the trade war.
The U.S. corporate bond market is largely upheld by strong foreign demand. Investors globally are hunting for higher-paying assets in the face of over $11 trillion of negative-yielding securities around the world, reports Bloomberg. According to Federal Reserve flow of funds data, money managers outside of the U.S. have bought $114 billion of corporate bonds on a net basis this year through the third quarter.
Two U.S. Senators introduced a bill that would move the headquarters of 10 federal departments to outside of Washington D.C. The Senators say benefits to moving agencies to other parts of the nation would boost local economics, lower costs and spread federal jobs out across the country, rather than concentrate most in D.C. Ten different states would each see a different department relocate there. Opponents to the bill say that moving headquarters is a way to weed out older and legacy employees who aren't willing to move, leading to a brain drain of knowledge, and could make it harder for agencies to work together with Congress.

| Digg This Article

-- Published: Monday, 30 December 2019 | E-Mail | Print | Source: GoldSeek.com comments powered by

Previous Articles by Frank E. Holmes