-- Published: Thursday, 9 January 2020 | Print | Disqus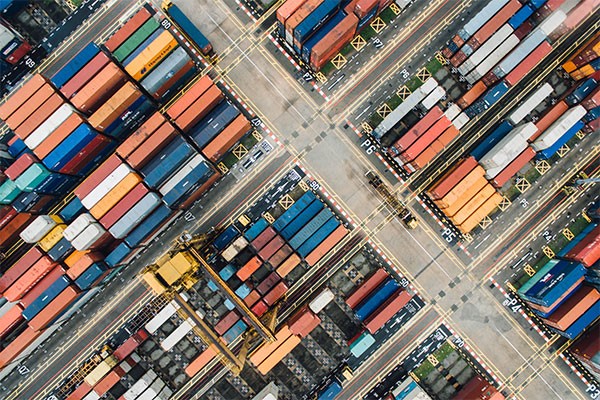 The U.S. manufacturing sector contracted for the fifth straight month in December, with the monthly reading from the Institute for Supply Management (ISM) hitting its weakest point in more than 10 years. The purchasing manager's index (PMI) fell to 47.2, a level we haven't seen since June 2009, as global trade tensions continued to take a toll on the country's manufacturers.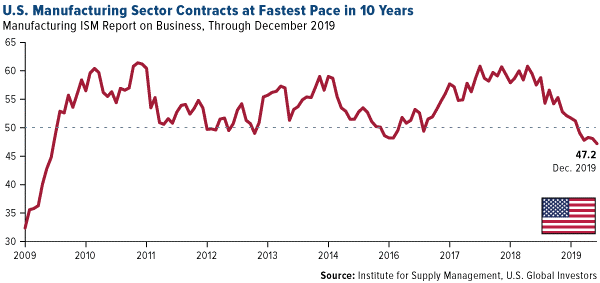 The news comes as two new papers indicate that U.S. tariffs on imported goods, particularly those originating in China, have had more of an impact on manufacturing and industrial output than initially believed.
Tariffs Have Contributed Toward a Manufacturing Slowdown
In one paper, Federal Reserve economists Aaron Flaaen and Justin Pierce show that the tariffs have not achieved their desired effect—that is, to protect against "what were deemed to be the unfair trade practices of trading partners"—but instead are "associated with relative reductions in manufacturing employment and relative increases in producer prices."
Take a look below. Both industrial production and manufacturing employment were growing at a healthy clip throughout 2017 and most of 2018, despite the first wave of tariffs being imposed on solar panels and dishwashers in January of that year. Since the end of 2018, though, manufacturing has stalled as U.S.-imposed tariffs and retaliatory tariffs from its trading partners have hampered growth.
According to Flaaen and Pierce, the additional taxes "have not boosted manufacturing employment or output, even as they increased producer prices."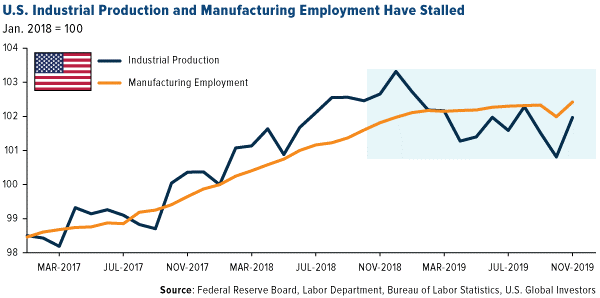 American Firms and Consumers on the Hook

In another paper, released by the National Bureau of Economic Research (NBER), economists Mary Amiti, Stephen Redding and David Weinstein write that "U.S. tariffs continue to be almost entirely borne by U.S. firms and consumers," despite policymakers' insistence that they are not.

"Quite surprisingly," they say, "we have found that in most sectors, these U.S. tariffs have been completely passed on to U.S. firms and consumers."

They add that the taxes, the first of which were imposed in early 2018, are "only now having their full impact on U.S. import volumes."

Interestingly, the U.S. trade deficit with the rest of the world recently narrowed to its lowest point in President Donald Trump's three-year administration, according to the Census Bureau. In the first 11 months of 2019, the deficit decreased 0.7 percent, or $3.9 billion, from the same period a year earlier. In my mind, this raises some doubt about the economists' findings.

Looking Forward to the "Phase One" Trade Deal

One week from today, President Trump is scheduled to sign the "phase one" of the highly-anticipated trade deal with China, which should relieve some of the pressure that manufacturers have been under for over a year now. My hope is that both sides can commit to the agreement, so that additional resolutions can be made and trade conditions can recover.

- Frank Holmes, US Funds

All opinions expressed and data provided are subject to change without notice. Some of these opinions may not be appropriate to every investor. By clicking the link(s) above, you will be directed to a third-party website(s). U.S. Global Investors does not endorse all information supplied by this/these website(s) and is not responsible for its/their content.

The Purchasing Manager's Index is an indicator of the economic health of the manufacturing sector. The PMI index is based on five major indicators: new orders, inventory levels, production, supplier deliveries and the employment environment.

U.S. Global Investors, Inc. is an investment adviser registered with the Securities and Exchange Commission ("SEC"). This does not mean that we are sponsored, recommended, or approved by the SEC, or that our abilities or qualifications in any respect have been passed upon by the SEC or any officer of the SEC. This commentary should not be considered a solicitation or offering of any investment product. Certain materials in this commentary may contain dated information. The information provided was current at the time of publication.


| Digg This Article

-- Published: Thursday, 9 January 2020 | E-Mail | Print | Source: GoldSeek.com