-- Published: Tuesday, 9 June 2020 | Print | Disqus
Strengths
· The best performing precious metal for the week was palladium, up 0.77 percent. ETFs added 241,076 troy ounces of gold to their holdings on Monday, bringing net purchases for the year to 17.2 million ounces, according to Bloomberg data. Total gold held by ETFs rose 21 percent this year to 100.2 million ounces – the highest level since June 2019. However, on Thursday the amount of bullion held in ETFs fell slightly, the first drop in 30 trading days. Silver is also seeing some love. ETFs added 4.62 million troy ounces of silver to their holdings on Monday. Total imports of gold to the U.S. topped $7.2 billion in May, the highest in records going back to 2003, according to the U.S. Census Bureau.
· Pandora A/S, the world's biggest jewelry firm, announced that it will stop relying on newly minted gold and silver and instead use only recycled precious metals starting in 2025. CEO Alexander Lacik of the Copenhagen-based company said in a statement that "metals mined centuries ago are just as good as new…the need for sustainable business practices is only becoming more important." Bloomberg notes that Pandora shares jumped 5 percent when trading began on Tuesday.
· Gold sales in China rose 54 percent in May from April, according to a survey from China Gold Association. The World Gold Council said in April that demand for gold jewelry, bars and coins in China will likely pick up in the second quarter after a big drop in the first quarter due to lockdowns. Perseus Mining announced a $60 million takeover of neighbor Exore Resources amid more deal-making in the gold sector, reports Bloomberg. Perseus will gain control of Exore's gold project in northern Ivory Coast and a 2,000 square kilometer land package.
Weaknesses
· The worst performing precious metal for the week was gold, down 2.77 percent. Gold tumbled on Friday after better-than-expected U.S. jobs numbers. Payrolls rose by 2.5 million and the jobless rate fell to 13.3 percent from 14.7. Bullion is heading for its longest run of weekly losses since September. The yellow metal's haven appeal shrunk in May as major economies slowly reopened.
· Gold Fields said in a statement that an employee died at the South Deep mine in South Africa after falling down a reef ore-pass. "This is the first fatality at Gold Fields in a year and comes amid significant improvements in the group's safety performance over the past six years." South Africa's ultra-deep mines are known to be dangerous.
· Central bank net purchases of gold in the first quarter of this year totaled 145 tonnes, which was 8 percent lower than the same period a year ago, according to the World Gold Council (WGC). Six central banks were net buyers, compared with 10 a year ago. Despite lower purchases, the WGC expects buying to pick up in the second half of the year.
Opportunities
· The Brasher Doubloon, the very first gold coin made in the U.S., is being offered privately at a $15 million asking price, according to PCAG Inc. who is marketing the coin on behalf of a collector. The coin dates back to 1787 – 11 years after the Declaration of Independence was signed. Bloomberg notes that the coin was originally worth $15. It went on to sell for $625,000 in 1981, $2.99 million in 2005 and $7.4 million in 2011.
· According to Metals Focus Director Nikos Kavalis, gold could climb near its record high in the second half of 2020 as yields will likely remain low and real rates stay negative. "Even if equities rally further from current levels, we still think allocating to gold makes sense, given what you get for your fixed-income holdings at the moment." Even as investors' risk appetite improves, Australia & New Zealand Banking Group has a similar view that gold could hit an all-time high. "The expansion of central banks' balance sheets shows no sign of abating, while geopolitical tensions escalate. We think those investors who continue to raise their allocation to precious metals are sitting on a gold mine." JPMorgan shifted its view on gold from underweight to overweight due to central bank stimulus, a weaker dollar and as a hedge against market risks.
· Although gold hasn't had the best start to the month, it did perform strongly in 2020 through May 14. As seen in the chart below, gold priced in local currency outperformed the respective domestic stock index in that country. For example, in the U.S., gold rose 14 percent through May 14 while the S&P 500 was down 12 percent for the same period. As highlighted in the annual "In Gold We Trust" report by Incrementum, gold often moves in the opposite direction of wider equities and can be a hedge against volatility.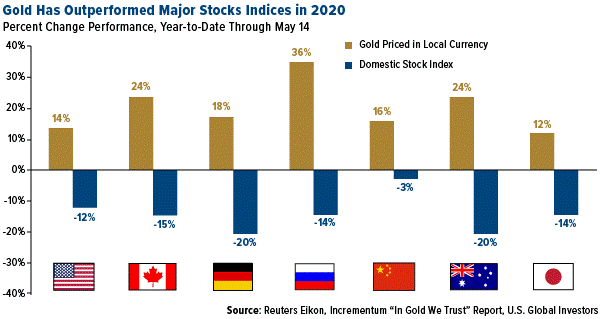 Threats

· Despite better than expected payroll increases in May, local government payrolls fell. According to U.S. Bureau of Labor Statistics data, local government payrolls dropped by 571,000 to 18.3 million in May. Bloomberg notes that in April and May, states and cities have cut more jobs than they did after the last recession. If these job cuts are maintained, it could exert a drag on the country's economic recovery. States alone are expected to face a $765 billion shortfall over the next three years based on projections by the Center of Budget and Policy Priorities.

· U.S. and China tensions escalated again this week over flights. Responding to China's announcement on Thursday that limits U.S. carriers to one flight per week each to the county, the U.S. Department of Transportation said it would only permit two flights a week in total from Chinese airlines, reports Bloomberg. Both countries severely limited flights and air traffic in response to the coronavirus pandemic and both seem reluctant to open more flights back up unless the other does so first.

· The outbreak of COVID-19 continues to remain a threat. Latin America has emerged as the new virus epicenter, threatening to disrupt mining operations as more workers test positive for the virus.


| Digg This Article

-- Published: Tuesday, 9 June 2020 | E-Mail | Print | Source: GoldSeek.com